Sunday, May 28 2023, 05:51:32
Breast Cancer Fighter Chiara D'Agostino Talks About Her Mission Of Bringing Flat Chests In Vogue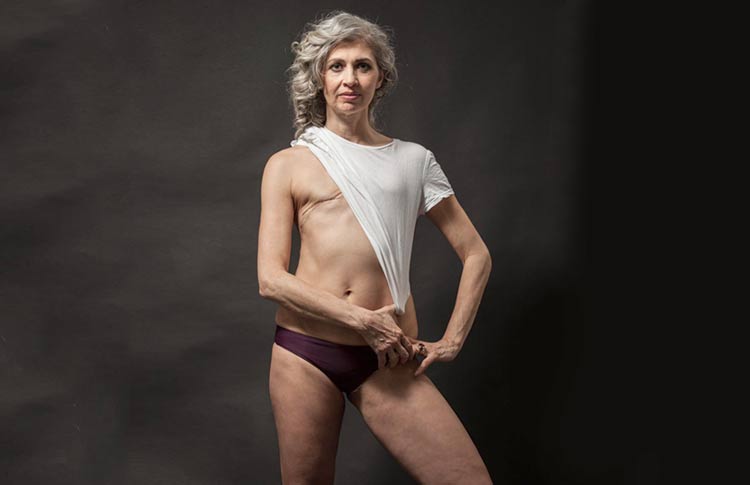 Chiara D'Agostino's life journey is not a usual story. For an aspiring fashion model and traveler, the news of her medical condition was supposed to put a full stop to her dreams.
Chiara was diagnosed with breast cancer. Later, when she thought she had the situation under control and subsequently got herself breast implants, the infection of the foreign material spread through her body like an incurable virus that only worsened the health. Result – she had to get rid of her 'new' breasts for good.
But being a strong woman that she is, Chiara decided to not let any illness take over her dreams. As she gained confidence in herself, she actively began spreading the awareness about cancer through social media campaigns and ground activities. She even raised funds to help people deal with this condition.
167 Likes, 4 Comments – BeautyThroughTheBeast™️ (@beautythroughthebeast) on Instagram: "#Repost @femheka ・・・ The right combination of forces brought the energies of a talented and amazing…"
Chiara is also a blogger and often writes her heart out about topics most women refrain from discussing. Via an email chat, she shared with us her life-changing experience in detail. Read the excerpts below:
How old were you when you got diagnosed with breast cancer?
I found a large lump on my left breast on the eve of my 43rd birthday, October 24th, 2014. In August 2014, during a routine mammogram check-up, nothing could be found out as I've dense breast tissue. The tumor tissue looks white on a mammogram and so does the dense breast tissue, and it's like looking for a snowflake in a snowstorm. I always tell women to question their radiologist about their breast density so an appropriate analysis can be done. Sadly, in my case, by the time I palpated my tumor, it had grown to 3 cm.
It must be devastating. How is your family a support in your life?
My family is born in southern Italy – I'm first generation American. My father died a month before I was diagnosed with breast cancer, so my mother was in already in a state of shock. For a long time, I dreaded breaking the news of my poor health to her. I've been single since my mastectomy, and I don't have children. My brother and sister are much older than me and help out once in a while. Mostly, I rely on my community for help and rely heavily on social media (my blog Beauty Through the Beast, Facebook, Instagram, Twitter) to communicate.
With personalized websites like LotsaHelpinghands and MealTrain, I have been able to make friends with some amazing people. My terminal diagnosis has created multifaceted needs – I try not to exhaust or expect much from any one person.
What were your feelings like when you shaved your head? You look stunning, by the way!
Thank you. I've gotten my head shaved three times as a result of being diagnosed with breast cancer. In 2014, I first shaved my head after the hair started falling out as a result of chemotherapy. I had invested time and money on my carefully sculpted blonde mane and was devastated that a part of my identity as a woman was being taken away. As I got my head shaved by a stranger at the wig shop, I felt defeated. When I started chemotherapy again in June 2017, my good friend and female barber, January Fonseca-Sabune, shaved my full head of naturally grey chemo curls and saved the hair to get a custom-made wig from Mo'Hair Foundation in Jersey City, NJ. At the moment, under the razor, I felt safe, in control and ready for a new awakening. Every time I went ahead and shaved my head, I needed to prepare myself emotionally.

When was it that you decided to speak about breast cancer publicly and normalize the medical condition?
I decided to talk when I felt the unimaginable pain as I wanted to take the agony out. I needed help, and so, I used Facebook to vent out my anger. With the act, I also wanted to reach out to as many people as possible. It was in June 2015 that I decided to maintain a blog (Beauty Through the Beast) that now serves as my platform to process and share what I'm going through since diagnosis.
My new confidence led me to become an ambassador for a few non-profit cancer organizations, speak at national conferences about breast cancer, converse with legislators on Capitol Hill regarding funding for MBC, model my body to encourage other women, and do podcasts. I like to be able to be the person a patient or caregiver can reach out to when he/she is having a difficult time with his/her diagnosis, or simply, to celebrate life with.
Do women write to you about how inspiring you're for them?
I get inspirational messages like: "I appreciate you telling your story, I will be 'going flat' after reconstruction from breast cancer on Monday. You keep me strong. I look at you so I can rewire my brain to look at flatties as 'normal.' Thank you for being you and putting yourself out there, you give me strength!!"

A while ago, a woman wrote to me a message that really touched my heart. It said:
"Two years ago after my mom's death, I got diagnosed with the BRCA gene which made my depression and anxiety so bad it pushed me into suicidal thoughts. Reason for that is that I know I could never be strong enough. A couple of months back I found your Instagram account, and since then it literally changed for me, and I got so inspired by your strength, kindness and your words that give me such motivation to enjoy every single minute of my life."
Someone crocheted you a pair of breasts? This is so sweet. Do you wear bras that are specially meant for breast cancer survivors?
I received beautifully crocheted breast forms from Knitted Knockers and from Awesome Breastforms, but I don't wear them. I ordered the breast forms before I had my implants removed, anticipating wanting to wear them to still fit into some of my clothes, but after the surgery, I felt so comfortable in my skin that I didn't feel the need to wear them anymore.

I did try them on with one of my bras, and I felt like I had some foreign objects protruding from my chest (that's how I felt with the implants, too). So, I quickly removed the breast forms – as determined as I was when I decided to remove the implants once and for all. Today, I'm comfortable in my new body.
Women without breasts in patriarchal societies are considered mere bodies that aren't feminine anymore. What's your opinion?
I had the same misconception before I went flat myself. This became one of the reasons why I never considered going flat until my implants posed a recurring problem. After the sixth implant infection in the six months and a diagnosis of stage four breast cancer, there was no question about me going flat. What drove my decision was my health and quality of life; feeling feminine was not a priority. However, when I look at the selfie I took in the hospital mirror once I took the bandages off, I see confidence, grace, and poise, and that to me is a beauty. I believe that being feminine is evident by how one carries themselves and feels about themselves – femininity has little to do with one's body parts.
What have your scars taught you?
My scars have taught me the expansive definition of beauty, unconditional self-love and to live in the moment.
Do you face criticism for posting naked body pictures online?
I ignore the bad ones.

Have you ever got censored on Instagram?
So far, I've only had one topless boomerang video of myself and Aniela from CancerGrad that was removed from Instagram. Interestingly, neither of us have nipples after our double mastectomies, and yet we got censored.
Lastly, how do you renew your determination during sad and dull moments?
There was a time, after being diagnosed stage 4, that I was emotionally digging my grave. When a few healers asked me if I wanted to live, I thought "Of course!" but that was an instinctual reaction made out of fear. Since then, I've taken that question to heart and have listened to my inner self, curious if I have a will to live or a will to die. I have a will to live, so when the moments get dark, I keep moving forward. When I need help coming out of a dark moment, I call my friends and social work oncologists who can usually say something to put things in perspective. If all else fails, I play with animals or children – they bring me joy.
Follow Chiara D'Agostino's noble work at www.beautythroughthebeast.com, Instagram: beautythroughthebeast, Twitter: @cancerBTTB, and Facebook: Beauty Through the Beast 
Was this article empowering?