Wednesday, November 29 2023, 05:42:02
#AidToMaid: Asha Bhatnagar empowers her maid Saroj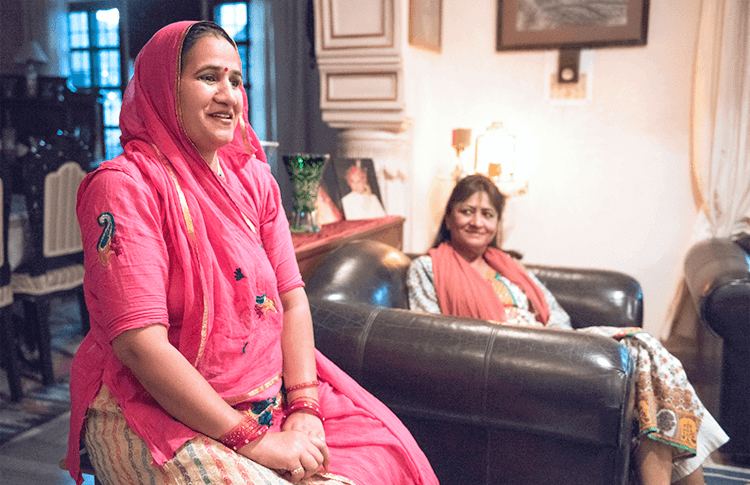 And here comes the fourth story of 'Aid to Maid' campaign in association with Jewelry Designer Sonal Sawansukha's brand Jewel Saga. The campaign is designed in order to empower the one of the most looked down sections of women – domestic helpers.
We spoke to 5 Jaipur women to see how they are nurturing their house-maids. One of them was beautiful Asha Bhatnagar, a 67 year old Sportsperson and Social Activist. Asha is a mother to her full-time maid Saroj who came to her home at the age of 15. Today Saroj lives with Asha with her family of 4.
Relationship they share.
Saroj – I call her 'Maa' because I have learnt the most crucial things in life from her. Even my husband, Bhawar, looks up to her. My 2 sons call her 'dadi'.
Asha Bhatnagar – My children are settled in foreign countries and I live in Jaipur with my mother and Saroj's family.

Saroj – Maa looks after my kids' education and future. My elder son has completed his graduation and now is well-settled in Bahrain where he is learning electronics.
Asha Bhatnagar – The younger one is a special child and we have just enrolled him with Umang School of Disability. He is learning to paint there and is all set to join the Blue Pottery artisans.

Saroj (wet eyes) – I lost my sleep thinking about the smaller one. I am not sure if I could take a decision like this for him.
Asha Bhatnagar – Stop worrying already, he is doing well. If nothing turns up, we will involve him in some kind of work at the farmhouse. At least his mind will stay active.
Financial independence.
Asha Bhatnagar – I have told them if they grab any other better employment, feel free to go ahead.

Saroj – I don't think my family will find a better place than being with her. She has helped me understand few banking procedures that I can use if my husband isn't there.
Asha Bhatnagar – Mostly, Bhawar looks after the finances. He is my loyal driver but also knows a lot about property dealing. I keep encouraging him to take up good deals, but he is just like Saroj.

Saroj – Maa has just bought us a piece of the land in the outskirts of Jaipur where we're making a small home for us.
Asha Bhatnagar – Of course, when I am no more, you will get to have your own home! After all it is about securing the future for those who have dedicated their life to serving me.

Saroj – Qualities like this make her the most adorable woman in my life. I feel blessed to keep receiving love and respect that most of the home-servants don't get. 
Women bonding.
Asha Bhatnagar – Just like any other daughter, she comes to me and shares everything happening around her. She seeks solutions from me regarding problems in the family.

Saroj – Whenever I have a spat with my husband, I speak to maa. Generally when he is angry, he refuses to eat. At that time, maa guides me how to tackle the situation so that my husband doesn't sleep empty stomach.
Asha Bhatnagar – Basically, we bitch about him!

Saroj – The best thing in her is that she never shouts at me. If I commit a mistake, she whispers in my ears to quickly fix it.
Asha Bhatnagar – I don't shout until my schedule is not disturbed. I have a set time slot for everything in my life. I have no problem what goes around here as long as my space is not being disturbed.
Saroj – True that. For example, she is very particular about her morning lukewarm water at 5:30 am. But she isn't strict with us unlike other masters are. We are not to bathe and then enter kitchen – or things like that.

Asha Bhatnagar – I can't be strict to them. Sometimes I love having my drink with Saroj before I go to bed. She just sits beside me and makes my drink and we chat or watch TV together.
Tips for a healthy relationship.
Asha Bhatnagar –
1.     Be fair to them.
Bhawar had been looking for a piece of land I wanted to buy. When the deal got final, I paid him the broker's commission money. Thinking that he is my servant and I pay him monthly salary, I cannot just make him do extra things for me.

2.     Nurture an atmosphere full of freedom.
I have told them to get another job in future if it is more lucrative than the present one. I get happy seeing my son shift jobs one after another just because he is being offered a higher salary, similarly I must encourage my help to move ahead in life.
3.     Healthy lifestyle.
I don't allow them eating unhealthy like oily/fatty food. It is very important to educate them about a healthy lifestyle. Saroj has lost 9 kgs by daily exercising and eating fresh food. After all, a healthy body gives rise to a healthy mind.
Asha wrote her pledge to further empower her house-maid, Saroj:

"May the universe grant me the ability to look after my staff forever and to the best of my ability."

Signifying her position of the master, she donned a diamond bracelet by Jewel Saga along with cleaning gloves and scrubber to show her mission to polish and clean the life of her maid for better.

Remember nurturing and empowering your maid can be done in any form – making her strong financially, health-wise, in relationships, home-management, etc. How are you carrying on this mission? Let us know in the comments below!
Was this article empowering?