Tuesday, June 15 2021, 07:43:21
Yes, I Am A Sex Worker And I Am Neither Sad Nor Ashamed About It: Author Nalini Jameela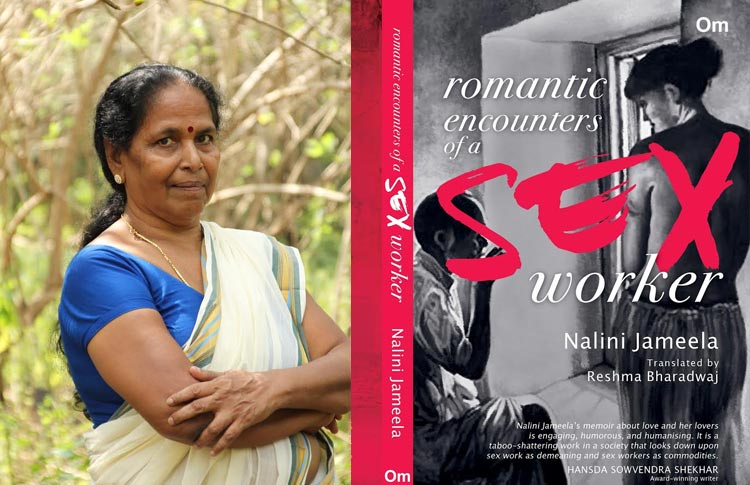 "I wanted to give a true picture of a sex worker, ditching the one-sided depictions of her being the person standing in dark alleys, soliciting clients, running away from the law and society, having fleeting relationships, and no friends. Whereas the image of her clients oscillates between cruel exploitative monsters or poor seduced mortals. I wanted to write something which evades such image traps."
With this objective in mind, Nalini Jameela, a sex worker, activist, documentary-maker and a best-selling author decided to share her life story in The Autobiography Of A Sex Worker 13 years ago. Born in a poor family, Nalini was pulled out of school in class three after her mother lost her job, after which nine-year-old Nalini started working in a clay mine where she faced sexual harassment multiple times. At the age of 18, she got married to a coworker who she lost to cancer after the birth of her children. As there was no support either from her in-laws or her own family, she was compelled to take up sex work in order to provide for her children.
Nalini always found that society loses sight of the fact that a sex worker is human, too, has her own presence, that her existence matters, that her story is worthy of being heard too. And that's what her second novel, aptly named Romantic Encounters Of A Sex Worker, explores. She presents the fascinating story of the streets, her clients and the dynamic relationship she shared with them – those parts of a sex worker's life that society conveniently forgets when they define her.

"Many times it comes as a surprise to the people around, that a woman who is doing sex work is also good with words and is able to do many innovative things besides doing, as people call it, her 'degraded work.' But as I said in my first book that yes I am a sex worker and I am neither sad nor ashamed about it." she told me. Halfway through reading Romantic Encounters Of A Sex Worker, I knew that this was going to be one riveting conversation, so here we are! Excerpts:
The desire to share your story is one thing, but penning it down is one tough task.
A sympathizer with the sex workers movement once said to me that I should write about my life and experiences. For my first book, Autobiography of a Sex Worker, the publisher (DC Books) approached me. That was the next motivation. Though I had toyed with the idea of writing, until then I was not so sure that I would actually be able to see it in print. As it also provided me with another source of income, it encouraged me to pursue writing.
But after the amazing reception your debut novel got, why did it take 13 years for you to write your next book?
You have to understand that it was my life I was writing about, a rather controversial tale, if I must say. I was penning down memories that were once safely tucked away in the recesses of my mind. It took time and to some extent, courage.
Nalini Jameela lives in Thrissur, Kerala, and was the president of the Kerala Sex Workers' Forum. She has directed two documentaries, Jwalamukhikal and A Peep Into The Silence. Her autobiography Njan Laingikathozhilali sold more than 40,000 copies in Malayalam, the language in which it was originally published in and was later translated into English, French, Hindi, Marathi, Kannada, Telugu and Tamil.
So, when was it that the idea of writing another book struck you?
I had serious problems with the first edition of my autobiography book. It was then that I contacted my friend Reshma Bharadwaj as I wanted to rework the autobiography. So with my friends – Dileep Raj, Baiju Natarajan and Reshma –  I reworked my earlier autobiography. It was during those days spent together that the idea of another book came up – a book which looks beyond the regular stereotypes of a sex worker as a friendless, lonely person haunting the streets during the night. Romantic Encounters of a Sex Worker was the culmination of conversations I had with them.
Sex workers often face exploitation by men. What do you think is the reason behind this apparent sexual frustration shown by them?
Well, I think that this sexual frustration arises from a feeling that they are not sexually potent to satisfy their partners and this frustration may lead to aggressive behavior. They start blaming their partners (sex workers included) that they are not cooperative, etc.
As people are mostly of the mentality that prostitutes can't and shouldn't fall in love, how does your book Romantic Encounters Of A Sex Worker handle these narrow-minded notions?
Usually, sex workers avoid being in a loving and pleasant relationship with their clients as they are afraid that this might lead to them being cheated out of their wages so love is considered to be an occupational hazard by them. But I never felt it to be an obstacle. Prejudices are not one-sided. Clients usually assume that sex workers are always concocting ways to cheat them. Once you succeed in clearing away such notions there is a possibility of having a better understanding and relationship with the clients. That's my modus operandi.  
Romantic Encounters of A Sex Worker was originally written in Malayalam by Nalini Jameela and then translated into English by Reshma Bhardwaj, Assistant Professor at Sree Sankaracharya University of Sanskrit, Kerala, and presented by Om Books International.
The title of your book prompts me to ask whether you ever fell in love?
Yes, many times. If there were cell phones in those days I may have been the woman with the maximum number of lovers. Since as a sex workers we had to keep shifting from place to place, from street to street, most of us did not have a permanent place to stay in those days. That made it difficult to keep up romances. Later my co-workers would say to me that so and so kept on enquiring about me. Even other sex workers who did not know me heard about me from my these men.
You must have had some memorable conversations with your clients, where they opened up to you about things they refrain from telling others.
Oh, I had a lot of such conversations. One interesting conversation was with a client from Pala. He used to say, "Please be kind with me and let us just talk." And we used to have such long and interesting conversations touching upon almost everything – childhood, relations, and marriage. It was not just him pouring out his things, but we would be asking each other questions, exchanging observations etc.
Actually making clients talk is a technique usually employed by sex workers. Talking makes them normal, more humane. They come to us frustrated, maybe violent, with emotions bottled up that they can't share with others.
So, they end up finding a friend in you. Nalini, lately there has been much debate on the concept of consent. In your experience has it ever happened that a sex worker said no and the man either stepped back or tortured the woman for saying 'no'?
For our 'no' to be not accepted by the clients is a very common experience for sex workers. Usually, our no is interpreted in many different ways by the clients. When we say it is painful to us or that we don't want to do so now, they misconstrue it to mean that we are actually enjoying it. The more we say no, the more they get pleasure out of it. Or else they get angry and pour that anger over us. Or they start asking why we are saying no – is it because they are not good enough, or because they are ugly, or because they are not paying enough money and so on.
This inability to say 'no' is a big problem in our profession. There have even been instances of sex workers being brutally harassed just because they had dared to refuse sex to the clients.
Not considering sex workers as worthy of having rights is something I have myself witnessed once when a doctor refused to tend to a patient when he came to know that she is a sex worker.
It happens to us all the time. Sex workers usually go to older doctors, lady doctors or to doctors who practice in faraway places. We usually avoid going to 'good' doctors. These 'good doctors' often make their diagnoses based on the stereotypes and prejudices they hold about sex workers. Any illness or ailment we may have is connected with our job as a sex worker. It will be described as something to do with having multiple sexual partners.
Many sex workers have shared this same observation with me. One woman told me, 'I will never go to that doctor, he even refuses to touch me." This was before the arrival of all these new medical instruments. Now the doctors can make a semblance of examining us without any bodily contact. But lady doctors and older doctors are slightly better in their behavior towards us and we make it a point to search out such doctors.
Was this article empowering?