Wednesday, November 29 2023, 05:19:23
World's Youngest Abstract Artist, 11 Y.O. Shorya, Tells Us About The Little Muse Who Splashed Sunlight While Passing By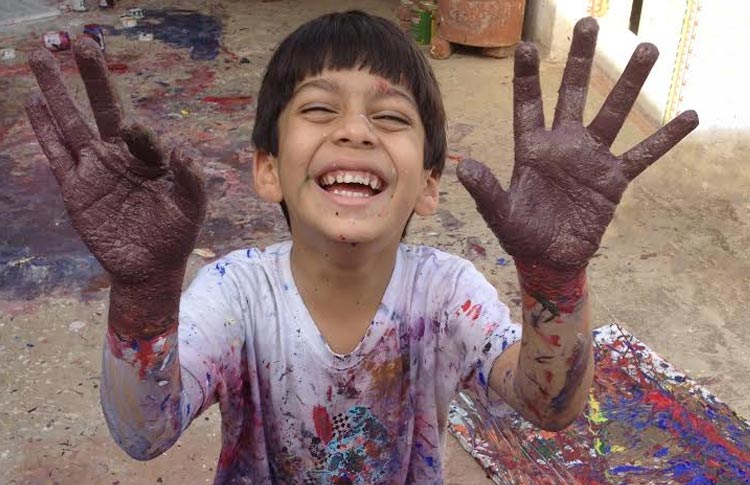 This Children's day, we engaged with child prodigies who inked their name in the list of Wonder Kids with their groundbreaking feats. But ever wonder what these geniuses blessed with determination and zeal, are up to now? 
A lover of nature, he was all of 4 when he first made a painting. Colours speak to him, and no-one but he knows about his conversations with them. Now 11, he is the World's Youngest Signature Style Abstract Artist, and has his paintings featured alongside Musician John Lennon at the Holtzman Gallery of USA. Who am I talking about?
Shorya Mahanot, the little champ who has earned the title of 'India's Young Picasso' by The Guardian, and has had his work recognized and blessed by none other than the Legendary Cartoonist RK Laxman!
IWB had a quick chat with Shorya, who had just returned from Delhi after having delivered a TEDx Talk, that now also makes him the only artist to talk on 'Abstract Art' at TED! Come, let's abstract few secrets of this young artist's colourful journey:

Hi Shorya! How was the experience of giving a TEDx Talk?
Hi didi, it was great!
Were you nervous?
No, I quite enjoyed it, talking to the audience about me, and my art!
That's cool. So what is art for you?
Tap came the answer, Magic!

Okay, Mr. Magician, tell me what inspires you to paint?
Uhmmm, I just start. I splash colours on the canvas, and gradually the painting comes to life! I have painted more than 300 paintings until now. (Whoa!)
Okay, guys, he really did narrate to me a tale of his colour-splashing strokes, and also shared that it takes him 4-5 days to complete one masterpiece!
And, do you give your paintings any names?
Yes, I do! One painting I recently named, Blue Lagoon. (Wow, tell me more!)
"It looks like a fish, and has blue and silver colours all over."
Awesome! I saw a photo of you painting with hands; do you enjoy having paints splashed all over?
And to have my curiosity answered, I had the little master artist laughing out loud (*hides face*)
I really enjoy getting all coloured-up!

Papa told us that you have a flair for cooking, too! What is Chef Shorya's specialty?
Everything! (*eyes rolling*)
I was under the impression that the 11-year-old might take few names, of course not maggi and tea, but I certainly wasn't expecting that entire-menu loaded answer! So I repeated – everything? And I kid you not, his voice only got deeper! (Ahem)
Okay, so which dish of yours does your family like the most?
Khaman dhokla. My elder sisters love it!

Shorya's Father: Whenever Shorya is traveling, he makes sure that he gets to meet different chefs and visit their kitchens. He can make South Indian, Gurjarati, pastas, stuffed paranthas, and just loves experimenting in the kitchen!
Painting, cooking, what more falls on the list?
I also like to take photos from my camera. I click whatever I like.
Well, do you have a favourite photo, I asked. Yes, I do. It is of a small girl. One afternoon I was standing outside our house, and i saw her passing by. Covered in mud, she suddenly turned, and I just captured it. The light was also good that time, he added. 
That's nice. But do you go to school regularly, little master?
I go every day. I like school. I asked him if they have painting classes, "No, we don't. There should be. But we do have drawing classes."

Shorya's Father: He manages school, and all his hobbies and activities quite well. My wife, two daughters, or I, one of us, always travels with him whenever there is an event. We have always encouraged him, but at the same time, also guide him with time management. If one instills the habit to plan since childhood, it only proves helpful later. And Shorya is quite adaptive!
Which is your first memory of painting?
I was four years old, and one afternoon when my sisters were having lunch, I quickly rolled into their room from under the table and used their paints. I don't have a very clear memory, but that's what my family's vivid memories tell me.

Shorya's Father: When Shorya's elder sisters saw his paintings, they were amazed, and suggested to me that we must show them to people. Shorya is lucky to have received so much appreciation in all these years, and I hope he goes far. We have always believed that as parents, it becomes your responsibility to encourage your children to experiment and explore, and that's what exactly we have been doing. He always has our support and guidance.
Have you ever gifted a painting of yours to someone?
Yes, to my sister, Shreya didi, and also to RK Laxman Sir. I was small then, but I remember the meeting faintly.

And now the last question, if Shorya could become a colour, which colour would he be?
All of them! The entire colour palette, I questioned? Yes!
IWB wishes Shorya a happy and colourful childhood, may he keep creating magic on the canvases of his dreams! Keep it up, Shorya!  

Was this article empowering?