Sunday, May 28 2023, 06:55:35
Travelled Across The Country And Never Saw A Woman Not Working: 'Indians' Author-Photographer Ajay Jain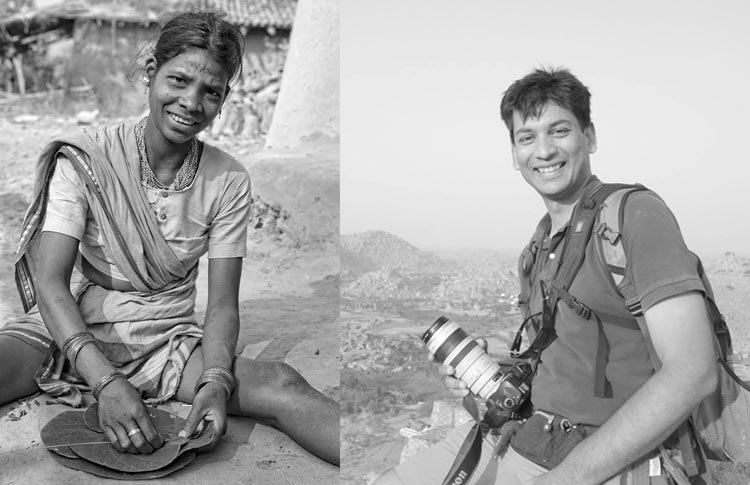 Ajay Jain is an explorer at heart, and a mindful one. He has travelled across the world, but believes that "there's no place like India". And that, I found out, is after he has journeyed from Kashmir to Arunachal Pradesh, and from Delhi to Kerala, driving through Rajasthan, Gujarat, Maharashtra, Goa, and Karnataka!
Road tripping with only his travel and camera gears as companions, according to Ajay the best way to know the country is by road, and it is the surprises waiting at every milestone that keep him driving. A compilation of black and white portraits that he has shot over in his travels, is his recently released coffee table book, 'Indians', that unites Ajay's diverse finds of India's rich culture.
An engineer by qualification, Ajay was a renown tech blogger and sports manager, but in 2007 he decided to leave it all and turned to Travel Journalism. Photography and travelling are his passion, and writing his travel tales while sipping some freshly brewed coffee, is what gives him the utmost satisfaction. Speaking of coffee, Ajay also runs a café by the name 'Kunzum Travel Cafe', in the trendy Hauz Khas Village of New Delhi. A fitting image for 'one man, many hats', truly.
And as it may be already evident, I had a wonderful time listening to Ajay talk about his book, his views on how Indians can bask in India's diversity, and unveil some of his most cherished travel memories. Opening here a quick window to our chat for you:

I read that your favourite photograph is the one that makes the back cover of your book. So let's start with talking about the significance of the front cover, what story about India and 'Indians' does it narrate?  
To be honest, I went through a lot of images before making the final decision. Out of the two reasons that helped me pin down on the one was, first the woman's gaze, which makes it a very communicative picture; and second because it happened to be beautiful portrait of an 'Indian' woman that does not speak of which region she belongs to, but simply of her nationality, thus keeping the book away from the reach of stereotypes.
Having travelled extensively in and around India, did you ever get to shoot a portrait of patriarchy, too?
Uhmm, not really. Except for in some random lighter notes, here and there. Like for instance, I was once in a small village of Gujarat, taking some shots of two women from the Maldhari tribe. One man from the family was sitting in the background, and it was by his permission that I was photographing in and around their house. But when I asked him if I could take a photograph with the women, he denied.
*Shoot patriarchy – use of this phrase was intentional, yes!


Important women issues that your camera got a chance to acknowledge and portray? 
Again, I can't put a finger on one photograph, but the one thing that I noticed across the country was that largely, it is women who work all the time, and cheerfully so, while men are either wasting time or not putting as much efforts. It spoke volumes about the setup of our society, and about how wrongly it represents women.
Indeed. Tell me about that one portrait that came out of your reel memory but never left your real memory?
It would be the portrait on the back cover of the book. I had met her in Ladhak, in 2008, and she was leading a group of kids. She stood out, and was trying to seek attention, as though she wanted to talk to me. It could have been my interpretation, but that's what I saw in her eyes – dreams and ambitions that she wanted to share – just like how kids of her age (12-13 years) do all the time.
"I often find myself thinking about her, wondering how she must be doing, it's been ten years, could she have gotten married, or pursuing her dreams somewhere," he mused.

And that got him talking about the streak of hope and desire that he saw youngsters across the nation, "There's so much talent – I was travelling in Nagaland, and there was not a single place where I didn't get to hear music, rhythm is in its air, but that talent needs to be recognized – the entire North East suffers from the problem of lack of employment opportunities." 
Hmmm. Anytime that the supremely talented youngsters turned the table around, and got the photographer to become the subject?  
When you're travelling alone, especially to the remote areas, and walking around with big cameras, add to that an oddly striking personality (I'm 6'2 tall, he laughed), you tend to attract a lot of attention. So once I was in Arunachal Pradesh during some festival, and locals were celebrating in an open maidan. People were dancing, laughing, and suddenly a girl called me out saying "I want to marry you" – insert a laughing break – she actually said that. Polygamy is still prevalent in some parts of Arunachal, especially in the leader class, so not bothered about my marital status, she expressed her feelings out loud.
Passing thought – Isn't it amazing, how an odd moment ends up getting pinned on the board of our 'memorable moments of life'!


Aww. And now that makes me want to ask you about the goodbyes! Ever found yourself becoming emotional?
While travelling you get to meet a lot of people, and you often exchange names and numbers, in the hope to call and stay in touch, but that doesn't always happen. When I go through my clicked portraits and old photographs, even if from very long back, I can still feel a connect, and such that if the person would tear out of the photo, we could easily start a conversation from where we'd left.
I don't know if the people whom I met even remember me, but that's how it is with me, I feel passionate about everything I do. 
If I ask you about the most memorable souvenir that you received on your travels, what would it be? 
One of most memorable souvenirs that I've received on my travels happened to be a very thoughtful gift, and I wish I could preserve it for memory sake, but it was a perishable commodity. I was in Ladakh, travelling from Leh to Zaskar, and had stopped for a night halt at Kargil… and as though transported back in time, Ajay recalled:

"It was evening time, and I had stepped out of my car to take a few shots of the beautiful landscape when I saw a group of children walking towards me. As an instant reaction, I walked to my car to grab some chocolates and biscuits so that I could 'give' something to them, but instead I 'got' a handful of freshly plucked peas from them. They must have seen me from a distance, and thoughtful came to share with the stranger some local produce. It was a very humbling moment for me."
And the mention of children brings me to my last question – it is said that there is 'unity in diversity' in India. Do you think that this understanding can be inculcated and broadened in young minds with relevant amendments in school curriculum?
Absolutely. When I first wrote the introduction for 'Indians', it was a long text on the lines of 'no matter who we are – each of us are Indians first', but then it struck me that perhaps I should not make such a strong statement and rather leave it for the readers to interpret. I hold the view that diversity needs to be preserved and celebrated, and at every level, be it society, nation, or world. But sadly, the 'influential' crowds, instead of taking a call for a cause, are murdering our culture and social fabric by creating a divide.
You are right, changes in the school curriculum can prove to be of great help in imbibing the real lessons – our identity as Indians is shaped by diversity, it is what defines us as Indians.

And on the parting note, Ajay shared, "Every time I interact with a young audience, I ask them to accept and celebrate their diversity fuelled identity – before you make the big decisions of your life, travel. You may want to 'change the world' but ask yourself, do you know the world enough? Take a gap year, and in that, don't just party or smoke pot – having fun is not bad, but use that time to gain a perspective. Step out, see the world, travel, meet people, explore, and learn."
First published on Jul 8, 2018.
Was this article empowering?