Thursday, December 09 2021, 06:20:08
Travel Enthusiast Priyanka Mhatre Gives Us Tips On Exploring India The Roamanchak Way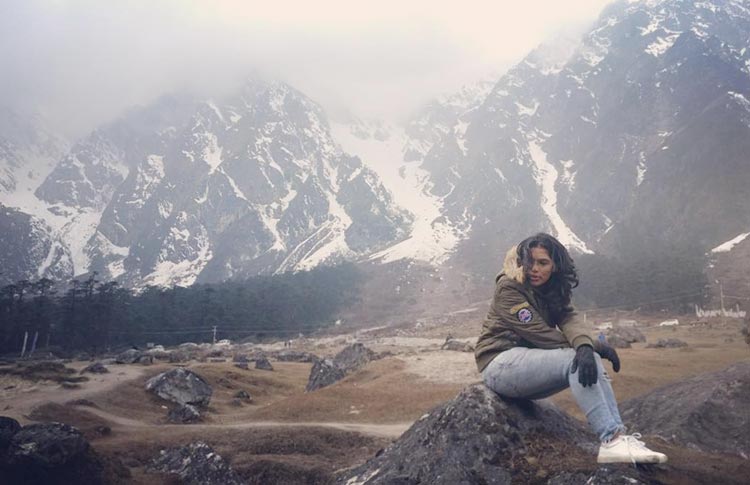 What would you like to accomplish in 100 days? You'll probably need some time to think but for travel buddies Priyanka Mhatre and Pradeep Rana, it was clear – to see and live the beauty of India's 29 states. 
Mumbai-born Priyanka, in a conversation with us, stated how she hates when anything beautiful and clean seen in India is immediately complimented with, "Arey, so pretty. Bilkul foreign jaisa. (So pretty, Just like the foreign countries.)"
Priyanka has spent 15 years of her life in the Middle-East, where she shifted with her family when she was about three years old. She moved back to India in the year 2006. After a Bachelor's degree and her MBA, she joined Jio Studios in 2014 and met Pradeep with whom her travel thoughts synced in perfect rhythm.
When Priyanka and Pradeep quit their jobs to live their dreams of travelling the world and documenting it under Roamanchak (Romanchak is the Hindi word for thrilling and exciting), the first thing they wanted to do was map the beauty and culture of India before they stepped out of the country. And their journey of covering India began then, which Priyanka calls the most amazing experience of their lives. "The beauty and culture that India holds are underrated. And, the sad part that we learned during our travel days is that our country is explored more by foreigners than us," said Priyanka.
From covering 29 states in 100 days to travel tips, Priyanka shared everything with us. Read excerpts:
Let us take a trip down memory lane and turn travel chapters from your childhood. 
My father was an avid traveller and travelling with him wasn't like other family trips, which are covered with fancy stays and followed by tourism packages. He loved to map the roads of the places like a local. So, I have grown up travelling the flexible and right way.
Quitting secure jobs for a completely new venture must have been difficult. How did you both manage finances after quitting? 
Savings and immense parents' support helped us sail through the phase smoothly. My parents have been cool but I never expected them to support my decision immediately. When I told them that I had decided to quit the job, I expected an erratic answer filled with pain but they were so, so supportive.
87 Likes, 6 Comments – Roamanchak (@roamanchak) on Instagram: "Were we loud! . . . @odishatourismofficial @odishaclicks @odishatourism @odishagram @eodishatourism…"
And, this was something I wanted to do. My mind always wandered at work and thought, "How I wish I could just quit and travel," and one day while I was into this thought deeply, I said, "Why not? Who's stopping?" And, so, I came out of the blanket and took the plunge.
How do you suggest to convert passion for travel into a job?
First, you need to have a plan, a business model, topped with patience. Believe in your work, work hard to achieve your dreams, and revenue will attract itself to you.
On a personal level, even though you and Pradeep are just friends, were you both ever moral policed by people?
To be honest, India is evolving. But there were a few instances where we were looked at with suspicion when we worked on our vlog together in a room. But once we'd explain our work, it wouldn't be a problem.
Coming to the interesting 29 states journey, quick questions coming your way:
Brightest craft?
There was a village we visited in Orissa named Raghurajpur where everybody is a painter. I loved their art. They use super-old techniques and the craft is so intricate.
63 Likes, 6 Comments – Roamanchak (@roamanchak) on Instagram: "The Universe is made of stories, not of atoms. Few stories of Raghurajpur craft village left us…"
Most precious souvenir?
We visited Ram Setu in Rameshwaram. We were there listening to stories from a pandit. While we were leaving, he gave us a piece of the floating stone, and I found that so special!
Most unusual food?
Bamboo Biryani in Andhra Pradesh.
Moving ahead, what did you discover and learn about India in those 100 days?
I found that beauty lies in the most unexpected places. Like an aunty in Malana, Himachal Pradesh, showed us how selfless one can be or the shopkeepers in Srinagar who would strike a conversation with a stranger without hesitation or the boat ride in Papikondalu where one cannot feel a sense of inhibition.
The days made me realise how beautiful this country is and the best part about it is our differences. This seems like an easy concept to understand but you get it only once you travel.
The one thing that I learned or rather unlearned was that it's not that unsafe. We travelled for 100 days and din't feel unsafe even once. We might have been the lucky ones but this one aspect should not stop people, especially girls, from travelling.
Enlighten us with five unexplored and non-touristy places in India.
Naranag Temple in Kashmir
Yana Rocks in Karnataka
Loktak Lake, the largest freshwater lake in Northeast India
Rih Dil lake at the Indo-Burma border
Gandikota in Andhra Pradesh, which is also known as the Grand Canyon of India
What is the best way of exploring a place?
Talk to a local. Talk to the people of the city. They give a lot and the best information. Walk and explore yourself. And, travel with a free mind. Don't stick to a plan. It's ok to let things shape organically. And, unlike our mentality, please hire a guide for historic places. It adds so much to the experience.
46 Likes, 2 Comments – Roamanchak (@roamanchak) on Instagram: "A bird eye view of Loktak Lake (@ig_manipur ) Wait for our next video on Loktak and Ima Kheital…"
Most Instagram-able place that you have visited?
Oh, so many in Northeast India. If I had to choose one, then the Tawang district in Arunachal Pradesh.
30 Likes, 1 Comments – Roamanchak (@roamanchak) on Instagram: "Beautiful Tawang 😍@arunachal_pradesh #roamanchak #northeast #travelhistory #mong #bhudha…"
Wrapping up, how to travel the Roamanchak way? 
If you want to travel the Roamanchak way, then all you have to do is leave and go where your heart takes you. Not to think twice. Just pick up your bags and leave. Honestly, even if you don't have a bag, it's ok. You can figure your way out.
86 Likes, 4 Comments – Roamanchak (@roamanchak) on Instagram: "Kisama Heritage Village 😍😇 Kohima, Nagaland @insightnagaland @nagaland @nagalandvacations…"
I know money is a concern but trust me it's not the biggest concern. There's always a way to reach your destination. All you need is a will.
Was this article empowering?