Wednesday, September 27 2023, 11:44:22
The Real Padman Reveals How His Relationship With Wife Turned Sour During The Experiment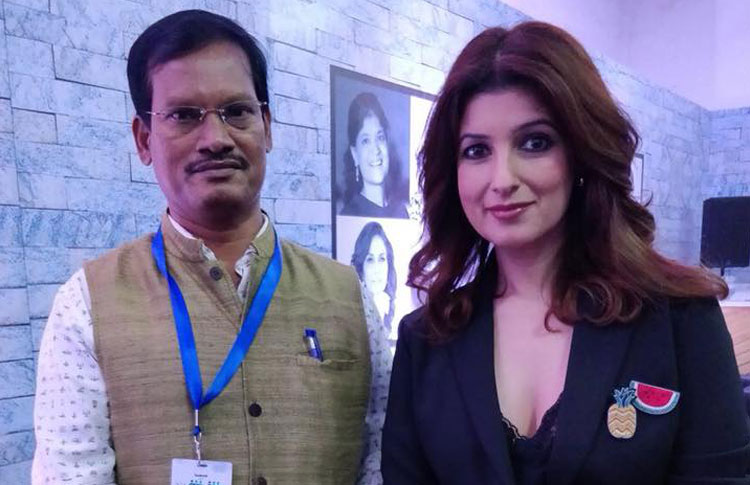 If you cannot contain the excitement to watch the Akshay Kumar starrer 'Padman' already, you are certain to enjoy the talk that happened between between Writer Twinkle Khanna and the original Padman, Arunachalam Muruganantham, yesterday (December 9) at the 'We The Women' summit.
Tamil Nadu-based Muruganantham is the man who revolutionized the concept of menstrual hygiene in rural India by creating a low-cost sanitary napkins machine, letting the underprivileged girls and women afford their right to basis hygiene. Though the man has been widely acknowledged for his path-breaking invention, it was Twinkle's book 'The Legend Of Lakshmi Prasad' that made his story resound in the ears of many more. And now that it has been made into a Bollywood movie, it is expected to reach the mass once and for all. As Twinkle reasons, "In India, it is only the cinema that has a huge impact on people."
The duo discussed the taboos surrounding menstruation along with the possible solutions during the session 'Let's Talk About it. Period' that was moderated by journalist Barkha Dutt. Read the excerpts below:
On taboos
Muruganantham: It is sad that menstruation is surrounded by various kinds of absurd taboos across the globe. Talking specifically about India, somewhere in the state of Uttar Pradesh, it is believed that if a black dogs steps on a used pad of the daughter-in-law, the mother-in-law is supposed to die in a few days.
Twinkle: I grew up in an all-women home and so, I never got a chance to stumble upon any such taboo personally. However, living in a boarding school made me hear all kinds of stories. For example, this girl on her periods who was blamed and beaten for an unfortunate fire-accident that happened during a religious prayer she was attending.
On their personal journey
Muruganantham: It was the love for my wife that inspired me to invent an affordable sanitary pad. It was an arranged marriage set-up and she was well-trained in hiding the information regarding her periods from the men around her, including the husband. We lived in a village where almost no man had any idea about the process of menstruation. One day, I caught her hiding a blood-drenched cloth piece from me. Upon questioning, I learned that the women in my community were too poor to afford a pad and that's why, they'd been using these unhygienic methods every month.
To surprise her, I cycled 14 kilometers to the city to buy her a pack of pads. Its price shocked me to death. I was curious enough to touch and dissect a pad in order to learn about its composition. That's when I determined to make a similar thing for my dear wife in a comparatively lower budget.
Barkha: I'm sure the shopkeepers had the packet wrapped in a newspaper and later cover it with black polythene. I don't understand the shame attached to this natural phenomenon.
Muruganantham: This shame exists within both men and women. I still remember my wife and sisters refusing to use the pad I made when I requested them to check its absorbing power. My wife wondered why I was obsessed with a sanitary pad. She was so furious with me that she sent me a divorce notice. During the making of the product, she often warned me not to say the word 'period' in front of the idols that were kept in the shelves at our home.
Twinkle: This is how we've always been conditioned and told that menstrual blood is dirty and impure. Had it been the other way round, things would have been totally different in our society today.
Muruganantham: I could feel the shame attached to it once I started wearing the pad myself as there were no women who were ready to be a part of my experiment. For them, I was a shameless man who was too indulged in the female reproductive system. But I kept moving forward. I wore the pads for straight three months. I tied a small bag filled with red colored water around my hips and inserted a pie through it that made the water drip right onto the pad. I wanted to check its soaking power and the comfort level during its usage before commercializing it.
The moment the pad started getting wet, I lost my independence. I was worried about the red stains on my white dhoti. I was worried about cycling in my usual posture. I was worried about walking in the public. All that made me understand the pain and dilemma that each woman goes through every month.
On how being on periods is affecting our lives mentally, physically and economically
Twinkle: I was supposed to wear a mint-green dress for today's event but last night, I was greeted with the lal-salaam (red salute). Hence, the black look. This is the kind of fear our girls are growing up with. We think a blood stain on our clothes is the most inappropriate thing in the world. How sad is that.
Muruganantham: About 90% of women cannot afford sanitary pads. About 20% of the girls drop out from school because of the lack of access to the menstrual needs. From girl education to women's career and financial independence, everything is getting affected. I don't know how long the Indian govt. is going to take for making the pads accessible to each and every one of them.
Secondly, the GST levied on the sanitary pads must be removed at the earliest. When I met the Finance Minister, Arun Jaitley, I told him not to worry about the loss that might possibly happen with the removal of this tax. I requested him to instead estimate the revenue our country will generate once the women get to live a life they deserve.
About the solution
Muruganantham: Earlier, it were only two As – affordability and availability of the pads – that concerned me. Today, however, there's a third A that is of major importance and it is Awareness. It is extremely important to spread the awareness about menstruation among all the genders. If we normalize it, half the problems will be resolved. The girls can then openly discuss their menstrual health with parents and teachers. The women can freely speak about it to their employers to demand period leave and also, to their husbands to announce a break from the household chores.
Twinkle. I agree. It's about time the girls tell their parents they need sanitary pads and not some Fair & Lovely.
For those wondering, Muruganantham's wife has come back to live with him. She now understands his mission and is, undoubtedly, proud of his achievement. It is indeed a beautiful story of how the love for his wife made him an international name. As Muruganantham puts it, "I studied till class 8 and today, I am delivering lectures at the Harvard. Dear men, if you want to touch the sky, do things only for your wife."
Hands down, Muruganantham. Hand down.
Was this article empowering?