Wednesday, August 03 2022, 09:12:14
'That Indian Chick' Takes JWB Back To School With Vlogging 101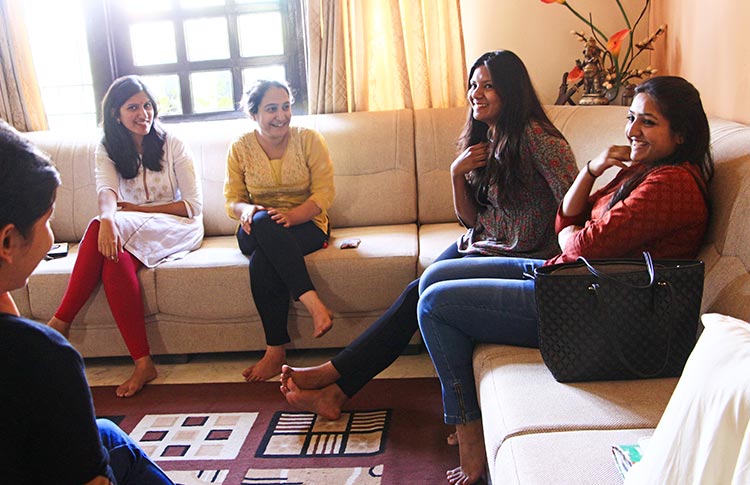 Hello, fellas! It's been quite a while since I told you the tale of our weekend mischief. The last time I spoke was when Sonal Arora taught us some basic wrapping techniques. The activity we did this week was something we all had been longing to learn.
You have seen JWB experimenting in the blogging sphere, and this Friday all of us bloggers, like sincere students, visited That Indian Chick to get some tips on Vlogging.
This was just the transformation we were looking forward to. We entered as bloggers and left her house as almost Vloggers (teehee). There was another reason we couldn't wait to meet her: her two 4-month-old German Shepherd dogs! Electra & Cleo (which I'm assuming is short for Cleopatra) were training when we arrived.
'That Indian Chick' the Vlogger/Rant-er escorted us to the Shiksha Mandir where she seated herself on her throne, and we, like innocent students, surrounded her. Brace yourselves guys, you're about to get some kickass lessons from this Kickass Vlogger.

Her first question to us was: "What kind of YouTube Channels do you follow?"
We looked at one another, and Lavanya said: Superwoman!
Me: Charlieissocoollike!
Ayushi: (unable to think)…Hey! We're supposed to do the asking! (Ayushi took advantage of having been an immediate school senior to her)
That Indian Chick: Go ahead, ask! (intimidated)

Jayati: When did you figure out that you wanted to start your own YouTube Channel?
That Indian Chick: Okay, so a friend and I were inspired by Nigahiga, who is this YouTube personality who creates hilarious videos. Then there was IISuperwomanII, Jenna Marbles. When I saw her videos, I was like 'man! I gotta do something like this!' I literally thought that my video would instantly go viral, and everyone would just watch it, love it and instantly subscribe. Um… so my channel name was called 'The Weirdos Invade'.

I couldn't help but snort; that reminded me of my first ever email id. It was 'creepy_snake'. Yeah, I was that lame, too.
Seeing our expressions she immediately said: I know it is the shittiest YouTube channel name. Now YouTube lets you change your channel name, but not the URL, so guess who's stuck with 'The Weirdos Invade'?

Here are some of the key points 'That Indian Chick' taught us:
Every channel has its own personality
Let's take IISuperwomanII for example. She's a brown girl in Canada, and everyone around the world is obsessed with Indian stereotypes, well, she knew how to use them to her benefit. Even though a lot of people were doing it, she had a personality which was consistent all the time. If you look at her first few videos, they are of bad quality, but the one thing that's common in her videos is what she believes in.

People know 'That Indian Chick' as that girl who has short hair, some even think that she's a lesbian. Yeah, just because she has short hair! Grow up, guys!
Be quick
If you want to get noticed, you gotta be quick, mate! Talk about trending issues.
And Lavanya interrupts, "Like Taher Shah!" I can't stress enough how obsessed Lavanya has been with Taher Shah since the time his song 'Angel' has surfaced. She's so smitten by it that she's considering dressing up as a Brinjal with a tiara for her wedding. 'That Indian Chick' continued.

Yeah, Taher Shah, Kate Middleton are the trending topics as of now. You need to be aware of your surroundings, prepare your rant/script whatever you need to do!
The kind of Vlogging you want to do
What does JWB want to do? Vlog? That's where you hold a camera, or place it somewhere and just talk exactly the way you write. However, ranting is mostly negative and humorous.
Ayushi said, chiming in, "As the East India Comedy!"

Exactly! Then there's a third kind, which is a sketch. For a sketch, you prepare a script, it's like a short skit, just on YouTube. If you're more into social experimenting, try your hand at 'Vox Pop', where you'd interact with people on the street and get their opinions. And if you discuss 'sleazy' topics, you'll probably get a lot luckier with the views. *wink*
Thanks, 'That Indian Chick', we'll keep that in mind.
Practice makes perfect
You might get it wrong a few times, but will eventually get the hang of it! And, you will get to know that you're on the right track when you start getting negative comments?
My ears pointed towards'That Indian Chick' upon hearing this, yes, just like her two German Shepherds.

Initially, when my page started gaining momentum, I remember how once I had 28 likes and 30 dislikes. I really took it to my heart. There were a lot of people who subscribed just to dislike my video. I'm not even kidding. The moment my video would go up, it would have one like and six dislikes. And I'd go "OMG I JUST POSTED IT. YOU DIDN'T EVEN WATCH IT! YOU LIAR!"
Technicalities of creating videos
When you begin, it's okay to have a decent quality video; you don't have to invest in hi-tech cameras!
And I prompted, "What about the lights?"

I think you should try to use natural lights as much as possible. They are cheapest, and also the most effective lights.
I'm not proud of it, but initially, I used to edit my video using Windows Movie Maker. Currently, I'm using Sony Vegas Pro. It's pretty easy!
Ending the video
You have to tell your viewers to hit like, subscribe and share or they won't do it. End of story!
How often should you post a video?
Make a video, tell your audience to go and watch it. Wait for ten days maximum and then post another one. If your first video is doing well, there's no reason to delay the second one. Slowly, if you start noticing that your channel is growing, start posting weekly.

Following the tips, 'That Indian Chick' promised to visit the JWB den and create our first ever Vlog with us. So yeah guys, it's happening. JWB has initiated its work towards, as Lovy would say it, the Shri Ganesh, of the JWB YouTube Channel.
Haven't seen the world of the "That Indian Chick" yet? Check out one of her rants below to get the answer to that question.

Photo Courtesy
Sanchit Sethi

Was this article empowering?