Wednesday, November 29 2023, 05:39:56
Teeny Tiny Talk Between Mother & Daughter at Beauty Salon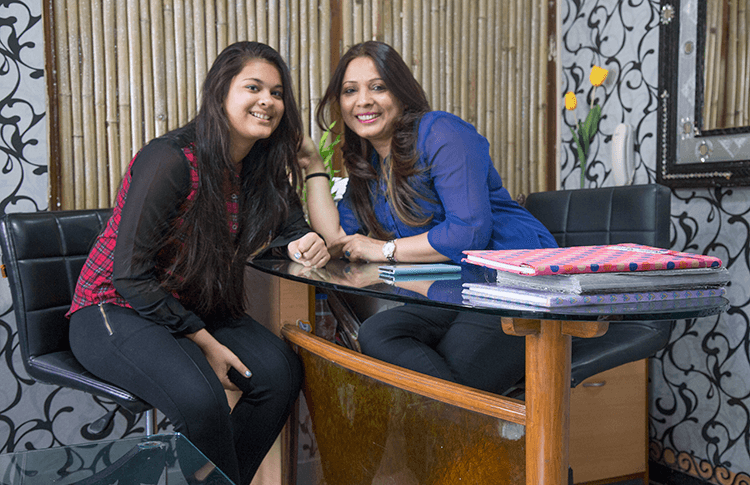 'Teeny Tiny' knows EVERYTHING. And by everything, we are referring to the love teens have for beauty parlors. Therefore, a talk about body image and how paramount its role is in a teenager's life with the owner of 'Beauty Home', Mrs. Neelam, and her tranquil daughter, Mehak, was inevitable. Also, we wanted to check if the daughter had the same thoughts as the notorious and intelligent kids of The Palace School.
JWB's Avantika: What made you start a parlor in the first place?
Neelam: I would like to give credit to my husband for this. I had done a beauty course before our marriage. He was the one who encouraged me to do something productive once he saw me sitting idle.

JWB's Avantika: Define beauty. What is a beautiful body to you?
Neelam: To me, beauty is a kind heart. Apart from this if you ask me about physical beauty, I admire Shilpa Shetty's body a lot. Her curves are to die for.

Mehak: I love Deepika Padukone. Her body is immaculate.

JWB's Avantika: Has your daughter ever been worried about her looks?
Neelam: God, yes. From past one year, she has started worrying way too much. From her puff to her shampoo, she worries about everything! I think it's a Teenage phase.

JWB's Avantika: Why do you think you are SO worried about your looks?
Mehak: Friends, mainly. They influence me.

JWB's Avantika: How do you balance natural beauty with make up?
Neelam: To strike a balance, we make sure we are not overdoing the makeup. Therefore, we do workouts which include Surya Namaskar, and ensure that we take a healthy diet.

JWB's Avantika: Your favorite junk food?
Mehak: Burger and Nachos.

You go, girl!

JWB's Avantika: Are the teens of today too dependent on make up?
Neelam: I don't think so, because these days teens have a natural beauty.

And my daughter is not at all dependent on makeup. It's me only who tells her to put SOME make up on.

JWB's Avantika: Have you ever been too conscious about your body?
Mehak: I worry about looking fat on my birthday!

Neelam: Whenever I go with my friends or her friends' mothers', I feel a little self-conscious. I guess its human tendency to do so.

See, I am 40 years old…no 39, and feeling conscious has nothing to do with age i guess.

JWB's Avantika: How does your mother inspire you?

At that, the daughter gave a blank look making everyone nervous.

Neelam: I do inspire you, right?

Mehak: Yes Mom! I love your punctuality.

Phew, thank god! Kidding!

Neelam: You don't tend to be but!
Ah. The playful banter between parents and children is most exciting to watch.

"Teens enter a phase in life where EVERYTHING is mesmerizing to them. They also become irresponsible during this phase."
JWB's Avantika: A message to all the teens of Jaipur, please.

Neelam: Be natural. Don't be under any kind of pressure.

Mehak: Why fear when your mother is here?

We all *Aww'ed* at that. And then 'Teeny Tiny' came to the conclusion that body image matters to teenagers a lot. Sometimes, more than it should. Teens face so many body weight issues that it becomes necessary to be vigilant and supportive at all times! Parents, are you listening?
Photographer: Shashank K Tyagi

Was this article empowering?