Tuesday, November 28 2023, 03:31:54
Tanu Of Charkha Ghar Believes That Makers Of Sustainable Products Must Rethink Their Margins To Ensure Fair Trade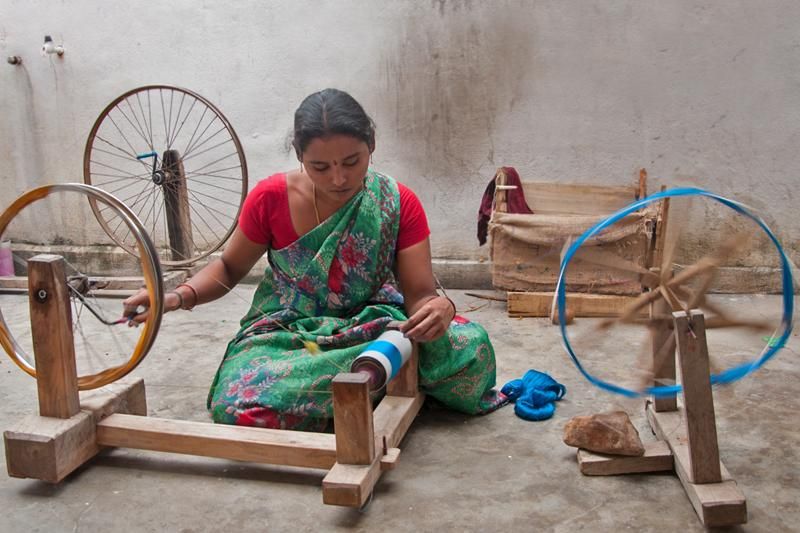 Young entrepreneurs are not uncommon. However, when entrepreneurship aims for the greater good of society and the environment, then it becomes special.
Tanu Maheshwari, a young entrepreneur hailing from Bhopal has started out with a small unit but big dreams. Her company Charkha Ghar produces sustainable and eco-friendly fabrics. With an impressive product and services list, it includes natural dyeing, weaving, eco-printing, Bandhani work, tie-dyeing, hand-painting, and different traditional organic and handloom fabrics, such as Kala cotton, Jamdani, Chanderi silk, Maheswari silk, linen, hand-spun, and hand-woven fabrics, and more.
Concentrating on creating fabrics that are natural and sustainable, Tanu's Charkha Ghar is also a source of employment for many artisans residing in the rural belts of India. She, along with her co-founder Rushabh Shah, is striving to scale their business by keeping alive the traditional artistry and embroidery that is, undoubtedly, intricately woven into the cultural fabric of this country. At the same time, they hope to generate employment and empower skilled laborers to earn a respectful and well-deserved remuneration.
What started off as a project in college culminated into a deep interest and passion for Tanu. She realized that natural dyeing methods or sustainable creation of fabrics were always around for generations. However, the shift towards mechanized and chemical or pigment dyeing has overshadowed their existence. But luckily, in recent years, the awareness of eco-friendly products is increasing and with a solid research base, Tanu decided what she wanted to do in life.
Tanu took the plunge and started Charkha Ghar in 2019. She worked her way through thorough research and visited several villages around her city in search of skilled artisans. Some were women who wanted to work from home, some who wanted the income to complete their studies. Today, Charkha Ghar employs artisans who depend on it for their monthly income. And with her small team of dedicated workers, Tanu is happy that she is making a difference in the lives of the artisans as well as doing her bit in staying away from the negative impact that the textile industry has on the environment.
With passion, research, and experimentation, Tanu has come a long way. However, as she says, "I love what I am doing but I am also a learner. I keep experimenting and at the end of the day, I tell myself I can do better."
We got a chance to speak with Tanu and learn about her inspiring journey so far.
What motivates or inspires you to work towards building an eco-friendly brand?
Tanu: In college, we had a subject related to handcrafts and another subject that was Sustainable Products. I researched and found that the textiles industry produced a large amount of waste. And it was then that I decided I wanted to do something different where there was no wastage or any detrimental impact on the environment.
Do you think there are more or different challenges one faces while trying to promote and market sustainable products?
Tanu: It's difficult; because when I started out I was also a layman and didn't have much idea about this particular industry. But after I studied, researched, and experimented with the natural dying process, I realized that I could spread the awareness. Also, when I was about to start out, COVID came around. In a way, it helped and gave me more time to learn and prepare myself. Again, I would travel by bus or local train to remote villages in search of artisans. As a girl, it was not easy! Luckily my parents were very supportive and I also traveled along with Rushabh, the co-founder, which made it easy. Again there are a few challenges that I face while trying to promote our sustainable products. When someone wants to purchase my products, I give them two fabrics, one that is made from pigments and one that is natural. Not all understand the difference. At that time, my challenge is to explain to them the process, how it is done, its environmental advantages and how it is not harmful to the skin, etc.
Tell us a little about the artisans you work with.
Tanu: More women work with me, and even while I was researching, my main aim was to work with those workers who were in financial need. Our weavers are from Khillikheda near Bhopal, Amarkantak, Dhandalsa West Bengal, and Mandvi Kutch. Our Bandhani and Eco-printing unit are in Bhopal.
How can fair trade be achieved in the industry as even in the case of green brands the artisan doesn't get paid fairly compared to the margins of the owner?
Tanu: Talking about myself, I learned and researched the market rates, what and how much my artisans contribute as well as require. I make sure that I give them the true and actual amount of remuneration for the amount or quantity of work they do. Today the people who work for me are totally dependent on me. And they are earning their full monthly income through Charkha Ghar. So our main focus is that at whatever rate we sell or make a profit we divide it honestly, equally, and proportionately. We don't keep a big profit margin as we believe that everybody is working hard and should be paid fair. And that is how it should be! The weavers, handcraft artisans, etc. must be paid according to their input and it must be fair.
The perception is that environmental-friendly products are expensive and usually elusive to a particular class of people. Your thoughts on it?
Tanu: I don't think such products are much expensive. In the textile industry, the percentage of margin is usually quite high. If you see it from the perspective of cost and selling price alone, the products can be cheaper. And that is my focus as we aim to reach the maximum number of people. We are not targeting a particular class. We are aiming to create fabrics that everyone can pick up. And that's how it should be so that more people use it.

What changes would you like to see in the fashion industry as a whole in making eco-fabrics more viable and interesting amongst common people?
Tanu: I make natural fabrics but not many people understand what it means. However, when we convert the fabric into a product more customers understand the use of the fabric. Also, shows and exhibitions are important so that people are made aware of the products that can be made from natural fabrics. Today, I think most people are moving towards sustainability. We are connecting with many start-ups and there are other companies, too, who first were working on pigments but are now moving to natural dyes. New designers are also moving to natural dyes, handloom fabrics, etc.
Can you educate us a bit about greenwashing and how to stay safe from its nets?
Tanu: The brands must be transparent. If you are making a product you must have a label. As a brand, I must make sure that the customers should get all the information about the product in full detail. Today we get a copy of almost anything, so one should mention the process, and if there is a certificate, that must be displayed, too. It is important to show the story behind the product.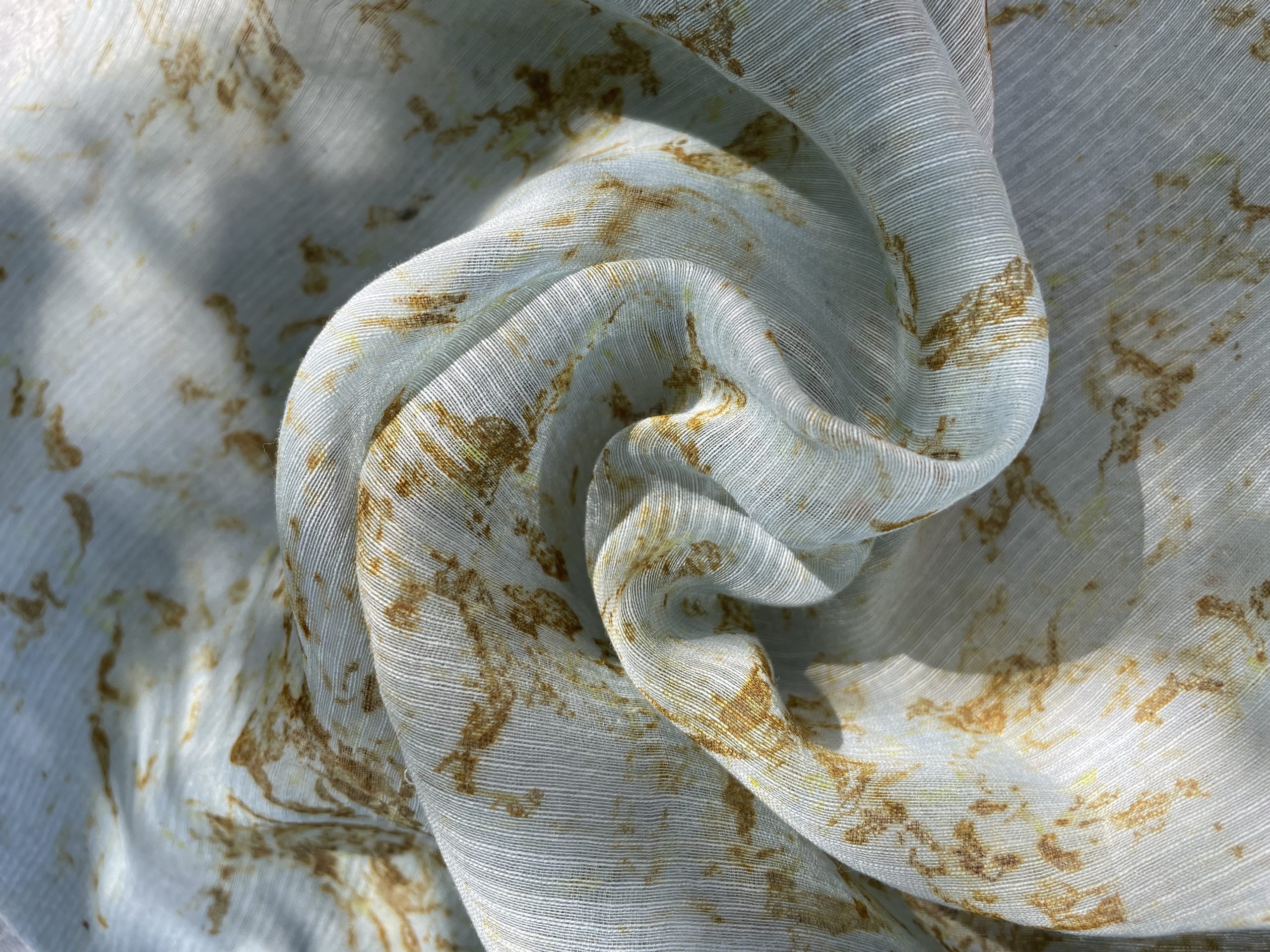 What are your future plans for expansion?
Tanu: I have a small start-up and work with few workers. I am enjoying my work a lot now and I want the company to grow so that I can give more people work. My production is quite small yet, but my main aim is to do all the handicrafts in India in natural dyes. Overall, I want that all other start-ups and brands move towards natural and environmentally friendly products.
As a young woman entrepreneur what suggestion and guidance would you want to give to other women who want to launch their own businesses?
Tanu: Stick to your goal. No matter what you want to do, whether it's business or a job, first you must gain the knowledge. There will be ups and downs, but continue researching, learning, and understanding the market. Hard work, as well as smart work, is important.
Learn more about Charkha Ghar
here, and
Was this article empowering?