Thursday, October 28 2021, 04:02:34
Some Fairies Can Be Black Too: Rihanna Lookalike Chhattisgarh Model Renee Kujur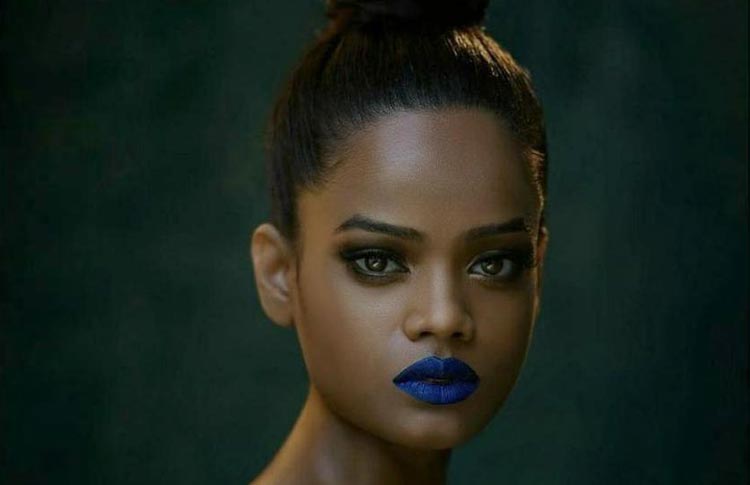 If you are dark-skinned, it gives people the right to suggest the use of "fair and lovely" or the good old multani mitti, and the like. Just now I googled 'how to become' and one of the options on the pop-up scroll read 'fair'. Like, seriously.
I remember once, some patriarchal zealot asked my father for a "comparatively fairer" photograph of her "seemingly fair" daughter; this deep-rooted obsession of our society with fair skin has affected the lives of many, and one such story is of Renee. When Renee Kujur was three, she participated in a fancy dress competition in her school, dressed as a fairy. When she came on the stage, someone shouted: Dekho dekho kaali pari (look, a black fairy) and the audience burst out laughing. The little girl left the stage sobbing. Twenty years later, as Renne obliges fans with selfies and autographs, she is often reminded of the incident. She smiles and says to herself: Kuch pariyan kaali bhi hoti hain... (some fairies are black, too).
Renee hails from Bagicha, Chhattisgarh, and she entered the world of modelling a few years ago. Rejection became a constant in her life, as the fairness-obsessed industry wasn't willing to accept a girl with unconventional features and dark skin. She was ridiculed and made to feel inadequate. And that was not it, some even told her to sleep around to get work. "They told me all models are into prostitution. I won't become a model unless I pleased clients. Being dark had already killed my chances," she shared in an interview with Hindustan Times.

Photographers would tell makeup artists to make her 3-4 tones lighter and heavily photoshop her pictures. "Sundar ladki ka makeup toh koi bhi kar sakta hai. The real challenge is to make a dark girl look good and I have done it," said a makeup artist once publically after doing her makeup.
And then one day, a friend realised that Renee bore a striking resemblance to Barbadian beauty Rihanna, and took few shots without tempering with her skin tone. "I laughed off the Rihanna part. But soon everyone was saying the same thing."
It made it easier for her to get work. "Photographers would tell their clients that I resemble Rihanna. That way, it was easier to convince them. No one could deny that Rihanna wasn't beautiful. That sort of worked in my favour. Those who had called me kaali and unattractive has to take back their words," she recalled.
456 Likes, 8 Comments – badgalrenee (@badgalrene) on Instagram: "#Rensta #Repost: @pawan_makeover_artist via @renstapp ··· " #indianbride #roorkee…"
The model wants to thanks the pop star for her lucky break. She said, "With such deep-rooted prejudice in people's mind, it would have been very tough to get work. The Rihanna factor turned out to be a blessing. Rihanna has already convinced people that she is sexy and beautiful and the West is crazy about her. If I resemble her, how can I be unattractive? That's how our mind works."
"I don't know where I would have landed without Rihanna," she exclaimed.
But despite the "Rihanna factor", Renee gets only one-third of the work that her fairer counterparts do. As we know, for most of the people, beauty strictly means fair skin. "Few are willing to turn around rules. It will take time to rewrite set norms, but I am happy I am part of the change," she laughed.

The budding model wants to meet the singer one day. "She has turned around destiny for me. I would love to meet her, surprise her and thank her," she shared.
We hope that day comes soon, Renee!
H/T Link: Hindustan Times
Was this article empowering?