Wednesday, September 27 2023, 11:28:43
Sisters Ayesha And Manisha Upcycle Old Memories Into Sustainable Business Of Pretty New Things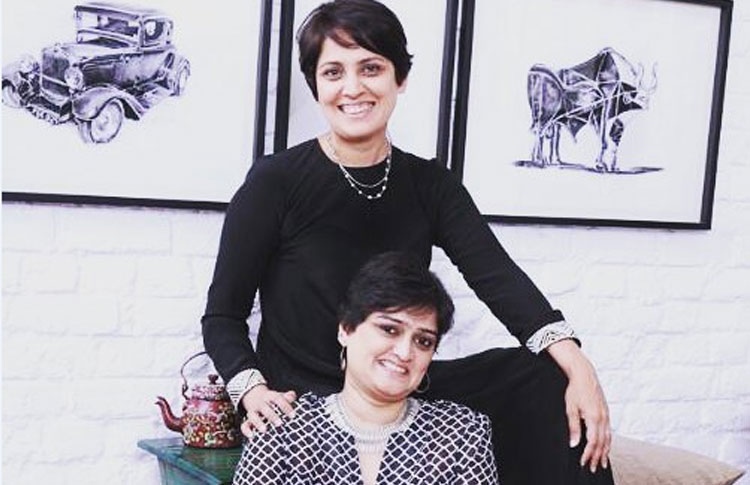 With their start-up Cornucopia, sisters Ayesha and Manisha Desai are making sure they do what they love while also strengthening their bond. 
Cornucopia uses your old clothes to create new memories by converting them into quilts, cushion covers, bed covers, and more. From working full-time for social causes to becoming full-time entrepreneurs, the sisters are reinventing themselves in their 30s.
Ayesha says, "Manisha and my 20s were more idealistic and our 30s are now about earning a livelihood while still sticking with our principles."
We rang up Ayesha to understand how the sisters are navigating the world of entrepreneurship. Read the excerpts to find out.
How did Cornucopia happen?
We launched in January this year. The process has been very interesting. The whole concept of Cornucopia was to bring in responsible consumerism. All of us have memories hung and stacked in our wardrobes that we just don't want to throw away.
It started with Manisha repurposing about 10 of mom's old sarongs, which BTW we never liked, and converted them into a bed cover. She got the idea on a whim, slowly received a lot of orders, and she turned to me and asked if I wanted to join and I said yes.
How are the sisters bonding over business?
It's actually going really great, and because of Cornucopia we talk about 40 times a day, but the downside is that it's mostly about work. Earlier, it was more personal. The time we talk about nieces and nephews is when they are not well. Manisha is my best friend. We have the same philosophy and share the same sense of humor. We say the most inappropriate things and laugh about them, which is the good thing about working with family. This can't be with formal co-workers. Us being sisters, it's easy.
40 Likes, 15 Comments – Ayesha Desai Puri (@ayeshadesaipuri) on Instagram: "Counting down to an April reunion! #sisterduo #cornucopiaconcepts #workworkwork #peasinapod…"
Aww, sisters are the best! Which one of you is the mature one?
Oh, it's Manisha! She is more soft-spoken, subtle, mature, and makes more logical decisions. I, being the older one, am more dominating and loud. *Talk about role reversals*
It mostly happened that I used to be more in the limelight, but with Cornucopia, tables have turned. This is Manisha's brainchild.
Turning old memories to recreate new ones. What is that like?
It's actually like going back to what our grandparents did. An old tradition of making handstitched quilts, mostly done by women, called Godhdi in Maharashtra. We grew up with Godhdiwalis making blankets for us with old sarees.
Wow. And are Godhdiwalis involved with Cornucopia as well?
Absolutely, yes! It's difficult to hire them full-time because they need to take care of their families as well. Whenever we want them they are a phone call away. We need to support their lives, be flexible, they come and go as we need them.
If you see a Godhdiwali, she'll be walking in a sari draped like a dhoti with a needle stuck in her bun. These women are amazing!
36 Likes, 4 Comments – CornucopiaCares (@cornucopia_concepts) on Instagram: "The indescribable feeling of seeing the vision of Cornucopia taking shape. This is mangal tai, a…"
They indeed are! How do you make sure you provide fair wages to the artisans working with you?
We pay right wages to them by pricing our products as they are. We want to be a part of the fair trade movement, to be able to give equal and fair wages to the workers. So, for the first five to six bulk orders that we received, we partnered with an organization in Gurugram (how much I miss its old name) and paid the women in accordance with per piece.
We are always open to collaborating with non-profit organizations to hire more women and make a difference in their life with Cornucopia. We received an order for a resort in Goa, for which we came together with a silayi centre – Vidya Foundation in Munirka, Delhi. The women from the centre made 40-50 bed covers for us and we paid them per piece.
That's a nice way to do it. Which reminds me, before starting Cornucopia, both of you were actively involved in social causes. Tell us more about that.
Manisha feels strongly about waste management. She studied and worked towards environmental sustainability. She has never bought water bottles from shops and carries water in our empty Old Monk and vodka bottles. She once, in fact, clarified that in an Instagram post.(recalls and laughs) She has also worked for the Narmada movement.
I studied social studies in NYU for two years and worked as a director of a multi-service centre in San Francisco, CA, teaching about unsafe sex and drugs, and then moved to India in 2012.
How did the shift from social causes to entrepreneurship happen?
Manisha and my 20s were more idealistic, and our 30s are now about earning a livelihood while still sticking with our principles.
Hmm. You live in Gurugram while Manisha lives in Pune. Does long-distance affect your relationship?
It's not easy. We have to make a lot of trips back and forth. Luckily, we broke even in July, making profits. We visit each other once in two months to discuss work.
How have you both divided your work?
Manisha looks after the design and also runs the workshop, which recently opened in Pune. She, in fact, stitched initially, after learning and buying the machine.
I handle the marketing, social media, website, follow up, basically all the backend work.
30 Likes, 10 Comments – CornucopiaCares (@cornucopia_concepts) on Instagram: "And we are moving into a new space in Pune! Very exciting! #newspace #studio #settingup…"
Is there any particular stereotype associated with women entrepreneurs that you absolutely hate?
I hate the term 'Mompreneur'. We're just entrepreneurs, why add the adjective mom to our business? We don't do that with fathers. Manisha and I hate it. We're not different from any other entrepreneur. We're nothing more or less. Our families and husbands are the rocks behind us.
One request from a client that you will always remember?
Once, a client wanted us to use their late dog's clothes to make cushion covers. Her name was Star. It was so emotional. We are huge dog lovers. And she sent the tiniest clothes. It was very emotional for us.
16 Likes, 3 Comments – CornucopiaCares (@cornucopia_concepts) on Instagram: "Our first product out of doggie clothes is being made! This little fella is in 🐕 heaven and his…"
 What do you want to use next to create something new for yourself?
One thing I want to use now is my husband's T-shirts. He has the coolest tees. He is an ad guy, goes to so many conferences and gets such cool tees but he never wears them. And neither does he allow me to cut them and make something else out of them. We can make the most amazing quilt out of them. It's a running battle between us.
Haha. How did you celebrate your first achievement?
We haven't had time yet to celebrate, which is so sad. We are planning to celebrate and have a whole one week carnival in our new workshop. Our first anniversary is on February 14, which also happens to be Manisha's birthday. In the carnival, we would like to partner with like-minded organizations and talk about environmental sustainability.
Yay! Do you recall a sweet memory from when you were starting out?
When we just started out, we didn't have a proper silayi machine. Fifteen days before we got our new one, a neighbour of mine, who is 95 years old, gave us her old machine in the perfect condition. It was so sweet of her!
Was this article empowering?