Wednesday, November 29 2023, 04:54:16
Shaadilogy's Aayshya Jhunjhunwala Shares Tips On Hassle-Free Weddings & Happy Business Partnership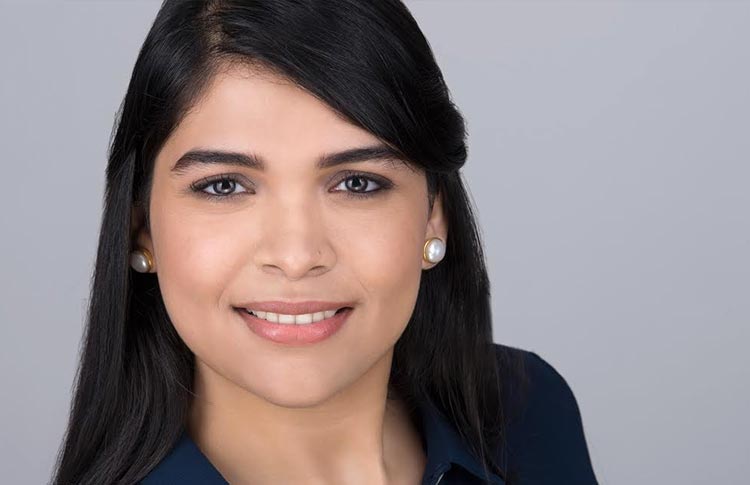 "Recession ho ya inflation, shadiyaan toh hoti rahengi," is a dialogue from Bollywood movie Band Baaja Baaraat that probably stays true to India's obsession with matrimony. Be it grand or small, the humongous celebration also comes with trunks full of stress. 
Kolkata girls Aayshya Jhunjhunwala and Vasundhara Mantri decided to come to the rescue of the crazed couples! They thought of making weddings more enjoyable and hence, came up with their website Shaadilogy that curates designer wedding apparels and gifts for a hassle-free ceremony.
Bonus – an option where a bride and groom can list their gift requirements for their guests.
We indulged in a candid conversation with the 27-year-old co-founder Aayshya and learned more about the smart tayyari for shaadi.
Read excerpts:
How did you meet each other and become partners?
Vasundhara is my brother's friend and that's how I know her. It's been about 3-4 years now since we met. For a wedding, both of us were madly caught up in shopping for cousins and friends and realised what a big hassle it is. With a thought to make the celebration stress-free, we came up with the idea of Shaadilogy.
Your brother Advay Jhunjhunwala has also joined your brand and now handles the technology and finance department. How is the professional equation with him like?
Well, it's quite good. We're both good at keeping personal and professional lives separate. We're both independent individuals at work. His brotherly protective side does come up often, though.
That's actually sweet!
With all co-founders belonging to different age groups, is there any kind of problem in making decisions? 
Not at all. Vasundhara comes with an experience of over ten years in the fashion industry which adds so much to our brand. Having showcased at fashion weeks like Amazon and Lakme, her jewellery line will complete 14 years this July. Both Vasundhara and Advay are older to me and can be bossy if they want to. But they aren't. My opinions hold equal value and most of the decisions are formed with mutual consent.
So, Aayshya, how does dealing with long-distant clients work like?
Technology has made everything so, so easy. Nothing seems hard at all now. Most of our clients' requirements are well understood through phone calls and emails. We also send them a plethora of options. Depending on the kind of order we receive, we also meet up sometimes. If there is a bulk gift order, we do send across a sample piece as we understand how the touch and feel factor is important.
It is time to let the cat out of the bag. How to have a stress-free wedding?
TBH, my idea is to relax and go with the flow and would be the suggestion for everyone. If it's not happening, please don't stress about it. Enjoy the day and celebration. As the nuclear family culture is growing, there are fewer people to help out in comparison to older times. So, our app allows to plan out travel, food, guests' arrangements, and you don't have to chase people time and again.
Talking about one of the most unique offerings you have on your website, how do you plan to break the wall of shyness that surrounds the concept of the gift-registry?
This is popular in the western culture and we want to bring this concept to India, too. Many times bride and groom receive the same gifts from multiple people and they might not even need it. It is difficult for people to get used to the new concept but which new idea doesn't go through this process? If 10 people will do it, there will be other five joining the trail. We have already had people adopt the concept, so we do know that this is a thing of the future and will be accepted.
And what strategy does work the best for effective brand partnerships?
The strategy is to put your cards on the table. Honesty is the best policy that works here. When you are clear and transparent about your ideas, it becomes easier for the person to collaborate. Also, never lie about deadlines. This is one thing our team completely follows. Why create unnecessary tension and stress?
We read somewhere about two women co-founders who sent emails in the name of a male (fake) partner and received better responses. Have you faced any gender bias in your journey?
Till date, so many times have I received emails addressed as "Dear Sir". My name is Aayshya, how am I a man? But I don't let such things affect me. I know what I can do and these things can't pull me back. Frankly, there are very few people of such behavior now and the majority are the supporting kinds. When I am at banks, meeting with designers or clients, I never had a problem or faced any discrimination because of my gender. In fact, have only had advantages because of it.
Does Shaadilogy go the eco-friendly way?
We try to as much as we can. We have connected with few of the vendors who strictly and effectively follow recycling. Also, a lot of apparels available on the site are made of natural fabrics.
15 Likes, 1 Comments – Shaadilogy.com (@shaadilogy) on Instagram: "Gift your party crazy friends this amazing barware hamper with things they would absolutely love! …."
Before we call it a wrap, have you known of a badass bride who has broken a patriarchal norm for her wedding?
Umm, I do, actually. A bride insisted her father that she would pay for the wedding from whatever savings she had and she didn't care how big or small the wedding would be.  How generally it's the girl's side that pays entirely for the D-Day, she had the wedding funds shared 50-50 by both the families.
Was this article empowering?