Thursday, June 24 2021, 05:16:02
SEEMA'S DIARY: All I thought and fought in Me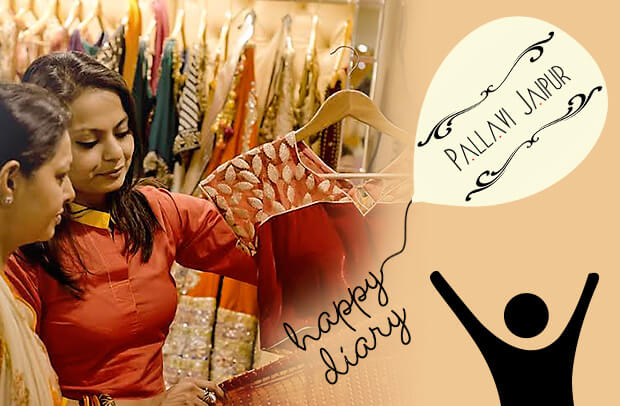 On Tuesday, March 11th, Mrs. Seema was scheduled to meet famous Bollywood Designer Pallavi Jaipur, who supported the Make-Over Project with the determined heart: 
"The reason behind my support for this cause is simple – generally I dress Bollywood stars or some renowned personalities, so it will be great to dress a woman from my own city – Jaipur! I want to give her a look that she deserves…that every woman deserves. Society thinks that a widow has no right to get well-dressed. I, along with Jaipur Women Blog want to change this perception."
Pallavi Jaipur will style-counsel Seema and give 3 new looks into her wardrobe collection. This is all done to change her viewpoint towards herself & to help her attain more confidence  – and eventually change the attitude of society towards women like her, towards widows. We wondered what Seema had discovered that day! So we have stolen her dairy to read her heart later that evening. Have a look:

"Today was the 1st day of my makeover. I consider myself fortunate that Jaipur Women Blog's team chose me over thousand others to take this fight against social norms towards widows. From the beginning I knew it was going to be challenging and somewhere not acceptable among the people with whom I live, but I still I want to go with it for all the women like me and show them that they don't have to sit back and do what they are told.

My 1st challenge began on the very 1st day when I had to meet the Pallavi Jaipur. I knew that Pallavi designs for Bollywood actors and renowned personalities. But still she has her feet firmly put on ground. Though I am just another common woman from a small city, Pallavi treated me no less than any of her crème clientele. And this made me realize that even I am someone special, in my own way. Her gestures broke my contracted perception about myself and now I determined I am never going to belittle myself by comparing myself to others.

Pallavi reviewed my taste in clothes and then made me go through her exclusive collection that I have till now seen only on my TV screen. When Pallavi asked me to try one of her creations, I felt hesitant. And then she told me what she expects from this makeover. She told me that she wants to see a new Seema, someone who must not lose the fact that she is a woman and has all the right to look beautiful. As a mother, we all forget about ourselves, but her one sentence made me rethink of this 'natural' motherly thought.

I was almost teary eyes when I saw myself in the mirror. I was looking at a fresh version of me, as if I have gone 25-30 back from my current age. And I reflected that I can look much better than I look today. With this, I accepted the various looks Pallavi chose for me as by then I had developed confidence in her, a confidence that one seeks in a friend. I am thankful to her.

The girls are sleeping right now…so calm and silent. But I can never forget their excitement when I showed them the photos of my various looks. The younger one almost jumped to excitement." This is just 1 day and I have much more to contribute towards this campaign for my fellow women friends. But here is one thing that I have learnt today – to not limit myself. I have become Bolder now! Who has the right to bound me? Who has the right to tell me what I should wear? Who can tell me if I am looking beautiful or ugly? Who can decide how I should live? It is only me."
If you, don't now the story of Seema, read here!
If you wonder what this campaign is about, click!
Special Thanks to Creative Photographer Mr. Vinod Singh Gussain. Discover more about him and his art of photography!
Was this article empowering?