Thursday, May 13 2021, 05:16:14
Saree Is A Wonderful Mixture Of Every Ingredient That Defines A Woman: Designer Anavila Misra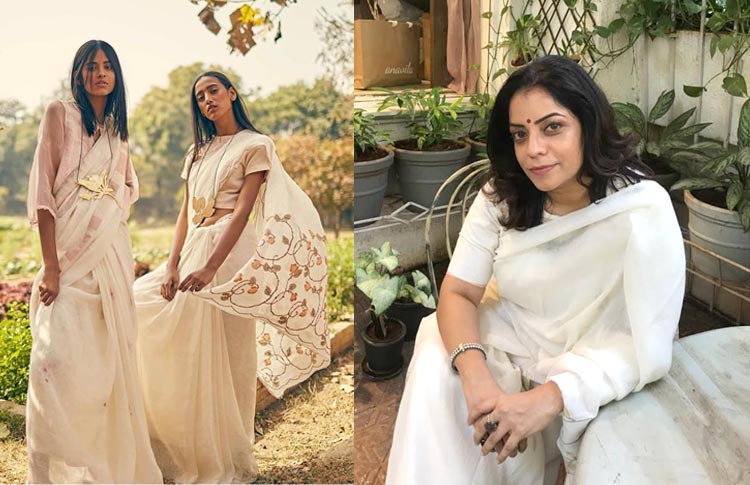 In the modern Indian fashion world, designer Anavila Misra is a synonym for comfortable sarees. In a tropical country, Misra brought in a fresh taste of comfort and style to the gorgeous six-yard garment through an unexplored fabric – linen.
She is a connoisseur of sarees, who probably understands the need of the modern Indian woman the best. Through her label, she made Indian women confident that the saree can be draped and walked around in outside of traditional events too.
When Misra launched her label in 2011, she was sure of what to bring in for the saree-crazy-yet-cautious squad of India. As she says, there was a lot of thought put in and there was no hurry in launching the freshness.
418 Likes, 7 Comments – Anavila Misra (@anavila_m) on Instagram: "#KanganaRanaut in our Brush stroke linen batik sari. #Anavila #Inbetween #SS18"
In a soothing conversation, thanks to her 11-year-old son Rudra playing guitar in the backdrop, we talked a lot about sarees. Read excerpts:
To begin with, you entered the industry after you hit your 40s. Were you nervous about that?
I think entering when I did was the beauty of it all. It was a gradual movement for me. Having worked with linen for menswear and other apparel industries for years, I came in with experience and a set frame of purpose.
881 Likes, 10 Comments – Anavila Misra (@anavila_m) on Instagram: "@kalkikanmani In a navy jari and embroidered detail linen sari paired with an indigo back jari…"
Which was to introduce saree as a comfortable daily wear for women?
Yes, and to incorporate beautiful and light fabric, linen, into the league of sarees. There was a lot of thinking before I started my label and one thing I was sure about was to work on my desire of strongly wanting to infuse something new. And linen was the answer, which has been my love since my childhood. It is apt for our weather. The reception to the idea after the launch was a good encouragement for me.
On that note, do you remember your first clients?
Absolutely. They were Anuradha, Garima, and Farida. In fact, I am still in touch with them. This was during my first exhibition gallery at the Artisans Gallery at Kala Ghoda in Mumbai. To see such stylish women excited about sarees in linen and buy them was a big encouragement to me.
310 Likes, 1 Comments – Anavila Misra (@anavila_m) on Instagram: "* Spring/Summer'18 * On Samruddhi : Mauve summer detail linen sari paired with a mauve cotton cord…"
You have been a lover of sarees since childhood, Anavila. Did your mother play a big role in inculcating the love? Also, tell us about the favourite saree from her closet and if you steal them?
My mother's collection of sarees was gorgeous. Her trousseau had beautiful Banares, silk, kanjivaram, dhakai, kotas, and so many more. I still steal and in fact, some of them are mine now. One saree that I absolutely love is a Jamdani saree of hers. It's off-white in colour with a beautiful border.
What is the six-yard for you? How would you define it?
It's a wonderful mixture of every ingredient that defines a woman. It holds strength, it holds grace, it holds femininity, and it holds power. It is the garment that transforms every woman into a strong and graceful lady.
1,704 Likes, 23 Comments – Anavila Misra (@anavila_m) on Instagram: "@jacquelinef143 in our #colortonic linen striped sari! #jacquelinefernandez #colortonic #linensaree"
So, if we peek into Anavila's closet, will we only find sarees?
I do wear sarees about 60-70 percent of the time but I wear all kinds of clothing. I love wearing tunics and pyjamas.
And, where all can we expect to see you wearing a saree? Is it restricted to work and traditional occasions or does it travel far?
You'll probably see me wearing everywhere. Office, clubs, parties, dance floor, everywhere.
Is there a saree that probably has reached a time of farewell but you're having a difficult time parting with it?
There is. A beautiful Kanjivaram saree that I probably bought from my second or third salary. It holds precious memories and it's still with me.
422 Likes, 15 Comments – Anavila Misra (@anavila_m) on Instagram: "Tisca Chopra summer cool in our sunshine linen jaamdani sari! @tiscatime #summersari #usinyou"
You've always said that your relationship with artisans is very personal and all of you are one big family. Please throw some more light on this.
The weavers working for our brand have grown with us. Like, artisans in Jharkhand have been working with us for 8-9 years now. The collaboration has been a learning pathway for both the sides. They have gotten a chance to move out and explore more through workshops and for me, I have learned so many small nuances of life from them. They have taught me about simplifying needs and not to splurge just because you can afford.
1,395 Likes, 33 Comments – Anavila Misra (@anavila_m) on Instagram: "On the streets of Paris! #sareeandme #linensaree #shibori #paris"
Lastly, when and how do you think handloom will be accessible for people with a limited budget? 
It's a slow process but the good part is the involvement of a lot of brands towards it. At Anavila, we are thinking of ways to create more affordable clothes.
This article was first published on June 18, 2018.
Was this article empowering?