Tuesday, January 25 2022, 08:02:53
Ruchi Shah On Breaking Glass Ceiling As A Corporate Wall Artist & Her Grassroots Projects As A Kids' Book Illustrator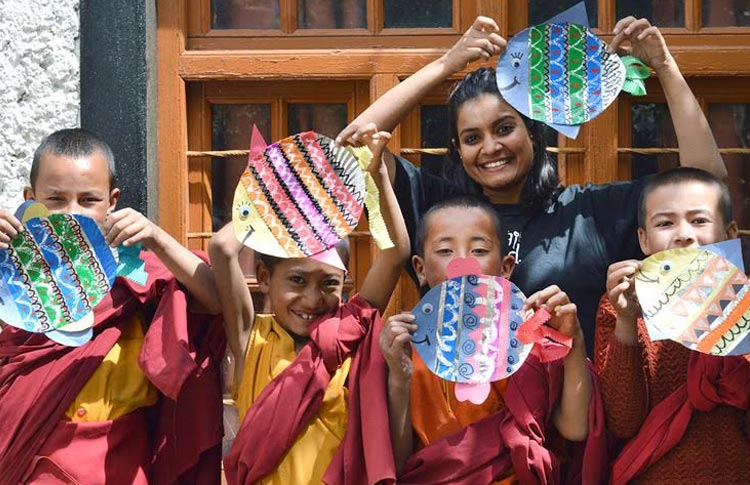 One should watch artist Ruchi Shah paint a wall entirely by herself or scribble on a piece of paper with a concentration like that of a child's. Her artistic-drive made her win a full scholarship from the British Council (Charles Wallace Scholarship) in 2011 to pursue Masters in Visual Arts in Camberwell, UK. Picture the magnificent blend that was created when her knowledge from India on home-grown art forms met the modern, vibrant art of London.
As much as the free-hand skill interests her as a freelancer, Ruchi likes how drawing the characters that smile through the pages of a kids' book manifests her inner childlike behaviour. Wondering what the cherry on the cake looks like in her case? As a kids' book Illustrator and Wall Artist, not only does she get to travel for collaborations, she's often invited to felicitate educational programs for rural kids across India. You know the kinds of programs where you study other subjects by doodling and spending time with wax and water colours? Exactly that.

IWB spoke to Ruchi about what triggered her to leave a fancy job at Yahoo! and instead become an editorial illustrator and art assembler for corporates. But most importantly, to discuss, feel, and appreciate the compassion of this artist that inspires her to rightly utilise her talent by giving back to those who lack basic educational facilities.
What importance do you give to gender roles in the books you choose to work on? How do you avoid stereotyping the characters you illustrate?
My work as an illustrator involves drawing characters that do justice to the roles written for them. The clothes, hairstyles, and body-shapes depend on the character and the story. I personally enjoy drawing quirky, fun-loving women characters. For example, Anaya from 'Anaya's Thumb' is a three-year-old girl with a habit of sucking her thumb and is fascinated by what people and animals do with their hands. I enjoyed creating the imaginary world around her. Another book, 'A book is a bee,' had different kinds of children whom I had to approach individually while illustrating. The girl children, especially, were interesting to illustrate, as they ranged from a double-plaited 'traditional' girl to an open-haired, modern girl. However, I do wish there were more 'non-traditional' women characters in Indian story-books. Something like a Sabrina in an Indian setting.
What are your favourite storybooks, particularly those that inspire you to break barriers?
I am very fond of animals, especially when they come alive in storybooks. For example, the whimsical illustrations of animals in Roald Dahl's Beastly Beasts by Quentin Blake are an all-time favourite. Another inspiring book is The Days the Crayons Quit by Oliver Jeffers. I love the fact that the crayons have a life of their own, and they may or may not have a gender. Closer home, Tinkle with its quirky characters – Suppandi, Shikari Shambu, Kaalia the Crow, was very memorable.
Let's now talk about the art workshops you facilitate for kids in remote schools.
A few years back, I worked on a project called 'Learn English Through Stories' (LETS) designed to teach English to the rural kids with the help of stories. The project, initiated by Professor Alka Hingorani at IDC, IIT Bombay in 2015, gave me the opportunity to interact with over 100 school children from Maharashtra, Andhra Pradesh, and Himachal Pradesh. During the project, we realized that there weren't enough local stories in their school books. Even our app had more Western content. When we spoke to the children though, they had so many stories to tell from their own folklore. So our thinking was, why not use these stories to create the content? And instead of us creating it, we would actually get the children themselves to make this content. The challenge was to find art teachers and art material. In some cases, even locations were not available for art. That's when I started facilitating workshops, sometimes for the children, sometimes even for the teachers.

Doing these workshops enabled me to extend the scope of my art through collaborations. Children have a unique way of looking at things, unbiased and non-stereotypical. In their world, trees don't always grow up straight, clouds may not always be white, heroes are not always brawny and muscular men. Doing these workshops keeps the child inside me alive.
Talking about kids' drawings, is there any drawing that is particularly memorable for you?
I usually don't ask kids to sketch a random tree or fruit on their drawing sheets. I tell them to look around, observe, and then choose whatever they want to draw. Some of them draw trees, some draw animals, some even like to draw their best friends. During one such workshop, a boy drew a picture of me, even emphasising red streaks in my hair. That was quite memorable!
As a wall-artist, how often do you face stereotypes because of your gender?
More than stereotyping, it is the unpredictability of what I do that is my biggest challenge. Ironically, it is also what fuels me as an artist. It keeps me alert and constantly on the move.

When I paint for a start-up or an office, I usually work on semi-constructed office sites mostly with labourers like carpenters, painters, and electricians. In such scenarios, I can be the only woman working there. At times, it's a speed breaker for my work as I have to create a space for myself, make some boundaries, and yet get my work done. Some people may not take me seriously until I start my work. But eventually, creativity supersedes all that – when the artwork begins to take shape the people working on the site are curious to come and talk to me and understand the work I do.

Both your professions are poles apart. Does it get difficult to keep the two illustrating styles differ from one another?
I take up one project at a time so I can stay focused. Sketching on a paper is very different from painting on a wall. The illustrations drawn for a book are read by one or two people at a time, whereas the wall-art is seen by many people. I don't mix them. When I work on a wall, I don't take on book illustration projects and vice versa.
You're known to use versatile raw materials. You have used sand and Kolam powder to design the Sinhalese letter forms and even fabric for creating three-dimensional illustrations. Talk about your innovative ideas.

I enjoy working with tactile materials and so far, I've used paper cut-outs, fabric pieces, threads, elastic, pins, wires, etc. I love how the texture and meaning of an artwork alter when you use diverse materials. Objects like wires can be easily bent while something as basic as a broken bangle can give striking curves to your design.





For example, 'Our Incredible Cow' by eminent author Mahaswetadevi – to draw this cow, I used the objects that it enjoyed chewing-on or interacting with, like fish, onions, clothes, papers, grass, etc. This academic project was a comical take on the charming story by Mahaswetadevi,. You can check it out on Tulika Books or Amazon. In short, I don't like restricting my work to paper and pencil.
This article was first published on August 5, 2018.
Was this article empowering?