Thursday, March 23 2023, 04:19:32
Ruby Ahluwalia Tells Us How She Is Turning Cancer Survivors Into Cancer Caretakers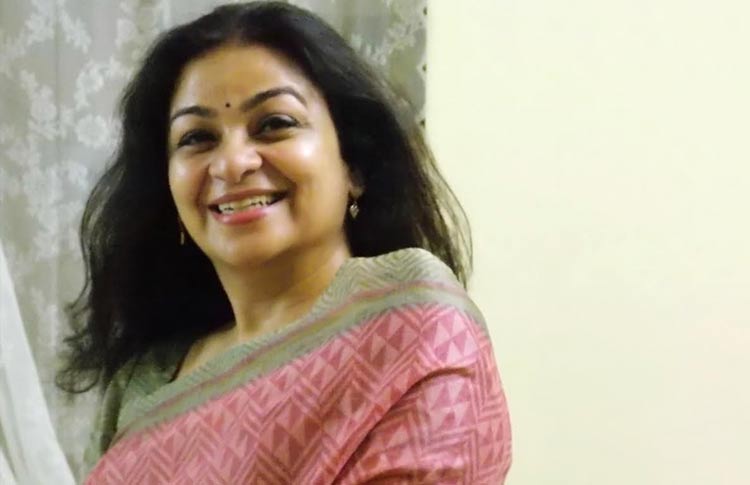 From a cancer survivor to a cancer caretaker, this is her story.
Ruby Ahluwalia, Chief Accounts Officer at Western Railways, discovered she had breast cancer back in 2009 when she had a sprain in her back. Her masseuse found a pull in her chest. On getting checked, diagnosed with stage three cancer. During her battle, she rediscovered self from within, from becoming one with her inner self to seeing how much work she can do to contribute towards the betterment of cancer patients.
Sanjeevani… Life Beyond Cancer was started by Ruby after completing her treatment. Sanjeevani endeavors to motivate and encourage patients to keep a positive outlook towards treatment and life and enrich the lives of cancer survivors in a way that the patient feels more complete after the whole cancer episode and looks at this experience as an opportunity to blossom up in life and not as a catastrophe.
What was your positivity outlet during Chemotherapy?
I went through three surgeries before the Chemotherapy started. It was extremely difficult, along with being physically and mentally strenuous. I like to paint. After each Chemo session, I used to paint what I felt and this series called 'Towards Satori,' eventually gained fame. That is how I expressed myself. I also did a lot of physical exercises, and the support from my family and friends kept me tuned to positivity.
You say the fight against cancer is not just about survival.
As medical science has progressed, it has become relatively easy to be cured of cancer if it is found in early stages. It is not just about surviving it, but about the experience that you go through. It became an essential experience in my life because it was not only surviving but discovering myself as a whole. When I started Sanjeevani, my effort was focused on this. Of course, fighting and surviving cancer is important but being so close to a life-threatening situation makes you reflect and understand your true inner self.

It's ironic how something so threatening can actually awaken one to the life.
Absolutely.
A lot of people mention finding themselves after cancer, how do you explain it?
Most people don't get pushed beyond extents in their daily lives. It is like when you push a ball in a bucket of water, the more pressure you put on it, it has a natural tendency to bounce back up harder. When you're in pain, it takes your mind off everything. It is only you and your pain that matters then because the pain goes on for days. So, you start looking inwards because that bothers you. And, if your mind is tuned and if you give it time and space, if you start tracking your brain about what the source of pain is, you avail very potent means to answer eternal questions. When you separate your body and mind, you start understanding that the pain exists only in the body and if I do not allow it to reach my mind, then I have made it in life.
You must be seeing such transformations on daily basis.
On Saturday (4th November 2017), we had a program with about 150 of our beneficiaries. Listening to their experiences of how Sanjeevani has changed their lives really touched my heart. Many in their speeches mentioned that they are thankful to their cancer for bringing an aim in their life. When I started Sanjeevani, I was advised against working with underprivileged cancer patients. I feel in my own little way, Sanjeevani has been able to show them a path somehow. My life-threatening disease has become a life-enhancing experience.
How do you help the underprivileged patients deal with the financial issues that cancer brings?
It is definitely a challenge for the underprivileged cancer patients. At Sanjeevani, even though we don't extend financial aid, we collect funds from various sources and help patients with resources.

Tell us about some misconceptions about breast cancer that you witnessed through your journey.
One of the most common ones is that cancer is contagious. Another misconception is that cancer is Genetic, and the genetic risk at the most is said to be 85%. I believe that if you work on that 15%, even if you have it in your genes, it is possible through your lifestyle choices to stop the growth of cancer in your body.
What kind of programs do you have for survivors?
We run three major projects in the hospitals that we work with, across 9 cities, that include: Extending emotional support and hand-holding; The Wellness Program with the life enhancement skills; Rehabilitation program where we train cancer survivors to become cancer Caretakers. This happens through a 4-month certificate course with about a month of theory and then practicals in the hospitals. The course has been designed by Sanjeevani in collaboration with the Tata Insititute of Social Sciences (TISS)


What kind of responses have you garnered from your rehabilitation batches?
We take only 20 people in a batch from 50-70 applicants. They have responded amazingly, and almost all of them get placed. We have had 2 batches in Mumbai, and the third batch begins in November. Ahmedabad just finished their first batch, and we're looking forward to more batches in different cities.
At the moment, what direction can the breast cancer awareness take to make a difference in lives of survivors?
In my opinion, we have to shift from the word cancer awareness to awareness in cancer. Everyone concentrates on going in for different tests like mammography, which is important, but like I mentioned it is more important to be aware of your own body. Rather than running mindlessly for a mammography every two years, it is better to do a self-checkup and be mindful of any changes that your body is going through. It can be external appearance or how you are feeling. I really support the fact that the first checkup needs to be a self-checkup. We also have a lot of Films on awareness on our YouTube channel.
You must have gone through low terrains on your way to recovery, how did you get yourself through?
For most females, to lose her breast and hair are very significant physical changes, and losing them together is extremely traumatic. For me, it felt like my world had crashed. What helped me was understanding that I was just losing a part of my body and what I was gaining in return were my life and my inner self, this clarity helped me get through.
Give us a compassionate guide that the families can use to help their women during this stage?
Family support is essential without which this journey becomes difficult. The family needs to understand that giving time and affection will help the woman get out of this experience without a scar. If they stand by her physically and emotionally, she will recover easily. The entire cancer experience is an opportunity for the family to bond stronger.

I explicitly tell the friends and family to not shy away from the situation but to just reach out to the person because it makes a difference.
First published on Nov 7, 2017.
Was this article empowering?