Sunday, November 29 2020, 01:36:08
Read What This Boy Did After Knowing That His Mom Couldn't Afford A Panda Toy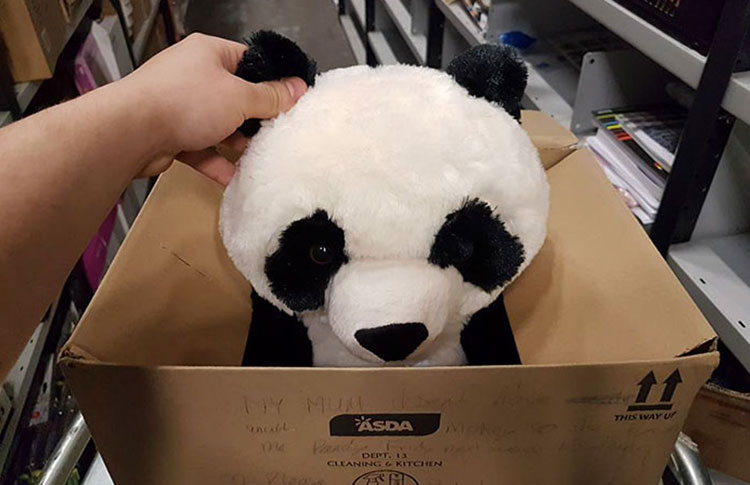 I remember the days when I used to carry around a small stuffed Winnie the Pooh everywhere which was gifted to me on my 7th birthday by my then best friend (I don't even remember her name now *embarrassed*).
Stuff toys for little ones are more than just toys. They are their secret-keepers, their pals, and best friends.
A 10-year-old Leon Ashworth from England was accompanying his mother in a supermarket, Asda, the British equivalent of Wal-Mart. He saw a stuffed Panda and just fell in love with it. He even named the stuffed animal, Pandy.
However, Leon's mom couldn't afford to buy him his Pandy and rather than getting upset, he had a brilliant idea.
He wrote a heartwarming note on the box in which Pandy was kept.

"My mum [doesn't] have [enough] money, so she's [buying] me Pandy [Friday] next week 15 June. So please don't [buy] him, it will make me cry. Thank you so much from Hopeful [Future] Owner. Panda's name – Pandy!" he had written.

When the staff of the supermarket saw the note on the box, they decided to do something incredible. They posted about it on Facebook where it eventually came to the notice of Leon's mom, Debbie Ashworth. Leon along with his mother was then invited to the store where the staff surprised him and gifted Pandy, which they had bought by pitching in their personal money.

Awwww!
His mother, Debbie, had lost her second baby who was premature, just this January. She shared that Leon had donated the money that he had saved to buy Pandy to a Bond that provides support to the parents and siblings, following the loss of a baby.

Leon's story is not just heartwarming but also teaches an important lesson about human relations. Empathy, care, and love amongst the beings are what will make the world a better and happy place.
Was this article empowering?