Tuesday, January 25 2022, 07:54:59
Read How 0Daughter Ayushi Helps Her Papa Singh Run His Business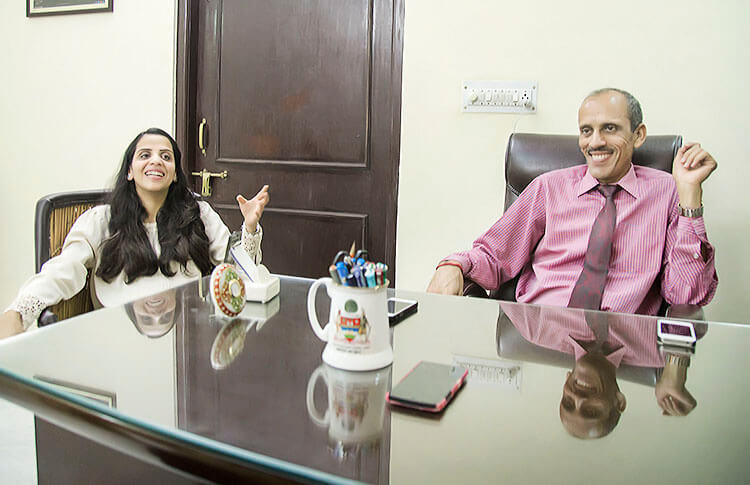 Who are we? Feminists!
What do we want? Gender equality!
How do we plan to achieve it? Okay, this is gonna be slightly long so I'm gonna continue in the next line.
As you know, JWB regularly comes up with innovative campaigns which promote feminism in sooooo many ways. This interview is a part of one such campaign, Papa Singh and Daughters, which hails to find all the Papas of Jaipur who don't shy away from introducing their female offspring as their business partner.

And guess what! We finally, literally have found our Papa Singh, Dr. Jaiveera Singh, who is the Director of Academics in Maharani Girls Engineering College, and also runs a tuition centre with his daughter, Ayushi Singh.
If you'd ask me two things on earth which I'm petrified of, my answer would be lizards and mathematics. After meeting these two MATH tutors, I literally dedicated a few cuss words out of my sad vocabulary to the life I led in high school, struggling with all the alphas, epsilons and gammas. If only I had met them earlier, I would have scored better.

While typing this down, I could almost hear "main niraash thi…fir mere jeevan mein aye do amazing tutors" from the Telebrands TV commercial, playing inside my head.
Anyway, I'll narrate my monody some other day. Right now, let's focus on the awe-inspiring interview of these two math geniuses.

These brainiacs' institute runs with the name 'Maharani Coaching Classes' and it doesn't function like all the other coaching institutes out there. Their students live with them in their own house. And nope! They don't feel like eloping and are immensely happy.
Being a teacher, Dr. Jaiveera Singh wasn't ready to listen to pleas of his daughter to let her be a part of this business initially. Her parents wanted her to go abroad, pursue her studies, and advised her to join the business once she is through with her educational pursuits. It took all Ayushi's strength to convince them to let her stay and assist her dad in running the business. 

Most of the school kids these days aspire to become doctors, lawyers, engineers or charted accountants. Did you ever have a different goal, or has it always been to teach?
Well, this obsession to teach emerged when I was a teenager. I hadn't been in any relationship myself, but used to give love advices to all my friends. That is how it initiated. (laughs)
In 10th grade, I had a friend who was really weak in mathematics. I used to help her with her studies. I was more excited about her score than my own, when the result got declared. That is when I firmly decided that I'm going to help kids study when I grow up.  

Wow! You must be great with your work. There is a difference between teaching a friend and teaching a whole lot of students, though. How did you find teaching as a profession, initially?
Yeah, it differs majorly! When I was an under-grad, I wasn't very regular to college. I used to stay at home and tutor our neighbors' children. I also joined a school as an English teacher. However, I didn't work there for long. That is how I trained myself. Since both my parents are educators, I have it in my genes.
What a dedicated being!

Soon after, Mr. Singh joined us too. A true feminist in every sense, he took us back to the time when the college was in its infancy. Only 35 students joined that year. People advised him and his partners to shut their institute down. Those old days however, have long been gone. In this academic session, the batch of freshers comprises of 450 students.
As Mr. Singh told us about the struggles he went through in his life, Ayushi's eyes filled with adoration and pride.

I know, you must be wondering if Ayushi had ever attended a tuition class in her life or not?! With envy dripping from my tone, I asked her the same.
She probably sensed it, and laughingly replied:
What do you think? Hahaha…I never required anyone's help in studying. I've always studied on my own. You won't believe, but in spite of being blessed with such wonderful educators as my parents, I've never been taught by them.

Mr. Singh added:
Her mother and I couldn't give our kids much time. Of course, we wish that we had. We wanted to earn as much as we could to bring up our children well. Watching Ayushi achieve so much on her own gives me an incredible feeling which I cannot describe in mere words.
Really? What was the trick?
Ayushi: Their motivation! Motivate your child to do something in the right way, and then see the magic. This is how I teach my own students, and believe me, it does wonders.
I believe that I'm a self-made man's self-made daughter.

Oh my! Talking to such dedicated, hardworking people feels so good. I'm gonna study harder for the annual examination this year, and ask my mom to motivate me more.
#WeWantGoodMarks #WeWantGoodJobs #KThanksBye!
Picture Credits: Shashank K. Tyagi
Was this article empowering?