Saturday, October 24 2020, 11:25:43
Read How A Mother Supported Her Queer Son And How Film 'Inaayat' Explores Their Bond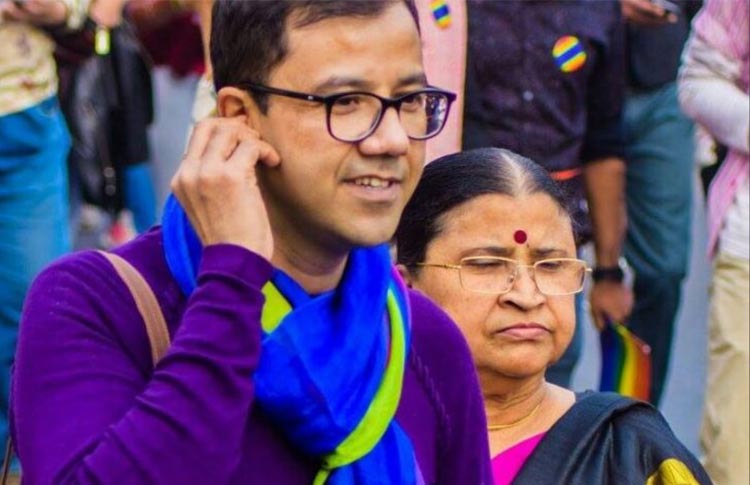 "When my family found out a letter from my then boyfriend, they freaked out and there was drama at home. No one spoke to me for a few days. Everyone was upset. My mother came to me and said that she would support me, but I will have to fight my own battles."
Himadri Roy, for whom his mother happens to be that friend 'who knows all about you and still loves you'. 45-year-old Roy is a professor at the School of Gender and Development Studies at IGNOU, and it is Roy's relationship with his mother (Minati Roy) that is the premise of Naveen Tokas' 2017 documentary, Inaayat, which was screened at the Queer Asia Film Festival 2018 in London, on June 24. And before that at the Delhi International Queer Theater Film Festival, the Allahabad Queer Event, and Queer-e-Mehfil, New Delhi.
Inaayat is an attempt to explore what it must have taken for a mother to understand, accept, and support her queer son, and emphasizes on acceptance as a game changer in queer people's lives.
One winter vacation when eight-year-old Himadri Roy visited home from his boarding school in Darjeeling, his mother suspected something was wrong. She attempted to find out if he was happy there and asked him so. The little boy lied. But mothers are mothers, she succeeded in making him confront on his next trip.
"Have you been sexually assaulted?" was her direct question. And while talking about it in an interview with Vice, Roy recalled that moment which he said, "felt like a bomb."

He further shared, "I was in a boarding school when some seniors sexually abused me. When I told her everything, she asked me why didn't I complain. And asked me to think about it. Seniors used to call me to their rooms. I started enjoying it. There was no love or emotion. It was a part of my duty to obey – that's what has been told to us." His mother's response to which was, "I think you are different."
"She said this will remain between you and I. And then, she hugged me. This was during 1980s when there was zero conversation around these topics," said he.
Roy has had long conversations with his mother on a lot of aspects related to his queerness in the past, but answering what he thinks made his mother so accepting of his sexuality, he said, "She was a housewife, the elder daughter-in-law of the household, and she had to follow all the customs, traditions. She always tells me, "A mother's happiness is when her children are happy.""
Presenting the Official Trailer of Inaayat starring Himadri Roy. Cast: Himadri Roy Directed by: Naveen Tokas Produced by: Raghuveer Sandhu DOP: Ritesh Yadav Creative Director: Mahendra Vikram Shah Assistant Director: Rishabh Pal Still Photographer: Rishanh Pal Makeup/Style Artist: Raghu Editor: Tanishq Extra Coordinator: Ranjeet Rajak Production Assistant: Chandan and Prakash Special Thanks: Teach By Media, Harmless Hugs Sponsors: VAIBHAV Real Estate (Navi Mumbai), Humanity Assam Music: On the Way Publicity Partner: Miss Woomaniya LGBTQ Interview Series …………………………………………………………………………………………………
Director Naveen Tokas had seen Roy's YouTube coming out video, and the web series called "Come Out Loud", and that is what made him get in touch with Roy, and to eventually make Inaayat. People who have watched the film are now sending emails to Roy saying that he is lucky to have such a mother, or that he was brave to fight from an early age. For which Roy's response takes us back to the very reason why this film needs to be watched, "The idea is to tell others that families' support is very important. Whenever my mother goes to any pride parades, she always asks the youth, "Have you come out to your parents?" She tells them, don't drop the bomb. Just take them out to a movie that has a queer character. Initiate the conversation."
H/T Link: Vice
Was this article empowering?