Tuesday, November 28 2023, 04:20:34
Ramya Sriram Shares How She Taps Content Around Her To Illustrate 'Slice Of Life' Comics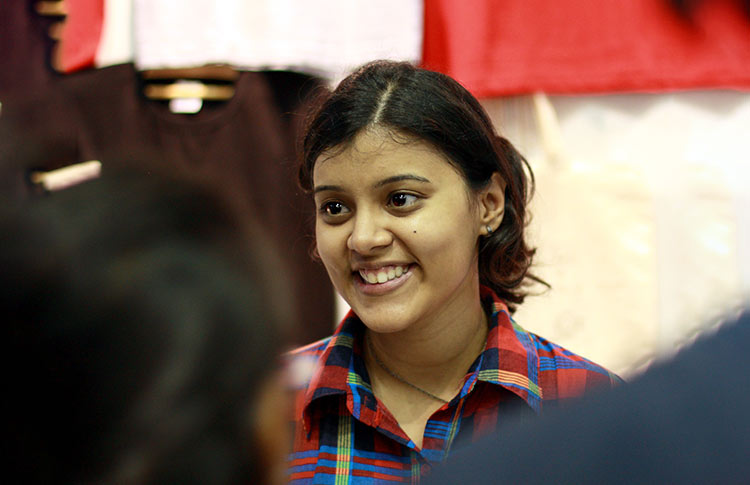 Are you eating enough dry fruits?
Did you wear your sweater?
Come, let me put oil in your hair and give you a champi.
These are just a handful of things that every Indian mom says. Now imagine all of this thrown into a quirky and relatable as hell series of comics – that is what Ramya Sriram, author of The Tap did. She assembled all the cute little tidbits she shared with her amma and made it into a golden repertoire of fun and humor. Ramya is a cartoonist and author who has penned down her experience of being a young woman in India and more. Ranging from discussions on her career goals and her struggle to keep up with her variant hobbies to a satirical commentary on important social issues, Ramya has always managed to hit the sweet spot!
Her work managed to make me laugh, think and relate, all at the same time.
What inspired you to put your life into cartoons?
I started drawing stick figures just on a whim – just to have some fun in my spare time. I didn't think about doing comics until a friend asked me to, for a magazine he was running. Then I realized there was no shortage of content around me that I could put into comics, so I just kept going!
What was your childhood like?
My childhood was the stuff of dreams – it was glorious! I think everybody – my parents, brother, grandparents, aunts, uncles, cousins, friends, family friends, neighbors, played a role in gifting me a marvelous childhood. I read lots of books, drew a lot, learnt to play the piano, learnt traditional dance and music – it was filled with hobbies. I was more than happy to be left alone with crayons and paper or the old tape recorder. I spent my summer holidays with cousins in my uncle's house where life was about eating mangoes and petting cows on the street. It was absolutely delightful.
Who is the person you are closest to?
I'm closest to my family, who've been there for me through all my crazy whims and fancies. My mother sees right through me!
Did you have an initial career plan as a child? How different is your life now from what you might have envisioned?
As a kid, I wanted to be a pianist, an artist, a zookeeper, a writer and much more. At some point, inspired by a trip to Rajasthan, I even wanted to be the next Mira Bai, much to the alarm of my parents. I would get extremely carried away by whatever I saw or read. I wanted to be a cardiac surgeon, studied for medical entrances and then gave up my seat, became a biotech engineer, pursued an MBA, dropped out, worked in publishing, advertising and then started freelancing. I think it's been a delightfully crooked career path, made possible only because of the support and encouragement from my family.

Was there a series of books or comic strips that you loved reading when young?
As a kid, I read comics that were most easily accessible – Amar Chitra Katha, Archie's and Asterix. I read a lot of Enid Blyton, Anne of Green Gables, Roald Dahl, some travel and science books – typically mild and "happy" books, really. I read a lot but the reading became a lot more diverse during my high school years.
What do you usually write about or draw in your comics?
Most of my comics are very 'slice of life'. Most of them aim to capture specific incidents or experiences. I jot down whatever inspires, amuses, amazes or upsets me and turn that into a visual. A lot of my comics reflect my own conflicts and resolutions — and in some weird sense, I feel like they're my friends. For some reason, my comics seem to feature a lot of trees as well.
Of late, I've been doing series with a social angle — a lot of them are women-oriented. I love doing the Amma Says series too — I have a huge collection of the hilarious things my mum says — and I think a lot of people relate to it. I've also been doing illustrated travelogues — I really enjoy doing those because it's a challenge to substitute photographs with illustrations in travel writing.
I really enjoyed the Amma Says series of comics. Do you have a personal favorite?
I like the one where she asks me to do something about me wanting to quit my job. I wanted to quit for a really long time, and that was my go-ahead from her. I think I've made a lot of decisions in life with a small nudge from my mum.

Are there any important contemporary social issues that you hope to address through your art?
Yes, plenty. I've done some work related to women empowerment — including a recently completed Navratri series. I'd really like to do an awareness series on Swachh Bharat but I'd ideally like to team up with someone for this. I'd like to work with NGOs so that instead of just reading or liking a comic, the reader has a means to contribute to a credible organization as well.

Who do you think has been your cornerstone of support through your work?
My family, friends and readers of my work. My family has been incredible – I mean, my dad came to all the ComicCons I've attended – people who went to event in Hyderabad and Bangalore would possibly know him better than they know me! I also have a lot of people write in to me about my comics or writing and I feel that if I've even managed to touch one person through my work, it is worth to keep going. Also, you have to be able to support yourself – self-motivation is not something that can easily be summoned on demand.
What would you rather be, given a choice? A Jack of all Trades who gets to try their hand at several new things or the Kind of One who dedicates life to a single goal? And Why?
Growing up, I wanted to be the kind of person who could dedicate life to a single goal. But that single goal kept changing. It turns out I have way too many pursuits and interests! I think doing multiple things both satisfies and encourages my restless spirit. I've dabbled a little bit in art, writing and music, but I think going forward I may decide to try something totally out of character. Not sure what yet! It's the craving for variety, I think, due to which I don't think I'll ever be happy doing just one thing.
Do you have any words of wisdom for the young people who are still struggling to figure out their aspirations in life?
Keep experimenting! Life is so full of choices and options. I meet a lot of young people who want to quit their jobs tomorrow without knowing what next. Sometimes this can be extremely rewarding, if you can afford the money and time and if the circumstances favor you. But it's also worth knowing that a full-time job can give you money and time to fuel your dreams till you're sure you want to take the plunge. There's this enormous pressure on people nowadays to drop everything like a hot potato and run off on a wild pursuit. While this is good sometimes, I also think there should be a stronger focus on the small pleasures that life offers everyday.
I don't believe that when you leap, the net will always appear. Sometimes you have to rig up the net before you leap, and hope that you'll fly instead.

Ramya illuminates the beauty of experimentation – whether it is art or music or some kind of a crazy adventure sport where you jump off a cliff (Yes, some people think that's a good idea!), let's not stop following our dreams!
This article was first published on December 22, 2017.
Was this article empowering?