Sunday, May 28 2023, 07:31:36
Photographer Syed Shahriyar Is Capturing Kashmir In All Its Chaos And Glory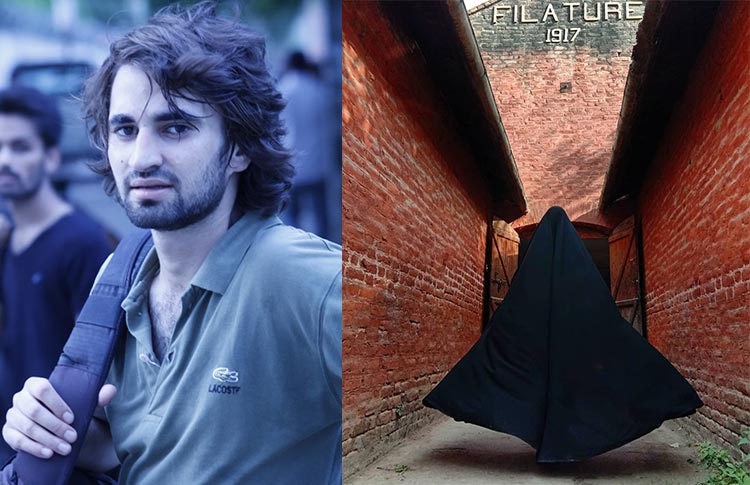 As I scroll for #blackandwhite through the endless abyss of Instagram, I come across a picture that takes me off guard by its symbolic and serene beauty. In the picture, the Sun appears to have mellowed down by the clouds, the sky a somber grey, and the atmosphere rather quiet. But there is a promise, a promise of movement, of activity that perhaps snoozes for a while, comforted by the calm cover of the clouds.
Understated yet powerful, this picture indeed speaks a thousand words as it stands solidly like a metaphor for my current state of mind and the place which it represents, i.e. Kashmir. The picture suggests some kind of restless calm, a paradox that a few can understand and even fewer can capture. The credit of the picture goes to 26-year-old Syed Shahriyar, the photographer whose perspective of Kashmir transcends how it has been hitherto portrayed.

With recent revoking of the special status of Jammu and Kashmir (J&K) by the Government, his pictures peep stubbornly into its life frames and encompass Kashmir in all its chaos and glory. While he captures Kashmir's conflict and pictures of protests, stone pelters, violent funerals, he also captures its calm, the picturesque Dal Lake, and luxurious Chinar.
However, that's not it. There also are the kind of pictures in Syed's repository that you must have hardly come across – the picture of ordinary Kashmiri's going about their ordinary lives.
He says, "There is not just one aspect of Kashmir. There is so much more than the Dal Lake and all the tourist places that Kashmir has to offer. The culture, the environment, the ancient techniques of art and craft, everything is worth exploring. It is like a boiling pot of so many communities and there is so much that you can learn from their lifestyle. All of this attracts me as a photographer."

He adds, "Having said that, what's happening on the road is equally my concern. Being a journalist, that's also a facet of Kashmir which I can't turn my face from. It's something that I feel responsible to showcase as well. It is like, while Kashmir has the rich beauty of Sufi shrines to offer, it also has its conflict, which requires equal attention."
Life in Kashmir is like life anywhere else in India. But in reality how often do we get to see Kashmir from the eyes of a common man amidst all the politically manipulated narratives? Thus, it becomes almost imperative to ask Syed what it is like to live in Kashmir, to be young in Kashmir.
He answers, "Today if something happens, say 10 people die, yes, we will address the problem, visit that place, but a while after that the city would be normal again. We have known it all for so long that we are used to it by now."
He adds, "However, our wants are not any different from someone living in Delhi or any other place for that matter. Peace and justice are what we want, just like anyone in any other part of the country would. People here want solutions to the long-standing conflicts. The people here feel betrayed and cheated of their hopes and dreams. Sab udaas hein (They are all dejected). They want to be heard."

Needless to say, the political tension of Kashmir has seeped through its internal fabric and relationships. People find it difficult to trust one another. It's a double-edged sword. When the photographers go to villages to cover them, they are stopped or turned away, they have to be vigilant too and maintain caution on their own part as well. But then again, the conflict is just one aspect of Kashmir. "We have a lobby of very interesting people who write, sing, create, despite the violence of our land. We have immensely talented artists, musician, painters, cinematographers, who proudly represent their beautiful homeland," says Syed.
Born to a Shia-Muslim family, Syed also feels a responsibility towards his own community. He shares, "Every year on Muharram, we mourn what happened in Karbala 1400 years ago and thus, commemorate the death of Imam Hussain (A.S), Grandson of Prophet Muhammad (S.A.W.W)."
He adds, "I have been documenting and working on the same for quite some years now because when outsiders think of Muharram, all that comes to their minds is massacre and bloodshed. I want to show how it is so much beyond that." He adds, "I think you have a responsibility as a photojournalist." His work on Muharram has also been featured in Witness, an anthology of the work of Kashmiri photojournalists by Sanjay Kak.

However, you ask about his favorite photograph or series and he is like that mother who can't choose between her children, quoting how each of your fingers and toes are equally important and significant and thus have to be equally prized.
He says, "I just cannot pick a particular picture. Everything that's happening in these pictures is significant, each of these pictures is an emotional one. I also believe that what you witness is far more important than what you shoot." Thus, it is the unique experience of each one of these that stays with Syed, barring him from choosing just one.
Syed works with the methodology and conviction of a true artist. As he says, "I do not shoot anything that doesn't affect me. I just cannot capture anything that doesn't strike me or something that doesn't make me feel anything."

Picture Courtesy: Syed Shahriyar
Was this article empowering?