Wednesday, November 29 2023, 03:58:58
Para-Athlete Pooja Agarwal On Her First Experience Of Scuba Diving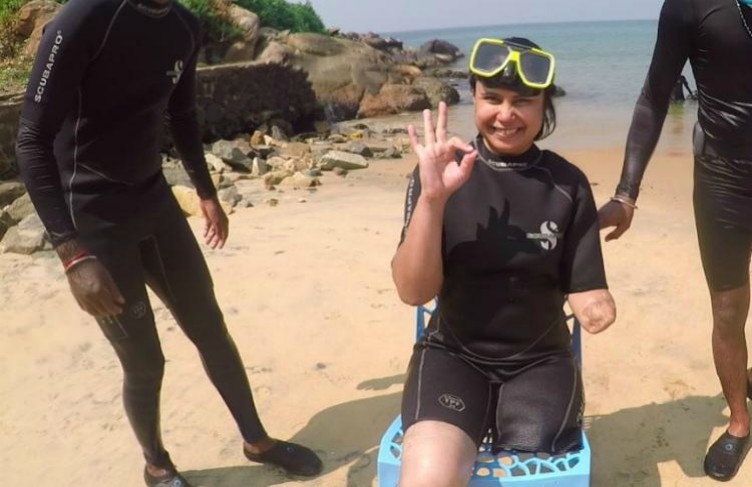 Para-athlete Pooja Agarwal is ranked 12th in the world and 3rd in Asia amongst para shooters. She is a trilateral amputee who lost both her legs and her arm in a train accident in 2012. A few years later, she professionally began shooting and engaged in other sports, such as white water rafting. Her dream of scuba diving was finally fulfilled in Kovalam, Kerala, on November 28, 2018.
Pooja was not welcomed by any scuba diving group before this because no one agreed to do it with a person with physical disabilities. Finally, after help from The Bond Safari group, Pooja thoroughly enjoyed the experience of scuba diving under expert guidance.
Speaking to The News Minute, Pooja shared, "I completed the dive on 28 November in Kovalam. I just love it. I wanted to do it for long, but no group agreed to do it with persons with physical disabilities. That was a hindrance to my scuba diving. But Bond Safari agreed to do it, considering my disability and limitations, and they helped and supported me a lot."
Bond Safari is a scuba diving group based out of Kovalam, and they have previously facilitated the dive of another para-athlete, Neeraj George.
Pooja's 25-minute-long dive was a divine experience that she shared with TNM. "First they gave me the basic training, about what to expect and the diving signs, and the other training they give everyone for a dive. After getting dressed up in the diving dress, I was unable to wear my prosthetic, the artificial leg. The Bond Safari staff made me sit on a chair, two or three people lifted the chair and gradually took me into the water. Once I was comfortable, they tried a demo, to see if I could breathe through my mouth with the device. Initially, I was not comfortable, but once I got used to it, they reminded me once again of the diving signs and then took me into the water."
She further explains, "When you're underwater, you can't breathe from your nose, you have to breathe from your mouth. It was like you can count every breath, you experience every breath you take.  And the view was amazing. The Kovalam beach water was not so clean, but still the view was amazing. You can feel it, but you can't express the feeling in words."
Jackson Peter, the Managing Partner of Bond Safari, shared how happy and proud they were after seeing Pooja successfully complete the dive. "We took extra measures, we dedicated our instructors and staff exclusively to her to give her maximum comfort. This is how we want to give adventure and diving experiences to each and every one. The pride and satisfaction on Pooja's face after the dive was one of the most rewarding experiences that we have ever felt. We were inspired by the Responsible Tourism initiative of Kerala Tourism, which aims to bring barrier-free tourism experiences for people with disabilities."
A Kerala Tourism official, Rupesh also told TNM that they want to promote activities like these that was launched by the Government of Kerala in 2015 under the Responsible Tourism programme.
Was this article empowering?