Tuesday, January 25 2022, 08:37:23
Papa Shubhang Mittal And His Pillar Of Strength, Saumya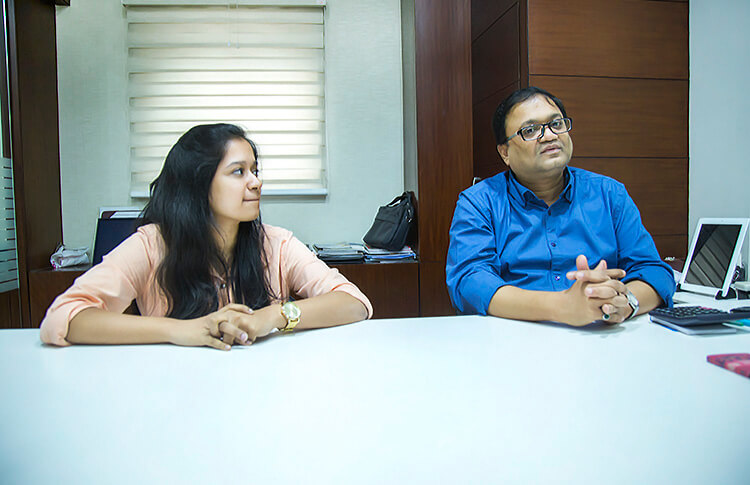 The story you're about to read is a part of JWB's campaign, Papa Singh & Daughters.
Not all women are alike. We have a diverse variety of different appearances, aspirations and mentalities. But there's one dream that unites us all. To be surrounded with glittering jewelry. The final story of this campaign features a Jaipur woman, who is living this dream. The very adored daughter of Papa Shubhang Mittal, Saumya is working with her daddy dearest, and is on a quest to emboss her name in the list of famous jewelry designers of the country. Together, they run a very highly reputed jewelry store, Shree Jee Jewelers.

After acquainting them with our team and our campaign, we got along chatting.
I never had any interest in jewelry when I was young. As I grew up, I started admiring the bling my mom adorns herself with. Eventually, I started imagining the jewelry I'd like to wear. I drew those in my sketch books and asked papa to get them made for me. Papa loved my designs, got them made and displayed the pieces in his showroom. So yes, both maa and papa played a major part in inspiring me and drawing me here. That is how the wheels started rolling.

With a dash of glee, she exhibited some of the designs which she had previously created. I couldn't keep my hands off them. Had she shown me a few more, I would have fled with a few of her pieces.
Then we followed her up to her dad's cabin where we continued talking.
What exactly do you do over here?
I've not been assigned a particular specified role to play. When papa is free, I sit with him and learn things, look after the manufacturing process, deal with the customers, do photography, design posters, and the jewelry of course.

You're playing so many parts! Aren't you paid?
I've been paid a few times. Usually, my pocket money suffices my needs. When I run out of it, I ask Papa to pay me.
For how long have you been working here?
I joined about a year ago. I come here every day after attending college and stay till the moon sets in. It's like my part-time job.

Oh! So you consider yourself an employee? Uncle, is that how you treat her?
No-no! How can I treat her like that! We don't see each-other a lot when we're working. The only time when we meet and talk peacefully is during our lunch. We're nothing more than a father and a daughter then.
Has Saumya's presence relieved your work load?
Absolutely! Running a business solely isn't an easy job. There is so much on your plate. If she hadn't been here, I would've had to hire some extensive labor. As you know, you cannot trust everyone when you're dealing with such pricy things.
Besides that, she also manages her time excellently. I've never received a chance to complain. I'm glad that my baby is working with me.
I couldn't help awwwwwwww…ing to that answer.

Is there a message which you would like to give to all the readers?
Yes! This is a good campaign that you've come up with. There are so many issues in our surroundings which we've got so accustomed to, that we find nothing wrong in them. The only ones highlighted are rape cases and strange people claiming to be god's spokespersons.
We Indians claim to be all hip and cool by sending our girls to co-eds. But is that enough? We still haven't given our daughters the freedom that they deserve. Even on this date, a male-child is an obsession for so many people. The actual reason behind this obsession is that they want someone to take care of them when they're old and frail.
Give your daughters a chance. Have faith in their abilities.

If only, all the daddies on earth became as understanding and trusting as this one and all the others I interviewed, world would convert into a more comfortable place. So fellas, with this I drop the curtain over my campaign, Papa Singh And Daughters.
Give us your feedback on contactjaipurwomenblog@gmail.com
Looking forward to it.
Picture Courtesy: Shashank K Tyagi 

Was this article empowering?