Tuesday, November 28 2023, 03:39:22
Papa Chetan's Lunch Date With Daughter Malvika Got Decked-Up!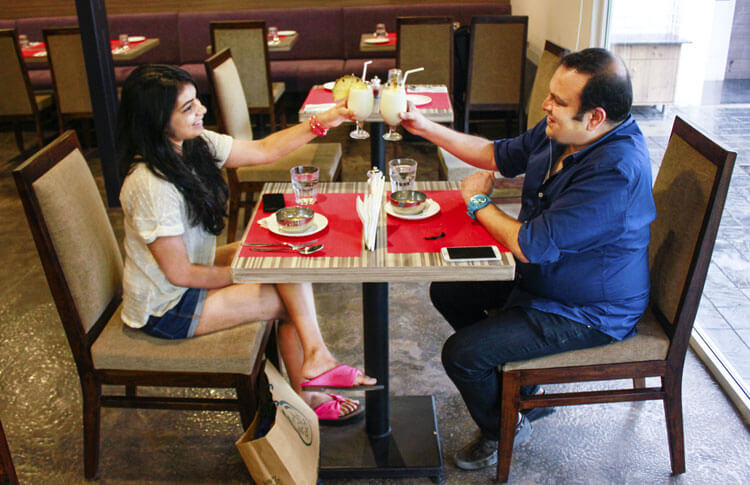 Now we know what does the song 'Daddy Cool' means!
Jaipur's 16 yr old Malvika Nowlakha went on to give another surprise to her Papa on Father's Day. After the gifts that she had bought for him, daddy Chetan was happy enough to drive her daughter to the 'secret venue' she wanted them to go to.
On arriving, Malvika told us, "Oh he is a chilled out papa. He can boss-around for few seconds and then give up to my demands. When I told him that I want to go to Decked-Up, he said in a jiffy 'Okay, let's deck-up and move!' My daddy is this cool."
Decked-Up is a new restaurant in Jaipur by our favorite and trusted Garden Café. It is located on Main Queen's Road, Vaishali Nagar.

As the name suggests, everything has been 'decked-up' in this new place – from interiors to structure, from ambiance to style – and of course, the food! Garden Café that has won many hearts of loyal customers over the years. Our parents have been taking us to the place, so why not to return the favor and as their child and bring our parents to Decked-Up for the surprise!

Chetan had a lot of good things to say about the daughter too. He remarked, "I was taken by surprise when she gave me the gifts. I have got handmade cards from her, but her going all the way to stores and bring something for me was special. What a wonderful idea, Jaipur Women Blog!"
However, we request to our readers to not consider this father-daughter duo an all-cheese and no-spice pair. As the noon progressed, we saw them mimicking one another, arguing, making fun of each other and what not!
Presenting Chetan-Malvika's lunch date to you that began with Chetan opening the door for the lady….

….and later pulling the chair for her.

Malvika: Thank you! Today you have to be a gentleman unlike the other day when you pulled me along with the chair away from the computer desktop, so that you could access it.

Now, that's a bouncy start.
Malvika: Papa, say all the good things about me. Okay?

Chetan: When food will be here, do you think either of us is going to talk??
Malvika: Yeah, good food and music. What else does a DJ and his daughter need?!
The duo was served Honey Chilly Potato and Rumah Paneer.

Malvika: Well, what am I receiving as my return gift?
Chetan: Ummm…
Malvika: How about a camera?
Chetan: I don't think so.
Malvika: These Honey Chilly Potatoes are better than you. Huhh.

Chetan (laughs): By the way, I love the ambiance here. Garden Café has really done a wonderful job.
Malvika: Yes, and the food is all the more tastier!
Then came the Virgin Mojito.

Chetan: Chalo, at least we agree on one thing – food.
Malvika: Try Rumah Paneer too. It's something new.
The food at Decked-Up gave ways to Chetan's memories, and he said a lovely thing to his daughter.
Chetan: Malvika, do you know how much I love it when you cook for me?

Malvika smiles
Malvika: What else do you like about me?

Chetan: Oh yes, since I am on a date with my daughter, I will leave no stone unturned to make her feel special.
Malvika chuckles
Chetan: I love the life you put into your every school project.
Malvika: You should help me sometimes with that. You always say 'later'.

Chetan: Aha…go on and speak of all the things you want me to change. It's a good opportunity to discuss such issues over a hearty meal.
Malvika (sips her Mojito): …and delicious drink! So yes, how about you learn to drive?

Chetan: What????
Malvika: Your driving is equal to walking in a green garden. Papa, you always talk over the phone while driving that makes the ride super slow and I always get late for tuition.
Chetan: Bullsh*t.

Malvika: Lol, okay chuck that garden-tease. See this!!
Malvika pointed at the seating arrangements done in the garden area of Decked-Up. After all, it's by Garden Café and not having any greenery around would be unfair.

They continued the conversation.
Chetan: At that, even I have got a list of things I want you to alter. Foremost, stop using my phone charger!

Everyone laughed. This duo reminds us of people from David Dhawan movies.

It's time they were served the main course. The list included – Kadhai Paneer, Aloo Amritsari, Mixed Raita, Steamed Rice, Missi Masala Roti, Butter Naan and Green Salad.
Malvika: Papa, it looks scrumptious!

Chetan (laughs): You know what, you are one person I love eating food with.
Malvika: Papa you remember the times when we sneak in junk food at home and eat it without telling mom! Ha-ha, I don't know how she is going to react after reading about it.

Chetan: Well that's the side-effects of marrying a health enthusiast.
Malvika: It's fun having few secrets!
Psst, talking of secrets we forgot to tell you about few secrets of Decked-Up. The restaurant is made up of containers, and there are no walls in the place. Seriously. Moreover, everything comprising this eatery is recyclable!
Chetan: Hey, never have any secret from me!
Malvika: You know everything. And by everything, I mean everything.
Chetan: Well I didn't know about the male friends who came to your birthday party. Grrr.
Malvika: Papaaaaa…..

Chetan: Let's not break the rules. Let's share everything with one another. I don't want surprises.
Malvika nodded like an obedient daughter.
Chetan: Do you remember the time you had your party at my club, I got all the liquor bottles removed that could be visible to you and your little friends. We all must follow some rules in our relationships, to make them stronger and purer.
Meanwhile, the Virgin Pina Colada was served to them.

Malvika: I am already full. Gulp.
Chetan: And we still have the yummy dessert to eat! Yay!!
Malvika: It's a date and should be elegant.
Chetan: No, it must end on a sweet note, that's why dessert.
The date-couple was served the yummilicious hand-churned ice-cream, one of the special add-ons by Decked-Up.

Malvika: I've got no words. Glad I've saved some space in my stomach.
The date indeed ended on a happy note where Papa Dear Chetan and Malvika got to revive their beautiful relationship.

All the other daddies of girls, remember one thing: somewhere between your princess's late teens and her marriage, she will probably feel awkward to have you around when her friends are watching. Because she is trying to be independent and doesn't want to show the world that she is a daddy's girl, which she is. Our advice to you would be to not worry about this phase. She is growing up, and she needs her space. But it will be your love and trust that will make her come back to you every time the world hurts her. All the best! 😀
Was this article empowering?