Thursday, December 09 2021, 07:30:11
Of When We Peeped Into A Sex Education Class For Girls With Developmental Disorders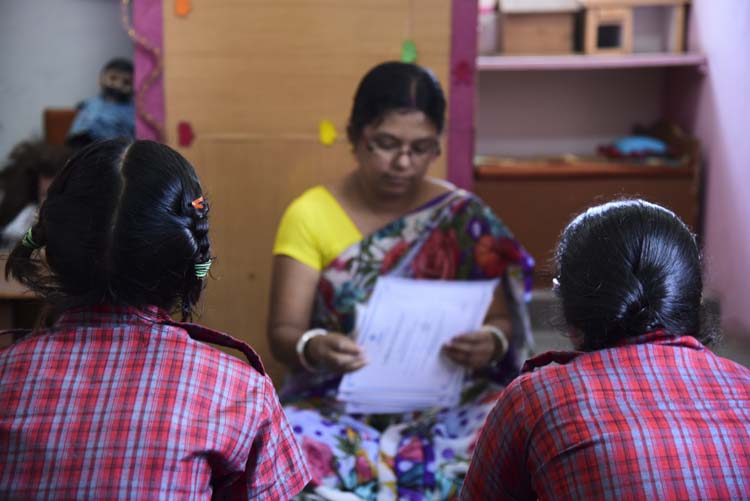 "Mental health needs a great deal of attention. It is the final taboo, and it needs to be faced and dealt with."
Under the realm of Mental Health, fall multiple conditions and disorders, some of which remain largely unspoken. IWB, through its Campaign 'Mind Your Head,' took a step to address the same, seeking to promote free dialogue on the various mental health issues that are stigmatized by the society.
While learning about the Menstrual issues dealt by young specially-abled women, I reached out to a teacher and a mother, and the life-truths they touched upon told me of a different and rather unique perspective of struggle and strength.
"Menstruation is a body function that each young girl has to deal with, you and I both know that ache, but neither of us can understand what it can be like when the body is experiencing a pain but the mind is not able to perceive it, and that is the struggle of girls born with developmental disorders," shared the special educator Pooja Aggarwal of Disha (a Resource Centre For Multiple Disabilities, Jaipur).
And for a better understanding she invited me to sit in on their Special 'Sex Education' Session, and here I am on the way to Disha to meet the beautiful young girls. Tag along! 

Little jittery and much excited I sat in the cab, a special morning session was organized for us to attend. Us because how could I forget to take along our photographer, courtesy him, some lovely glimpses you'll find on scrolling down!
We reached on time, and the office staff at the reception welcomed us with warm smiles, and while they informed Pooja of our arrival, in that two-minute window, some beautiful diyas and blue pottery pieces caught our eye. Still admiring, we saw Pooja walking towards us, and that marked the beginning of our one of its kind Disha-tour.
As Pooja guided us through the beautifully designed campus, and we walked the ramps of the double-height lobby, I couldn't resist but whisper to Chaveesh (my photographer colleague) about the positive vibes that filled the environment, and the expression with which he said 'exactly right!' left a big smile on our faces.

In no time we reached the second floor, and soon found ourselves at the door of the 'Doll House,' a room that is specially designed to conduct 'Sex Education' Sessions for the young girls. Pooja had earlier shared with us, "through dolls, we introduce them to the body parts, and make them easy with the concept of female body, touch, panties, etc." And they usually don't keep more than 6-8 students in one group, because given the learning difficulties of children, special attention and care is needed.

Quietly we walked into the cute little room, and amidst beautiful wall-drawings and miniature furniture, sat five young girls on the mat with their teacher. And after a quick round of introduction, we were left in the room with Surbhi, Mannat, Isha, Khushi, Kanika, and their "Varsha Ma'am". They giggled and shied looking at Chaveesh Bhiayya, but in no time were disciplined by Varsha Ma'am, who then continued with the session (Ha-ha).
The session started with the concept of 'Good Touch and Bad Touch,' and as I sat behind them on the floor, I could see them stealing glances and shying when their ma'am asked them to touch each other and demonstrate how they would respond. And then the teacher voiced, "if something like this ever happens, what do we do"? In unison, they replied, "we tell mumma, or our teacher", and that earned them all a pat on the back.

Seeing Varsha Ma'am prepared with multiple 'Picture Cards,' we got reminded of what Pooja had told us, "We make use of 'Picture Cards' and line drawings, and using them we share stories. We make a series of cards that explain the multiple sex-educations related concepts, and through role-play we make them understand, as they find it easier to relate to."
She then moved onto the  'Appropriate Doctor Touch' card, but just as she picked the next card, all the five girls started giggling. (Curious, are you, to know about what that card pictured?) Well, it had a boy and girl drawn, and the moment they got to know that Varsha Ma'am was to talk to them about how 'girls and boys can and cannot touch each other,' they all got hush-hushed because of the presence of "Photographer Bhaiyya" in the room. And right then their Pooja Ma'am entered – "Kya ho raha hai, hmmm?"

Both their teachers laughed but applauded them for their appropriate response, for they are taught to be able to differentiate and reason, and that's exactly what they did. Just as happy, and with no oddness in his reaction, Chaveesh left the room, and I swiftly moved to the front for a quick chat with the now more relaxed girls (ha-ha). But before I could initiate a conversation, Kanika, who had been smiling looking at me since the beginning, jumped at the opportunity and what came my way was a series of curios-queries. After having got all her answers about where I work, stay, and if I know how to drive, she went on to invite me to visit her house on Diwali (And I couldn't have been more delighted!)
Little later we moved out of the Doll House, and as though Pooja had read our minds, she was kind to offer us a walk around the school. On the way, we first met one of their male special educators (at Disha, boys and girls are taught by male and female educators, respectively.) We also stopped by at the library, a cozy little room filled with books (the reader in me was elated at the sight!)
Then we headed towards the classrooms, and our first stop was Rani's classroom. (Remember we spoke to her mother recently?) And though we couldn't get to meet Rani, we saw where she learns sewing and drawing. The next class  we entered happened to be of Mannat (From the sex education session we attended), but we quickly left because it was "brunch time" for the kids (oops!) Then with more careful steps we entered another room, and found students giving Hindi Test; each of them being guided by one volunteer instructor or teacher!
And by then we couldn't wait to meet more children, but already having disturbed enough classes, we headed directly to the swimming pool. Which happened to be a wonderfully designed closed area, and must say, very well maintained, too. Stepping out, we'd just begun walking back towards the main lobby, and who do we see, Mrs. P. N. Kavoori, the Founder Of Disha! And there sure couldn't have been a more appropriate way to mark the end of our heart-warming experience than to have got an opportunity of a quick word with the humble lady herself.
Sex Education classes need to be conducted in all the schools, irrespective of the comprehensive abilities of the students; it is the need of the time. And just as dire is the need for awareness and discussion on mental health. Let's together break the myths and fight against the taboos – let's speak up for mental health!
This article was first published on October 10, 2017.
Was this article empowering?