Wednesday, November 29 2023, 03:38:10
Meeta Sharma Of Shumee Toys Tells Us How Her Business Is A Play Date With Her Sons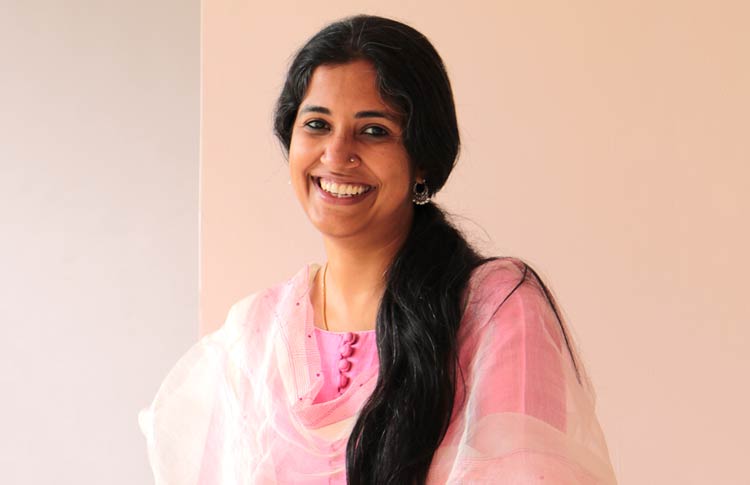 To be honest, I have never had as many toys as my 5-year-old niece does. While she has a cupboard full of fancy toys, a few Barbie dolls, kitchen set, and clay molds made to my wealth trunk.
Is it because there weren't many toys available in the market back then or because the sun and the fresh air kept me hopping outdoor.
Well, whatever it might be, today's kids are blessed to have toys that are not only fun to play with but are also super informative and eco-friendly.
The reason for parents to buy environment-friendly toys is that the plastic toys available in the market contain phthalates, PVC, and bisphenol-A, making them unfit for the little ones. Thus, to make the world a happier and healthier place, Meeta Sharma brought to life Shumee, with eco-friendly wooden toys.

Indian Women Blog: If you were to introduce yourself as a toy, what would it be and why?
Meeta: I would be a balance board, as I like to balance a lot of things in life, both professionally and personally. I believe that balance is the key to happiness, but also it is a tough one to achieve.
Indian Women Blog: How did you first become interested in the craft of toys and where did you find your inspiration from?
Meeta: Being a mom was where it all began. My two boys are my inspiration. Seeing them play, seeing how they interact with the world, discover and learn all of this resulted in the start of my journey with Shumee.
Indian Women Blog: How is Shumee different from other toy brands?
Meeta:  Shumee aims to bring back the joy of playing with simple yet engaging toys. I believe in colors and simplicity of design, so all Shumee toys are colorful. I also believe that the simpler a toy, the more it opens up the world of exploration for kids. I believe kids are natural explorers, they are always curious about everything and letting them discover it for themselves is the best way of learning.

Indian Women Blog: Do you think the art of toys is somewhat vanishing because of technology?
Meeta: Yes, to some extent it is. In today's world, we cannot deny the influence it has on our kids. However, I am also a firm believer in letting things be as natural for as long as they can, especially for our young ones. A kid learns so much from going on a walk with the parent, lots of skills are learned in physical play or sports, or in tactile materials. All of this is lost when we give them screen solutions. Learning happens with real objects and sadly, technology is diminishing that experience for our little ones.
Indian Women Blog: How do you make your toys both relevant and interesting in today's age and time?
Meeta: Toys have their own place in a kids life. And the surprising thing is that the toys which the kids need to have fun with don't change with time. We think that the more learning elements we put into a toy, the more bells and whistles we add, the more relevant the toy becomes. But that is not true, the basic nature of play needs simple objects. A simple set of blocks opens up the whole world for a child by enabling him to make castles, vehicles, objects etc. And that is what we want to do with our toys and products in Shumee, we want to make the toys more relevant by adhering to the basics.

Indian Women Blog: Tell us how your kids are your bank of ideas and your most trusted market study.
Meeta: My sons are my inspiration behind the journey with Shumee. They are my testing grounds, and they are very supportive. They discuss every small detail with me, give me feedback on every concept we may be thinking, even if they are older for that particular toy. We also brainstorm on names, for example, they were a part of the voting team for our balancing toy game, ninjaki. They also love to get featured in the videos that we make to showcase our toys. For me, this journey has become richer as I see my boys identify and connect with everything we do at Shumee.

Indian Women Blog: Tell us about the quality check and safety measures that your products have to go through.
Meeta: The first quality check happens in the design phase, where while designing we keep all the safety measures such as the size of the loose parts, the corners of the toys should not be sharp, etc. in mind. The second quality check happens with the choice of materials and paints, and the final stress testing and other quality checks are done after manufacturing.
Indian Women Blog: Which is your best seller and why do you think it is the one?
Meeta: We have some bestsellers across different age groups. For babies around 1-year-old of age, our walkers are bought along with the rattle rings. Also, the rocking horse at Shumee is another favored toy for 1+year olds as it has a safety belt around it and can rock a kid to happiness. For the toddlers, the activity triangle and tools chair are quite popular, because both of them offer a lot of activity and creativity within a single toy. The triangle has 5 sides of activities to keep a toddler engaged for a while and the tools chair is a great construction toy for the little one to explore and build stuff for himself. For the older kids, our stamp sets and ninjaki are much liked. The ninjaki is a great family game which can engage a group of kids along with their family and even young adults. It teaches collaboration and also gives the little ones structural knowledge.

Indian Women Blog: Today the stores are generally filled with educational toys. What do you think about this evolution in toys?
Meeta: Yes, I am a firm believer of the philosophy that a toy should be more for play and enjoyment, the learning comes on its own as the child explores a world through the toy. Just the basic action of balancing two blocks is helping develop the hand-eye coordination for the little one. Toys should just be for playing, I believe.
(This story was first published on March 21, 2017)
Was this article empowering?