Wednesday, November 29 2023, 05:29:30
Meet Manju Devi Yadav, North Western Railway's 1st Woman Coolie, Who'll Lift Your Spirits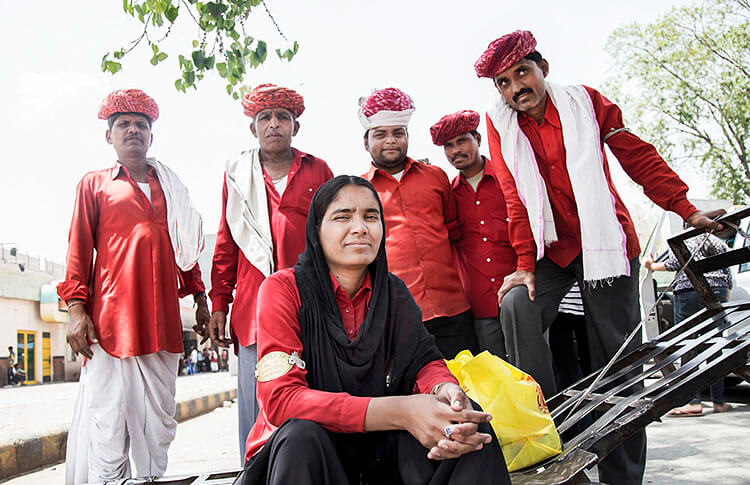 The story of Manju Devi Yadav – North Western Railway's first and only woman coolie – is one of struggle, inspiration, and courage. Which is why, on January 20, she's being recognised for her work at Rashtrapati Bhawan, where she will receive an award from the President.
When we spoke to Manju Devi, she told us that she wasn't sure what the award was for or about, and she sounded super nonchalant about it. "I have no time," she explained, "When I got the call from Delhi, I said I couldn't come because I have three kids and I singularly support my family, so where do I leave them? My daughter is in Class XII, what if she fails?"
Eventually, her colleagues at the Jaipur Railway Station, where she has been working for five years, convinced her to go since this is a big honour for Rajasthan.
Below is an interview we did with the fiery woman on April 24, 2015. Read ahead to appreciate her wonderful spirit:
With absolutely no contact details, we decided to wait for the 'Porter no. 5' at the parking lot outside Jaipur Railway Station.
"Manju comes at 1 pm every day when a train from Mumbai arrives at the station. You can sit with us and wait for her. She will stay here till late evening," said an elderly male coolie.
So there we were, waiting for the brave woman who took up the job after her husband's demise to support her small kids. When she arrived, she sat next to us unaware of our intention.
Surrounded by her male counterparts, she sat under a huge tree and covered her head with her black dupatta. Since we already knew her living condition, we took along a bag full of monthly ration and some fruits. She accepted the gesture and kept it aside. No smile. No, thank you. Arrogant?

Shashank Tyagi, our Photographer, explained: "No, it's not arrogance. Emotion is a luxury. Not everyone can afford it."
Seeing her young husband pass away at a rather young age and being tagged as a 'widow' in her early thirties, Manju Devi can't afford emotions anymore. The wrinkles on her face speak of the hardships she faces on a daily basis.
Read the excerpts from our small chat with her:
Hello, Manju ji. Can we speak to you for a minute? We want to write your story. 
Where will you print it?
She is now habitual of people interviewing her. She is a celeb in her own way.
Not printing, we have a website. Internet. Do you know Facebook?
Okay.

In a typical Marwari tone, she slowly started interacting with us.
How old are you?
42.
You look so young!
But there is barely any hair left on my head. Sitting under this harsh sun every day has reduced my beauty.

She was laughing. We sighed in relief, taking it as a sign of our budding friendship.
We have read the story of your struggle of being a single parent.  
I brought my kids to live with me in Jaipur. My village has very fewer opportunities for them. Here, they can attend good school regularly. Also, it was difficult for me to visit my village, Phulera, every week.
Who lives there?
My mother along with my brother's family.
Are you in good terms with them? 
I think they did their best to support me during the life crisis. But then it was me who realized that I had to do something on my own for my kids. I decided to restart life. I didn't want to be a liability on them anymore.

How is the work here?
I enjoy working as a 'Coolie.' I can carry about 80 kgs per day.
Someone from the group of coolies murmured, "Sometimes, we help her, too."

Manju laughed and replied in a defensive voice, "It was 2 years back when I was new to work."
You're strong, Manju ji. You're very inspiring. 
I am aware that my life's choice is unique and inspiring to many women out there.
Are you able to make savings every month?
To save is not easy. Though my kids' education is being taken care by the school, outlining the home expense is a struggle. We pay a rent of Rs. 3,000 a room. Therefore, saving even Rs.1000 is difficult.

Do you have a bank account?
Yes.
How about you deposit Rs. 500 in it every month?
As I said, it's difficult.

Manju also revealed how she never got any assistance from the Govt. in spite of thousand promises made to her.
Do you have a dream?
I want to see my kids settled in the future and make a handsome living for themselves.
You don't have a dream for yourself?

Honestly, that's my only desire.
Psst, typical mother!
We're glad we could meet this beautiful & brave soul. See, she even helped us clean the bird's poop that dropped on us a few times during the session! Ha-ha!

Was this article empowering?