Wednesday, November 29 2023, 03:28:28
Married For 27 Years, Anjali & Kris Bhatt Flirted Like Teens During This Romantic Chat With IWB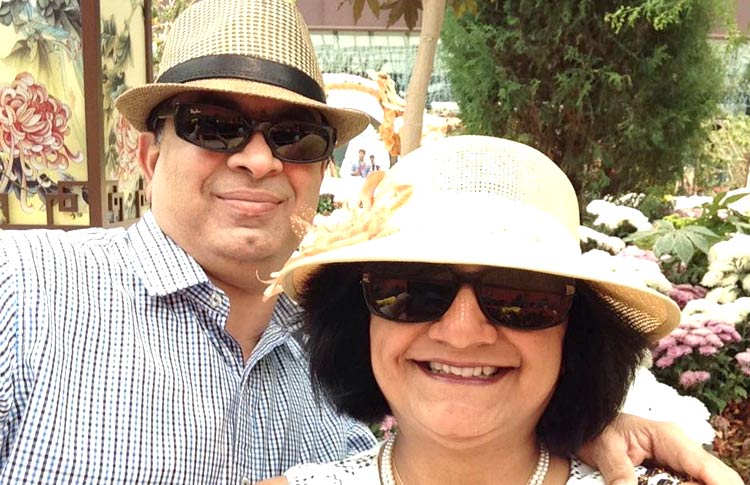 They got married one year after I was born. Anjali and Kris have been close friends with my mother for years, and so, growing up, I enjoyed listening to their love story.
I remember playing with their son (and my only friend during childhood), Trinky, during warm afternoons after our mothers returned from school. Later, we would eat delicious food cooked by Anjali aunty. Psst, those days.
They moved to New Zealand a long time back, but we keep exchanging pictures on social media. I notice aunty managing a big beautiful garden where she grows organic veggies and fruits. Kris uncle lives in Singapore because of work but keeps traveling back to meet his dear wife. Their son is now a certified Pilot and is doing extremely well in life. The parents are super proud and often share pictures on Facebook with him.
While our team was looking out everywhere to write love stories this Valentine's Day, I thought of the Bhatt couple who's happily married for past 27 years. Well, what better way than to revisit one's old love-filled days!
Since uncle is a Brahmin from South India and you, a Christian from North India, was it difficult getting married?
Anjali: Both our mothers were against it. However, my father wrote to me saying, "You are a grown up and hence, are accountable to what happens in your life henceforth. You are mature, and I believe in you." That was the best kind of support we could have asked for.
How did you two meet? Although I've heard this story many a time, let's revisit the memory lanes once again. Shall we?

Anjali: We used to teach in the same school, the one you studied at. He used to tell me how other male teachers would call me a 'heroine.' Since there was a shortage of English teachers, I was given the responsibility to teach English to one of his classes. I remember how he used to make me wait outside his class even after his period was over. One fine day he came up to me saying that the parents of the kids were complaining about my teaching style. This was followed by a major fight between the two of us. Next day, he sent me a red rose through a student. So romantic!
Kris uncle, you chose a student to do the job?
Kris: Ha-ha. I was scared of her temperament, I guess.

What happened next, aunty?
Anjali: Later, to further smooth things out, the school arranged a picnic. Both of us took our turns to sing songs. However, I made sure I laughed at him to torture him a little. Honestly, his voice was another quality I liked besides his brilliant handwriting. After a few days, he, along with his friends, happened to be walking behind me while I was on my way home. It was then that he started humming the famous Hindi movie song "Aaja sanam, madhur chandani mein hum." I was fully enjoying the moment and almost everyone around us was aware of the spark between us.
Since I am a Christian, I always thought marrying someone from a different caste was impossible. But, as they say, we were destined to meet. I still get the goosebumps thinking of the first day he decided to come up to me and talk. I was shivering. I was too young to understand, and that moment was going to be my first-hand experience in love.
Aww. Describe your first date to me.
Anjali: Umm…it only happened after our engagement that we went to visit a nearby temple (Baroli temple in Rawatbhata). We had to ask for a lift a truck driver since we couldn't board any bus. It's more adventurous than romantic. *giggles*
Talk about your engagement.
Anjali: It was arranged by the school staff. They also planned a court marriage, but that could not happen for some reason. Later, they took us to a Hindu temple where he embraced me with sindoor. I was laughing throughout, especially when I was asked to touch his feet according to the Hindu wedding customs.
Kris: I wanted us to have a Christian wedding, too, and so we went ahead. She looked spectacular that day.

What has been the most romantic gift you got her?
Kris: Most romantic gift has to be the engagement ring that I bought her with whatever money I had that time. And of course, at our 25th wedding anniversary, she received a 1 karat diamond ring. Apparently, she loves rocks.
Anjali: It was our 22nd, Kris. Oh, Jesus! Men will always be men.
Who among you is the night owl?
Anjali: Both of us are morning people because we go to work every day. He turns into a night owl when he has to watch his stupid cricket.
Kris: Stupid? Excuse me.
Anjali: Yes, just like your political gossips.

Kris: Well, this is one thing she doesn't like about me. My interest in politics.
What else do you not like about uncle?
Anjali: I want him to write the date on every card that he gives to me. He forgets to do this every time. How on earth am I supposed to keep a record?
As work keeps you apart, how difficult is it to live?
Anjali: First year it was tough but now thanks to the growing technology, it doesn't feel that bad. He starts his day with 'good morning' messages and finishes it with 'good night' and 'I love you' phone calls. Currently, the cat-face emoticon with heart-shaped eyes is our favorite. Since he lives in Singapore and me in New Zealand, he makes sure he plans his telephone-schedule according to my time zone. However, it's just for about 5 and half months that we are physically away from each other in a year.
Kris: I miss her terribly during this period. Sigh. But that's the way sometimes life is.
What's your reunion like?
Anjali: An elongated kiss.
Kris: And some flowers for her.
What kind?
Kris: She loves lilies.
What's your idea of spending time together when you're not cozying up at home?
Kris: We always prefer going out together even it is to buy milk from the shop next door. *laughs*
Anjali: Otherwise, we enjoy going for long drives and eating at our favorite food joint.
I keep seeing your travel pictures on Facebook. How often do you plan trips?
Anjali: I think it's crucial for every couple to spend time together. Kris and I try to make one trip every year. We enjoy taking pictures wherever we can.
Kris: Around flowers, to be precise.

Anjali: I love it when he volunteers to click.
Share the memory of the most romantic quarrel you had with him.
Anjali: I think it has to be the one I mentioned earlier. The one that happened at the school. But you know what, I am a jolly person and to win me back has been very easy for Mr. Bhatt so far.
Kris: There is another from that day, I bought you a dress in a wrong size. Do you remember what you said while screaming at me? "Do you think your wife is a teenager?" And how, after that, both of us burst out laughing!
Does aunty shop for you?
Kris: Most of my shopping is done by her. I trust her choices.
And how well do you know her choice?
Kris: Well, her favorite color is green.
Uncle, I've always seen aunty wearing short-bob. Did you ever wish she had long hair?
Kris: Earlier, yes. But now I can't stand her hair growing any longer.

Aunty, I can't even begin to explain what I go through when you put those deliciously food pictures on Facebook EVERY DAY. Do you guys cook together?
Anjali: Thank you. When he's here, we cook together. But more than that, we take turns to surprise each other. When we watch a new recipe on TV, we make notes, quickly go to the supermarket and buy the suggested ingredients, come home and prepare the dish. We're fond of food experiments.
Who's a better cook?
Anjali: Definitely him. He has learned cooking non-vegetarian food from me while he's taught me the recipe of typical South-Indian sambhar. Until today, I can't make round dosas or idlis like him.
Uncle, what does she cook the best?
Kris: It 's hard to identify one dish as she puts love into everything she cooks. However, her rajma and chhole are the best. When I am at home, mutton or chicken curry is always waiting for me during the lunch time.

Since Kris uncle is a mathematics teacher, I'll ask him to define your relationship using an equation.
Kris: Vx2 = E. When together, we are a big ball of energy.
Lastly, do you have funny nicknames?
Kris: She has started calling me 'Old man' these days. Phew.
Anjali: He calls me Baby.
This article was first published on February 14, 2017.
Was this article empowering?