Wednesday, September 27 2023, 09:56:31
Made Up Of Underprivileged Women, Namrata Tanna's Mom Team Is Cooking Up The Recipe Of Empowerment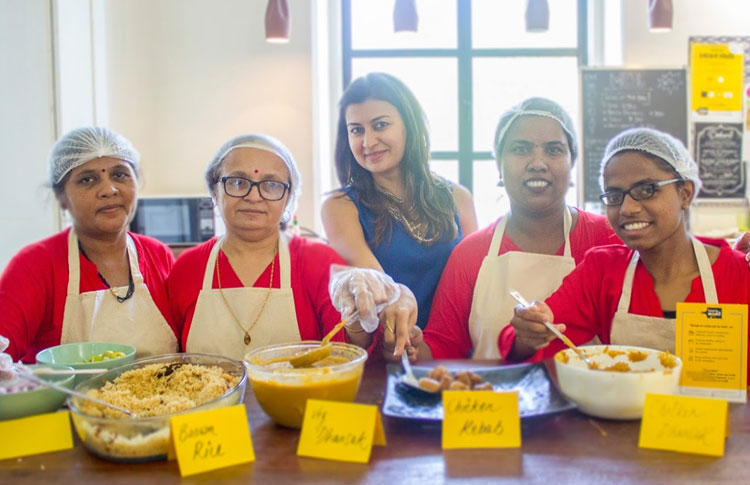 I remember being in much demand during my college days courtesy of my tiffin a.k.a maa ke haath ka khana a.k.a Heaven, a privilege that I have no access to now that I am working in a different city. *sigh* But not everyone is as helpless as I am, especially the people in Mumbai who are living away from their moms, for they have Namrata Tanna and her super Mom team coming to their rescue.
This team of super moms works under Cooked by Moms, a social enterprise launched by Namrata Tanna that brings healthy, home-cooked food to your workplace while empowering women at the same time.
"We champion mommy empowerment, creating employment opportunities for underprivileged women giving them financial empowerment as well as a sense of dignity. Cooking is an art, and more often than not it goes unnoticed and unrewarded, especially in the case of women. So, I thought, 'Why don't we combine bringing mommy love and care to work, boosting productivity and happiness in the workplace with creating careers for these women?'" said Namrata.
Want an inside peek into the awesome team of superwomen? Let's know from Namrata herself! Excerpts:
So, Namrata, Cooked By Moms' website reads that  80% of your workforce is made up of underprivileged women. That's pretty impressive!
When I started working on the concept of Cooked by Moms, I wanted at least 50% of the women to be from underprivileged backgrounds so as to give them the opportunity to earn an additional income.

However, today 100% of our mom team is from lesser-privileged backgrounds, and I am really happy about that. That is not to say that we aren't open to any and all women who want to participate in our events with us – everyone is welcome, as each of our events is customized and curated differently as per the need of the client.
You have combined creativity and compassion. Apart from giving them employment, how are you empowering them?
Cooked by Moms is not only about healthy food cooked by moms; it's about the moms themselves and their overall development. Yes, we bring mom-cooked food into workplaces where people don't have access to home-cooked food, but we also bring the moms there to serve and be a part of the event, to give them the exposure, validation, and confidence that they normally do not get.

The most beautiful part about the concept is that when our mom teams come into corporate workspaces and interact with our clients, both leave having learned something new about the other and having had a glimpse at the lives of the other.
So, do these marvelous cooks come trained or do you give them training in how to cook regional dishes, like a Parsi or Gujarati meal?
Cooked by Moms champions the existing cooking skills of our mom team. Each mom has her own unique specialty and dishes that her family loves – we would like to showcase these dishes, retaining their authenticity.

However, we also believe that to grow one has to learn constantly, so we are looking at tie-ups and opportunities where our moms can receive training from professional chefs to grow their cooking and presentation knowledge and skills.

I am yearning to taste the food cooked by your super mom team! Meanwhile, why don't you tell me about how Cooked by Moms comes in contact with women who are passionate about cooking?
Well, our mom team would love to cook for you. So, we look for women's groups like mahila mandals or NGOs working with women's groups on employability or skill training and tie up with them. We have found that there are very few such organizations or groups that cater to older women, as most skill training programmes are geared to the youth and focus on things like English skills and computer education. The segment of women who have never worked or have no formal work experience or training is ignored by most, which is why we at Cooked by Moms leverage their existing skills.
So, how does Cooked By Moms works? Like you hold these yum events in corporations and then?
At the moment we only do pop up events and events where our mom teams can interact with the customers for a holistic experience. We do not do catering or a tiffin service, as the human interaction element gets lost when you do that.
So currently, if one wants to avail of Cooked by Moms' food and service, they have to sign up for the whole experience and invite us into their workplaces or events. Of course, with time, we will innovate and do the best we can for our mom teams.

As Cooked by Moms is just one year old, what are the challenges that you've been facing?
The challenges we face at Cooked by Moms are probably shared by most start-ups. Getting people to understand our concept, as it is new and unique, is one such problem which is easily fixed once they experience one of our pop up events.

As founder, I often feel I am running against time as I have to be involved in every aspect of the business. This is both challenging and exciting, and I have to admit that I learn something new every single day. Another challenge is building a strong and reliable team that understands my vision and is equally excited about it. So far, I have been lucky to find a few such people who help me execute my vision for Cooked by Moms every day.
Good for you! While I am sure your mom team cooks the most delicious dishes, what are your favorites?
I absolutely love the Parsi dhansak dal and brown rice that Poornima Ganjawala from our NGO partner Seva Sadan Society makes. I also love the Maharashtrian vegetable curry bunny chow dish made by mom and daughter duo – Yojana and Kimaya – from the Veruschka Foundation, which gives culinary training to autistic adults.
Well, that was about Cooked By Moms' kitchen, how about taking us to your Mom's kitchen, tell us childhood memories of this wonderland.
I grew up in a joint family, which means there were always a lot of people around all the time and a LOT of food being cooked at all times of the day to cater to everyone's needs. My best memories of my mom's cooking are when I used to come home from boarding school and she would make me my favorite comfort food – khatta moong ki daal and patta gobi aur aloo ki subzi. It was the simplest of dishes but made by her, it tasted like home. Even today, this is my go-to comfort food!
I can see where your appreciation for good food comes from. You follow a zero-waste policy, is it in your mother's kitchen that you found the inspiration?
It was my grandma. Growing up, my normally sweet-tempered grandmother was strict about only one thing – she had zero tolerance for anyone in the house wasting food. It would bother her like nothing else, and we weren't allowed to leave the dining table if we hadn't finished everything in our plates. I remember a time when one Sunday when I was about 10 years old, I had taken too much daal dhokli (a Gujarati dish) in my plate and of course I struggled to finish it. I cried and bargained and begged as kids normally do, and just when I thought I had her convinced to let me go this one time, she served me the very same daal dhokli for dinner before I was allowed to touch any other food.

So yes, somewhere I think the values one grows up with are the ones we carry into every sphere of our lives. When I thought about the concept of Cooked by Moms, I always knew it had to be a holistically good and responsible brand that does as little or no damage to the world around us and one way in which we, as a brand, can do that is by ensuring that we follow a zero tolerance policy for food wastage.
Holding on to your values… I am impressed. So, how often do you wear an apron and join your chef-army in the kitchen?
I actually have not as yet joined our mom team in the kitchen, as this is a chance for them to shine and showcase their food with pride. But I hope to join them soon!
I read that you act as an advisor to many NGOs. So, NGOs supporting women empowerment often face many challenges like lack of funds, lack of volunteers. What do you think can make an NGO more efficient and impactful?
All organizations, whether they are for profit or not for profit, have problems with funding, manpower and so on. Having worked with NGOs for a long time, I do think that a greater impact can be made if NGOs collaborate with each other more, thereby reducing the duplication of work and increasing their focus on their own strengths.
That's some good advice, Namrata! So, as you know, there is this mentality in India that homemakers don't deserve the same respect as people with a job deserve.
This is the mentality we, at Cooked by Moms, hope to change over time. We want homemakers to regain their self-confidence and understand that they already have existing skills (cooking being just one of them) that they can leverage to gain employment. We also want the perception about them to change and for them to be seen as valuable and contributing members of society.
Cherie Blair once said, "When you empower a woman, you empower a family, a community and indeed, a nation." So I think it's time we stopped underestimating the Indian woman and when we do, we will see that she can achieve the unimaginable.
Was this article empowering?