Sunday, December 04 2022, 01:40:47
'Let's Talk Depression,' Said Dr. Anjali Chhabria During the Launch Of Her Book 'Death Is Not The Answer'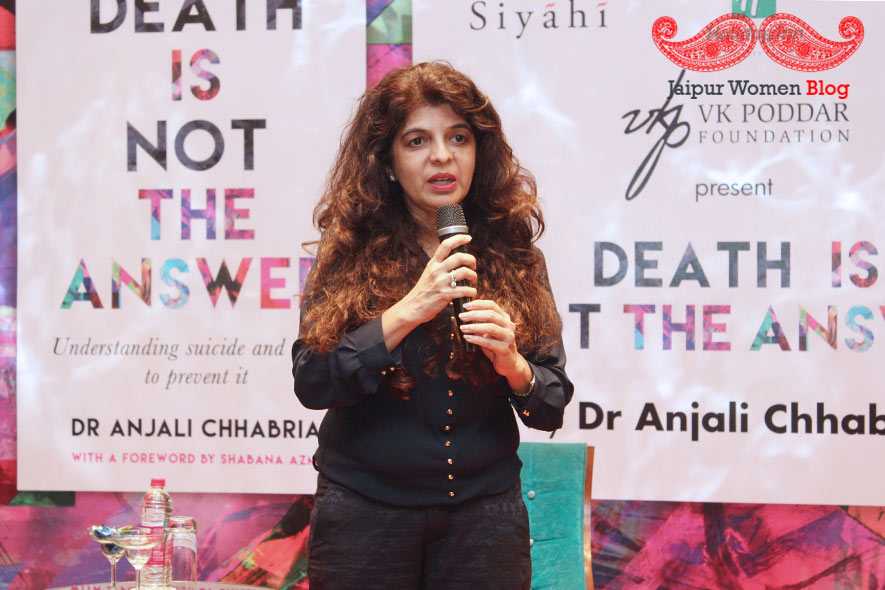 What if one day you lose interest in life? What if you don't want to eat or meet people anymore? What if you decide to make peace with the darkness? Does the thought suck?
Well, to address the issue, Siyahi, a literary consultancy firm, invited Psychiatrist Anjali Chhabria who, in association with VK Poddar group, took an initiative to speak to people from all walks of life. Starting their journey from the Pink City, their aim is to spread the awareness about depression and encourage citizens to come out of the shell and accept the reality.
To initiate, it was Poddar group's Mrs. Kamla Poddar who revealed how she met Dr. Chhabria.
"I went to her as a patient about seven years ago. I was suffering from depression. I kept it as a secret because, in our society, depression is a taboo. I didn't want people to think I was insane. However, with time, Dr. Chhabria convinced me to be finally vocal about it."
Loud claps followed as Siyahi's Mita Kapur appreciated her friend's courage.

It was then Dr. Chhabria's turn to interact with the audience and learn how Jaipur feels about the medical condition. She stated, "Depression affects 1 in 3 people, and shockingly, our country is the suicide capital of the world. Don't wonder when I say the age-group lies between 6-100-year-olds. You heard me right. A few months back, my 6-year-old patient revealed to me how he had attempted suicide by eating 'sweet pills' because of the bad family environment."
This, of course, led to mumbling.

Dr. Chhabria continued, "Talking about the elderly, in most of the cases, the reason is isolation. Senior citizens who live alone are easy to slip into this painful mind state which leaves them with two options – sleeping pills or suicide."
Dr. Chhabria has recently launched her first book 'Death Is Not The Answer' in which she openly talks about the kinds of depression and the ways to prevent it. The book is an attempt to help thousands who are questioning the motive of their life.

During the session, she shared some of these significant ways in which we can help people with suicidal thoughts reconsider their decision.
Dialogue: If you know someone with a low life condition, make an effort to speak to him. Leaving your anxiety behind, ask him what makes him feel so.
Lend an ear: Don't draw the conclusion that this person suffers from mood swings and hence, keeps saying things like this. Listen to him patiently. Sometimes, all they need is someone to hear them.
Offer medical help: There are times when the patient doesn't want to meet the psychologist/counselor. That's when we need to encourage them. For example: fixing an appointment with the doctor and accompanying them.
Acceptance: This is the first quality we must develop inside us – to believe that mental breakdown exists and can be cured. To believe in science rather than spending fortunes on pundits and sages. And also, to address the issue in public and not feel shameful.
Elaborating the last point, Dr. Chhabria shared a few personal experiences on how in the past, ignorance has led to vicious damages in the families of her clients.

"I had a patient who was in his late twenties. He accepted that he was suicidal; however, his family wasn't ready to take it. Apparently, they didn't want the society to think anything 'bad' about their only son. Though I made an effort to speak to the mother, just in case. The reply I got from her was disappointing. A month back, he committed suicide. I am assuming he failed to explain his feelings to his family and felt lonely. I received a text message from the mother informing me about his death. Upon asking the reason, she replied to me: 'Silent heart attack.' Sad that even after his death, the family isn't ready to deal with the critical subject."
Before concluding, she reminded each one of us the reasons that are responsible for sowing the seeds of depression – career deadlock, relationship abuse, breakups, educational pressure, bad finances, and health problems. Keeping these in mind, JWB urges our readers to be more attentive and caring towards people around us.
Photo courtesy: Chaveesh Nokhwal 
Was this article empowering?