Thursday, January 28 2021, 04:40:10
Lawyer Monica Dixit Quests The Inner Romantic In Her First Novel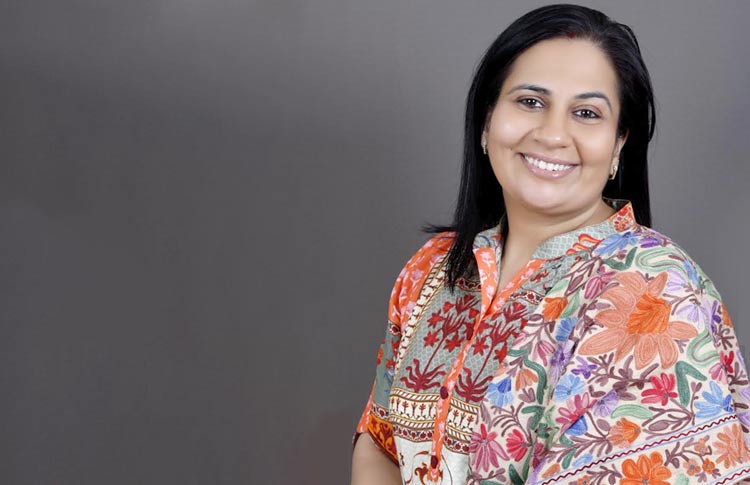 "If there's a book that you want to read, but it hasn't been written yet, then you must write it."
— Toni Morrison
At a college reunion, Monica Dixit saw that not many couples seal the deal with the marriage, and she wrote about it. A lawyer by profession, she shelved fat law books and penned down a love story that overpowers all conflicts.
A Quest For Spring is about Raehan and Amolika, who come from two very different worlds. The college students whose love is rekindled by fate 16 years later and takes towards an unexpected journey. We talk to Monica about her own personal quest.
Tell us what happened at that college reunion when the muse visited you?
It was around summer 2014 that I got back with my college friends on WhatsApp. After all the introduction we asked who all are still together, who were dating back then, and to my surprise, none of them married or they did not go a long way. This set the wheel spinning, and I realized that there is no love story that comes without a conflict. So that's how I started writing.
Initially, it was an 18-page short story that I gave my friends to read, who suggested that it had all the elements of becoming a novel. Finally, when the manuscript was ready, I thought that I had something in my hand and it should get printed.
Are you a full-time writer now?
When I started this book, I had been working as a lawyer. After coming from work, I would do homework with my daughter and all household chores. I would sit down to write from 12 midnight to 1:30 morning. This continued for the first two and a half years while I was working. Then my mother-in-law fell ill, so I had to quit my job and, finally, got enough time for writing.
Any advice to someone who juggles work with the passion for writing?
I came across a blog by a writer Karan Bajaj. In that, he mentioned that even if you are working, you can still give 45 minutes every night to writing. What matters to keep moving ahead, one page at a time. It took me two years to complete part one and another 6 months to complete the remaining three parts.
What fueled your pace during last 6 months?
Initially, I was paranoid about it and full of self-doubts. When I completed part 1 and asked few people to read it, they really liked it. This encouraged me to complete my book as soon as possible. My motivation levels kept rising with every word written.

It is very fascinating to know that a lawyer has written a romantic novel.
Mainly, when an author writes their first book, they write about what they have gone through, but mine is not. The first part where the protagonist falls in love was challenging to write because I have never been in a relationship or even on a date. I had an arranged marriage, so I don't know much about dating.
Was it also difficult to write about the opposite sex when you don't know how their psychology works?
Actually, for me, that part came easy since I am a lawyer and had taken many divorce cases. I used to analyze how men think.

Do you feel writing is a spiritual practice?
Not a spiritual practice as such. But basically, I am an introvert, so writing serves as a form of expression for me. I just get all my thoughts on paper. In general, I'm not a very spiritual person.
Have you read anything which made you think of fiction differently?
I started reading 40 rules of love by Elif Shafak. I really loved how she has mixed a story of belief with a contemporary protagonist, so that really kind of changed my perception towards fiction.
Is there something to read between lines in your book?
It's a very open book. I have no secrets to hide as such, maybe those people who know me may guess why I choose to write a certain thing on a certain incident. I have written it from all the experiences that I have gathered as a person and as a lawyer.

Any book that came as a savior in your life?
I was going through a very bad personal problem around 2006. It was then that I started reading Namesake by Jhumpa Lahiri, and somewhere it taught me that one needs to learn how to breathe. It is important to keep all the sadness out, so I think books really help you out, at least for the introverts, like me.
What is your personal quest?
I really like to see people investing themselves in others to make this world a better place. I think my personal quest is to bring more compassion to the world around.
How did a lawyer in you support a writer-you?
The lawyer-me took care of copyright issues. In the book. I have referred to Kashmir as a top valley. It is understood that it is about Kashmir but nowhere in the book you will find the word itself. The lawyer-me made me a careful writer, probably, hindering creativity some places.
A lot of writers have their own creative time or creative place, what is yours?
My creative blooms from 12 midnight to 4am when my daughter and everyone is asleep, and I'm not duty bound. It is my own personal space. I'm a very light sleeper, and I can keep up. I generally read or write during those hours. At night, I can finish off things very fast with better quality.
Now that you have this book out, are you planning another book?
Yes! My father was an employee of the State Bank of India. I have very fond memories of that time. I will write about my grandparents' love story.
Was this article empowering?