Thursday, December 09 2021, 07:43:48
Know All About Rajasthan's 1st Milk Bank In Jaipur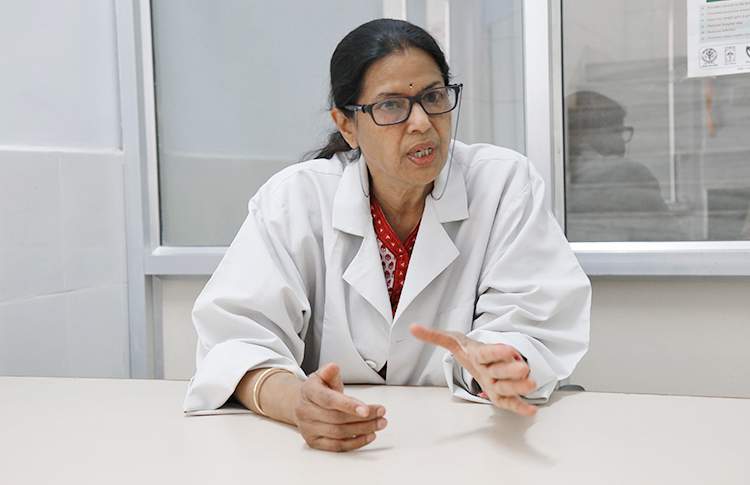 On March 26, 2015, Jaipur launched Rajasthan's First Milk Bank in the heart of the city. Situated inside Women's hospital (Maheeela Chikitsalaya), this bank is a joint project of Norway and Indian govt. to reduce the infant mortality rate in the country.
The Milk Bank project is the 2nd in India, the first located in Rajasthan. We met Dr. Sheela Sharma who is currently heading the project along with her team.
JWB – Tell us about this project's development.

Dr. Sheela – The Norway govt. has joined hands with our govt. and decided to provide this facility to infants and nursing mothers. All the machines that are here have been given by the Norway govt. This includes the important Breast Pump which is used to absorb the mother's milk in case she is not able to feed the baby.
JWB – What is the importance of this project?

Dr. Sheela – Mother's milk is very essential for the baby. Some women are not able to feed this milk due to illness or nipple-suction problem where the baby is not able to intake milk from the nipples. At Milk Bank, we not only help these mothers feed the baby but also teach them the right way of nursing.
We don't call ourselves Milk Bank but the Centre where feeding mothers can come and learn the proper method of lactation. It has been found that most mothers don't know the right way to feed their baby, & therefore, the infant finds it hard to suck the milk. This mostly happens with new mothers who have just given birth.

But there are times when women come to me and complain that they are not able to feed the baby after 2-3 months because of the lack of breast milk. At that, I suggest them to feed the baby as much as they can in those 2-3 months because the more they will feed, the more breast milk will be produced. In this way, the mother learns the actual process of feeding and hence, she may not even need to take another mother's breast milk for her baby!
If mothers don't allow a proper lactation, their breasts can get the painful wounds. I recently got a case like this.
JWB – According to you, how many women in Jaipur need the support of Milk Bank?

Dr. Sheela – About 30-40%, this is a worrisome figure.
JWB – Who can donate milk to the milk bank?
Dr. Sheela – Any feeding mother who thinks she is producing more than enough breast milk can come to us. Using the best machines, we take out the milk painlessly which is later preserved before further usage. We test the mother on any illness before she donates. We do medical tests checking HIV, Hepatitis, or if she uses tobacco, etc. If the test comes positive, we don't take the milk.
JWB – What is the process of storage and preservation?

Dr. Sheela – The donated milk is refrigerated for the 1st 24 hrs. It is then kept at the room temperature for 6 hrs before deep freezing at 20 degree Celsius. Later, it is pasteurized, boiled at 65 degree Celsius and suddenly cooled down at 4 degree Celsius. This process helps kill all the germs in the donated milk, if any. In this way we are able to give 100% pure mother's milk to the infants. This milk can even be freezed at 20 degree Celsius to be used for next 3 months.
JWB – And is this milk donated to needy infants free of cost?

Dr. Sheela – Absolutely!
JWB – How can we inspire more women to donate breast milk?
Dr. Sheela – I hope reading your story on the Milk Bank, more people will be aware of this cause. It is a great social cause, and you will feel wonderful knowing how your breast milk can save a new-born baby's life.
JWB – Do you want to share a touching story with us?

Dr. Sheela – Meet this father sitting next to you. His wife gave birth to this baby boy 10 days ago. The baby has jaundice and is very weak right now. All because the mother is not able to feed him with her breast milk. All the essential nutrients that could strengthen his immune system are present in the breast milk.
JWB – So what is being done to take care of him?
Dr. Sheela – We are pumping out the milk from his mother's breast so that we can feed him little by little on our own.

Father of the baby – Yesterday he was 1.90 kg. But after we fed him with my wife's breast milk, his weight is 2.70 kg. He is doing better.
JWB – He will be fine and healthy. Such a beautiful boy!
Father of the baby – Although, we wanted a baby girl, since all the kids in our joint family are boys. But now he is our life. *smiles looking at the baby*

JWB – It is always so nice to meet people who want to embrace a baby girl. Doctor, how many Jaipur women have come so far to take support of the Milk Bank?

Dr. Sheela – Around 40 have come to learn the process of lactation, while 12 have already donated their breast milk.
JWB – That too in just 9 days! Wonderful!

Dr. Sheela – Our aim is to lessen the infant mortality rate. We dream of an India where babies don't die because of the lack of mother's milk.
JWB – On what ethics will this Milk Bank work?
Dr. Sheela – First, it will be promoted as Rajasthan's Feeding/Lactation Center. Second, the staff has promised to take full charge of the cleanliness of this unit. We haven't employed any sweeper, and all of us are responsible for dusting, cleaning and sweeping the floors from 9-10 am. Even the machines are regularly cleaned after every single usage.

This is something that we have learnt from Ms. Grovislin from Norway department who, on the 1st day, went on to clean the floor all by herself.
JWB – What are the future plans?

Dr. Sheela – Currently 20-30 kids are being taken care at this hospital's nursery. Our dream is to see not a single child in the nursery, that is, to have healthy babies all around. Also, we look forward to supply donated breast milk in other hospitals like Janana hospital and JK Lon.
JWB – We wish you all the best.
Photo Credit:  – Shashank Tyagi
Was this article empowering?