Saturday, September 19 2020, 04:29:03
Khhamma Ghani! When JWB Turned Into A 'Jaipur Darshan Guide' On Its 2nd Lunch Date!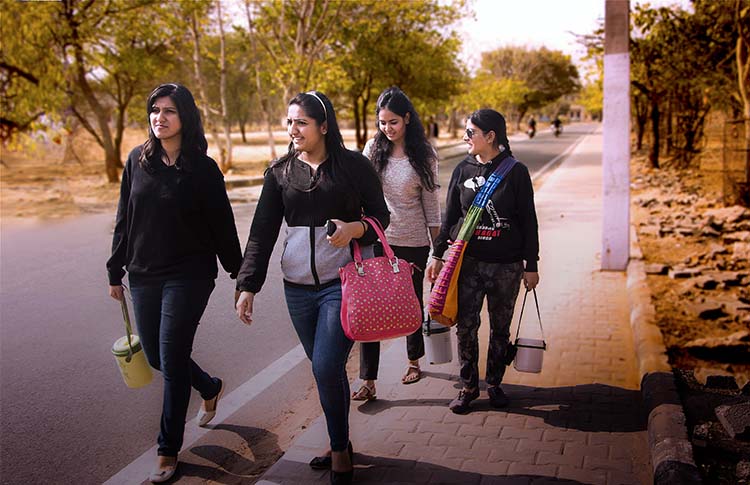 Our second lunch challenge is here and after much head banging it was decided why not to hang with the young crowd of Jaipur and get the infectious energy flowing!
It all began when our "Fairy God Mother", Ana, gifted us with a "Lunch Break Challenge". For fifteen days, we decided to set aside an entire hour apart solely dedicated to lunch! We wanted to do some fun and feel liberated.
#Day2
We picked Rajasthan University as the next place of our operation! Well, there burst our little bubble! The first thing that popped in our minds was the rowdy crowd the university is infamous for but hey, we are the super heroines of JWB and took up this challenge with stride as we were in for some role reversal this time! Why should boys have all the fun? *winks*
So we broke into the campus like an army of anti-eve preachers, holding our lunch boxes as grenades and eagerly spotting guys, the trouble makers, one.. two.. three..tick.. tock.. tick tock.. hoping to invite them for lunch with us.
Well, to our disappointment (yes, we are that pack of girls who got disappointed on not being called out on, at least for today) none of the guys even gave a second look at us, leave passing of lewd comments! However, there was one spooky, weird car doing rounds at us for quite some time but we didn't let the feminist in us break loose!

With grumbling stomachs and searching eyes, we bumped into these three lonely guys and invited them over. They agreed happily! *yay*
Us: So are you guys studying at Rajasthan University?
They: Nahi madam. We work here. We help in developing online examination charts for the University. 
After hearing their thick Uttar Pradesh accent, we couldn't help but asked where they hailed from.
They: Hum Varanasi se hain madam! We came to Jaipur last week.

Us: Oh that's wonderful! So how did you find Jaipur till now?
They: Bekaar hai madam Jaipur, especially yaha ka khana…. bahut spicy hain. (Not so good, especially the food, it's too spicy.)

We suddenly refrained from offering our teekha ghar ka khana but they accepted our sandwiches like shy school boys. Okay cool. No harm done.
Us: Let's talk about the places you have visited here by now.
They: Madam, chidiya ghar ka boodha sher dekha, Albert Museum dekha par kahi maza nhi aya! (We visited the zoo and watched the really old lions, we even saw the Albert Hall but it was nothing great.)

We immediately thought these guys have seen some doosra Jaipur! We put our 'Jaipur Darshan Tips' mode into first gear and popped a short bucket list for their 'Must see places in Jaipur'.
-Shopping from Bapu Bazar, Johari Bazar, Raja Park, and World Trade Park.
-Historic selfies at Amber, Nahargarh.
-Chilling and munching at Gaurav Towers.
Well, they pledged to it.

While conversing with them, we came to know that the man in a hoodie (Aslam Khan) was a huge Salman Khan fan and aspired to be his bodyguard! Oh, we should have guessed from his chal dhal. Salman Khan Fans has some peculiar traits to them, and we obviously love you Sallu baba!

After much insisting, he delivered a Salman's dialogue along with his friends and our very own Sanchit who played duggu in total isshtyle. We said our goodbyes with a parting selfie.

Hmm. Meeting strangers and sharing some travel tips about our own shehar Jaipur… that proved interesting for a lunch date!
Maybe tomorrow, we break into your house for some munching! *Just Kidding* Stay tuned!
#Realizations
Exploring is fun. RU isn't all that bad. Varanasi has non-spicy food.
Do you have a lunch story to share? Or do you want to share lunch with us? Have any Lunch challenge for us? Let us know below in the comments. We'd love to take it forward. Remember, thirteen more days to go!
Photo Courtesy- Sanchit Sethi
Was this article empowering?