Tuesday, September 28 2021, 10:04:26
Keeping Her Eye On Acing The 2020 Olympics, 17 Y.O Ashima Shiraishi Is A True Symbol Of Inspiration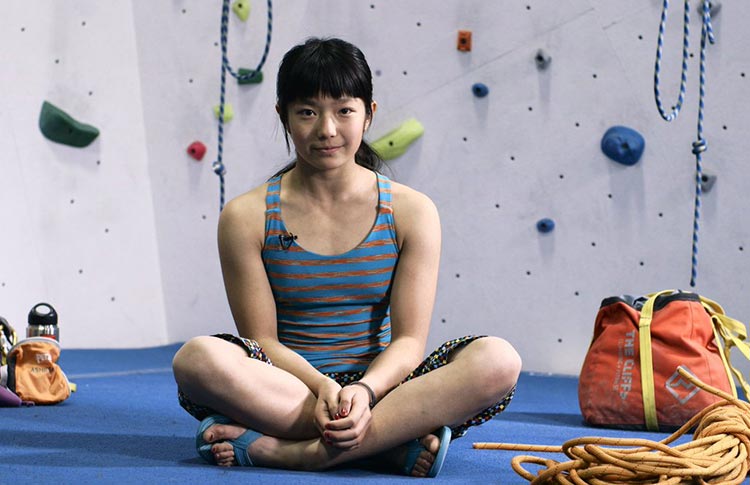 While many of you would be busy finishing your high school, 17-year-old Ashima Shiraishi, an American rock climber is doing both – completing her studies and wowing the world, simultaneously.
The symbol of women's progress in the sport of rock climbing, Shiraishi has won numerous championship titles and is the first female and also the youngest person to send a V15-rated boulder climb. Recently, she was a spokeswoman for the North Face's global initiative which was aimed at celebrating and encouraging the voices of women in the outdoors, Move Mountains.
In the 2020 Olympics, rock climbing will be an event for the very first time and Shiraishi is excited about her chances of competing. In a recent interview with Refinery29, she talks about her future plans, why she detests one particular type of compliment and what her personal future goals are.
15.9k Likes, 926 Comments – Ashima (@ashimashiraishi) on Instagram: "⚠️BDAY GIVEAWAY: I am working with my sponsors @thenorthface , @petzl_official , @clifbar ,…"
Wanting women in sports, especially in climbing, to have a bigger platform, she said, ""I think that this moment is a really pivotal change in history because women are given the chance to do things that people normally wouldn't expect them to be doing. Even 10 years ago, climbing was a very small sport. It wasn't taking over big cities and it wasn't as accessible so you wouldn't find as many women, compared to men, climbing on rocks." 
"But, now there's kind of a boom in climbing, so there's a lot of females climbing at the climbing gym or outside. It's diversifying. It's really important to share that and to encourage people to go out there try things like climbing," she added. "It's really amazing to see so many female climbers [in general] and also female climbers who are pushing the limits of the sport. That's a big motivation."
12.8k Likes, 112 Comments – Ashima (@ashimashiraishi) on Instagram: "TFW the rock is so cold you can't feel ur hands 💨💨💨💨. @milesforrestbrooks vid"
Shiraishi has been rock climbing for the past 10 years and has been praised for the feats she has achieved, but there is one particular compliment she wish people would stop saying.
"I've been climbing for 10 years now, and with each accomplishment I make, people say, like, 'Oh, that's amazing — for a girl.' If I was a guy, it would still be really cool, but [people think], 'She's a girl, so that's what makes it better,' or something. I wish people wouldn't think of it that way, that [what I can do] is only cool because I'm a female climber," she said.
Encouraging women rock climbers, she defined climbing as a therapeutic exercise. "It really relaxes you. And it's exercise, so you're getting to work out, but also it's a way of finding balance: You need a lot of physical strength but also mental strength in climbing. As you improve in climbing, your love for it increases … As you get stronger, it's like you're competing against yourself, seeing how far you can go," she said.
As she considers the 2020 Olympics as one of her biggest goals, she has already planned what her preparation schedule should look like.
"If I want to chase my Olympic dreams, I know I need to commit more time to indoor climbing and competition style climbing, which is very different from climbing on actual rocks. So, as of now, that's what I'm doing, but I'll be climbing outside more if I don't make the Olympics or after the Olympics. I definitely want to put a lot of my time into climbing outside and making history on the rocks," she said.
Well, Shiraishi, with the level of dedication you possess, we can already tell who is going to ace the 2020 Olympics.
H/T: Refinery29
Was this article empowering?