Tuesday, January 25 2022, 07:28:50
JWB's Merriest Christmas With Classroom On Wheels!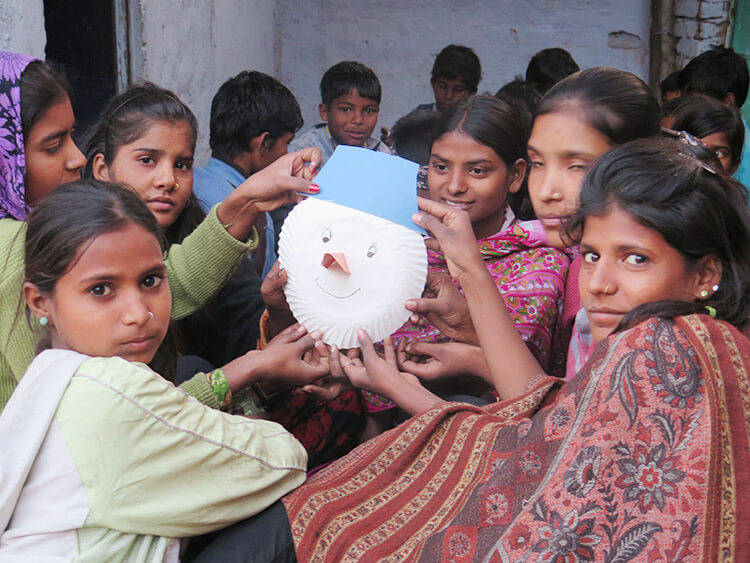 When I was a little girl, I believed Santa to be an old, white-bearded, fat man who brought gifts for me on Christmas if I behaved like a good girl round the year. (That explains why he's known as Santa CLAUSE). Oh, and I also believed that he had just one set of clothes.
But, as I grew up, I realized, that Santa is not a physical entity. Santa is a feeling – a heartwarming feeling of hope, faith, affection, and love. And this realization of mine found, even more solid a ground, yesterday when we celebrated Christmas with our Classroom On Wheels kids.
Day: 24th December, Occasion: Christmas Eve, Mission: Celebrate Christmas with the slum kids.
Phase I

The day from our camera lens began when we visited the Cauldron Sisters Ratika Bhargava and Richa Khetan, who were busy preparing and serving the Christmasy joy in the form of Kiwi Cheesecakes and Fruchesca Buns.


Based on JWB's previous rendezvous with them, I can attest to the fact that their food creations are things of joy (and flavor) to be beheld! So much so, that even though I am a lazy couch-potato, I couldn't keep myself from diving headlong in the preparation (and munching) process.

There were numerous rows and numerous columns of Kiwi Cheesecakes laid out on the table. And the view only led me to wonder Am I working? Or am I dreaming?

Everyone on the table was lost performing their respective tasks. Richa was pouring the delicious kiwi cheese-cream in the cups, Richa and Ratika's mother was garnishing with the kiwi crush, Ratika and I were sealing the lids, and Ratika's son Tanay was hogging on the Fruchesca bun accompanied by butter.
Between mouthfuls, he said in his utterly cute voice 'bun' and 'butter'. And all I heard was 'button'. Hmmm.
Because these delicacies were for kids, Ratika and Richa put in extra efforts to make the packets look adorable… more than they already were. Here's what the end result looked like:

The packets were now ready to be dispatched!
Phase II
While I was playing the transit guy and getting the delicacies from the Cauldron Sisters' house, some members of the team had already reached the venue – Jyoti Nagar slum area. And some others were loading and unloading the beautiful gifts sponsored by Ankit Lodha and Neha Lodha from Jewels of Jaipur.
This is the same Neha who was also a part of our Lalla Lalla Lullabies. Remember her?

The surprise element popped in when we unpacked the gift carton and found its contents to be exactly in accordance with the wish list of the slum children. Remember these children had drawn their dreams sometime back?

Phase III
Let there be fun! And let there be creativity!
This is what Santa wanted from the kids this Christmas! Yes, you heard that right. Santa comes with a CLAUSE, remember? With great efforts, patience, and strain on our vocal cords, we organized the kids into rows and disciplined them to pay heed.

Excited and exceedingly eager to meet Santa, the kids obliged and indulged in the creativity session. But this phase really wasn't easy-peasy. It was characterized by hustle-bustle, pinching-punching, screaming and yelling, and what not! After all, they all wanted to impress Santa!

Some red caps, some crooked carrot noses, and some blue snowmen, the kids made them all with a bunch of paper plates and colored sheets.


Their joy on achieving the task, and the innocence on their faces, made us feel overwhelmed beyond compare! And so we thought, let there be Santa!

Can you guess who from our team is hiding underneath that costume? Here's a hint: she's the tallest of us all and she's a singer!

Yep, that's Komal! Psst! Let you in on a secret? She magically grew inches of white beard overnight!
Most of the kids were all gaga over our Santa. But there were also some, who panicked at the sight. Why? Because they were unfamiliar with the fleshy figure adorned in red in front of them! They thought it to be a ghost!

Lastly, we distributed the love sent from the Cauldron Sisters and Jewels of Jaipur. And we bade goodbye to the kids, with a promise of returning very very soon.
That's what Christmas was for us! How is it going so far for you? Tell us about it.
Oh, and btw, Merry Christmas!
Oh, oh! In case you are drooling over the Kiwi cheesecakes and Fruchesca Buns, here's how you can get them for yourselves! The Cauldron Sisters also provide a 5-day pre-wedding course wherein they teach the know-hows of basic as well as fancy food! Ping them if you want to vouch for it.
And in case you want some sparkling snowflake jewelry this Christmas, march in right away to Jewels Of Jaipur!

Was this article empowering?