Sunday, February 05 2023, 10:51:18
JWB's First Boy Intern Weaves Ahead Of Girls At This Crocheting Class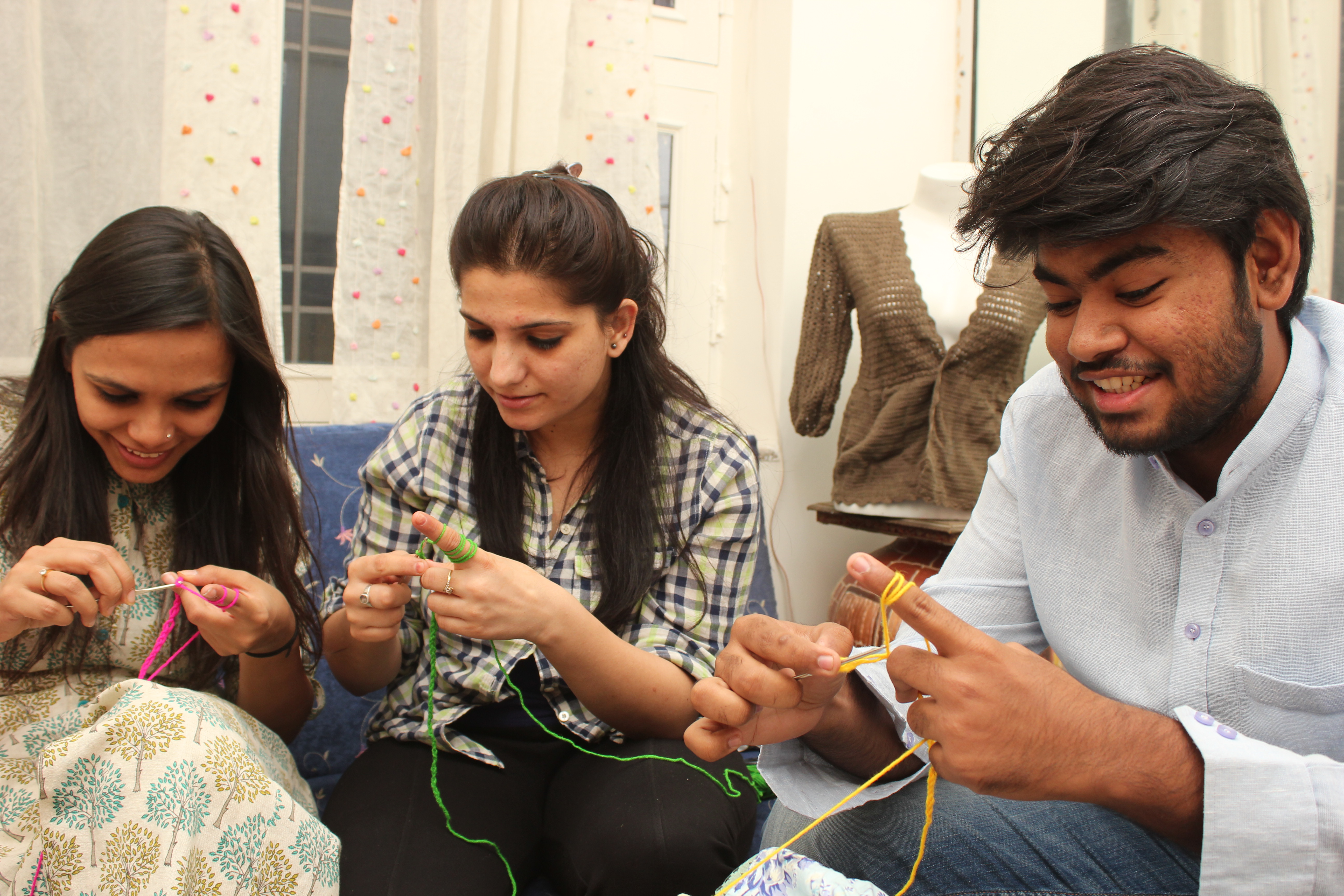 Okay, so let me confess that since the time I have joined JWB, I have been eagerly looking forward to weekends. Obviously not because I get to party on Saturdays and laze around on Sundays, but because every week I am learning something new and interesting!
So let me make you a little more jealous by taking the initiative of introducing you to the fun-filled activity we did this week. What could have been a better start of the week when you get to weave happiness with crochet, play with hand-made dolls and make stone flowers?
And I know this might sound a little stereotyped-'girly', but Cyrus whose latest identity has become 'The First boy intern at JWB' was a total show-stealer.
So we met this cool 70-year-old couple from Ladli Creations who with utter patience and delight taught us what they do best: crochet weaving! Before we began tangling our fingers in beautiful colored yarns, we had a sneak peek in Ladli's achievements and fancy fashion shows!

Without much ado, we picked our favorite colors and recalled craft lessons back in school. Ten minutes down our weaving session, I looked at how Cyrus was weaving ahead of us!


Meanwhile, when Cyrus was at work (read weaving), these pretty dolls caught Kritika's attention. In no time we turned three and forgot that we were there to learn! These amazing dolls made by village women took our hearts away.

Moving ahead of cuteness, Cyrus couldn't take his eyes of this quirky stylish yoga mat bag! We all were so impressed by the ideas Mr & Mrs. Sharma had, and believe me, all four of us weren't even half innovative to what these guys were.

Not just innovative, it was so impressive to know how this couple functioned. They especially drive down to villages every week to conduct workshops to empower women. They teach them crochet weaving and other craft work. "These women who have never stepped out of their houses, still put veil, have now started earning their own money. It feels great to see them becoming independent and confident. Every woman has some or the other talent and we help them recognize that," said Neeru.
To prove his worth as 'JWB's first and only boy intern' Cyrus took up the task of weaving a little too seriously! I guess the boy intern intended to steal our thunder. Might I say, sadly, that he did succeed. He was so fast that he clearly won and of course his expressions say it all.

I know in his head, he was rejoicing that he won over all of us. Evil Kenevil! Even after we weaved these long threads into a band, our urge to learn more craft work didn't get any less. While Kritika and I were busy fiddling with dolls and bags, Cyrus surprised us by making these cute little flowers and we made the most of them!
Though he took them back after we had posed! *We be curious*!

This Jaipur based store with their unique, and handmade stuff have gained a lot of popularity in less than four years, that they have started getting international orders too.
You can check more amazing stuff from Ladli creations here.
Was this article empowering?