Tuesday, January 25 2022, 06:40:28
JWB Sets The Country Store In Kathputli Slum That Sells Chocolates With Knowledge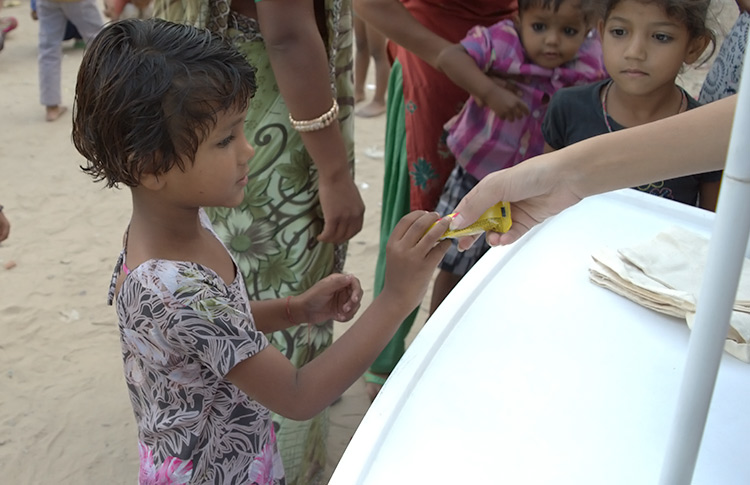 The Goody Education Campaign is on a roll to battle the Devil popularly known as Poverty. But we are not going to be serious, even a bit in this battle! We chose the fun strategy!
Poverty is not just about the lack of material resources. It does worst – it snatches away opportunities. Together with the Country Store, we were there to make kids believe that the world was accessible and affordable. We demonstrated the value of knowledge.

Our second stop for the 3 Day campaign was the slum area in Kathputli Nagar. After 15 minutes of place hunting, we had finally found a big ground to set our store. While the canopies were being set, we organized our own little "Kathputli Nagar's Got Talent." While Lucky flaunted his flexibility by giving us a glimpse of his talent in Gymnastics, 5-year-old Renuka recited 2×1=2, 2×2=4, 2×3=6 and you know next.
When I showed Lucky his video clip, his reply was, "Didi Whatsapp me this!" And I was like "What?!" *these kids are giving me good shocks every day*
The Country Store and the School were now set, and it was time for Action! All the kids who wanted yummy chocolates had to earn them. Instead of a price tag, these chocolates had a 'question' tag. If any kid wants the chocolate, he has to answer that question correctly. If he is unable to do that, then he has to go to school and learn the answer from there.

In the beginning, the kids behaved like sweet *sanskaari* kids and stood obediently in a line waiting for their chance to grab the chocolates. I must say that not many kids had to turn up to school. Most of them answered the questions correctly.

So, while I was waiting for some kids to show up in my School, some children bombed me with questions like, "What was Basanti's dialogue in Sholay? How many continents are there in the world?" Well, I had my part of the entertainment, thanks to these guys!
The first child to come to school had got a very interesting question on his chocolate. "Why do we see different shapes of Moon every day?"
With the help of video clips, he understood the entire concept and directed a few questions at me as well.
"The moon revolves around the Earth; the Earth revolves around the Sun, the Sun revolves around what?"
"Why don't we see them revolving?"
"How does Moon get light from the Sun?"

My head was whirling now.
Finally, after getting his curiosity satisfied, he returned to the chocolate shop to get his reward.

Moving to next question.
"What is the capital of India?"
Sumit, the boy with gray eyes, answered, "The place where Red Fort is."
"And where is Red Fort?"
*blank*
It was time for Sumit to go to school.

"Where is Taj Mahal?"
Anjali, who studies in 6th standard, not only answered the question correctly but also gave us some other facts about Taj Mahal.

"Taj Mahal was built by Shah Jahan for his Begum Mumtaz Mahal. It took 22 years to build it, and it is made of White marble."
As a reward, Anjali not only got a chocolate but a great round of applause as well.

The kids were now getting restless, and the line was broken to form a great group of the jumping, shouting, babbling bunch of baboons. The situation got a bit out of control…it would be better for me not to go deep down in detail.

Kathputli Nagar is full of extremely intelligent and talented little kids, full of energy and enthusiasm. It was fun to spend a few hours with them, watching them showcase their skills and answering their myriad questions.
Time to head to The Country Store to get more chocolates for tomorrow!
Was this article empowering?