Thursday, June 24 2021, 05:08:13
Check Out What JWB Bloggers Desire This V-Day!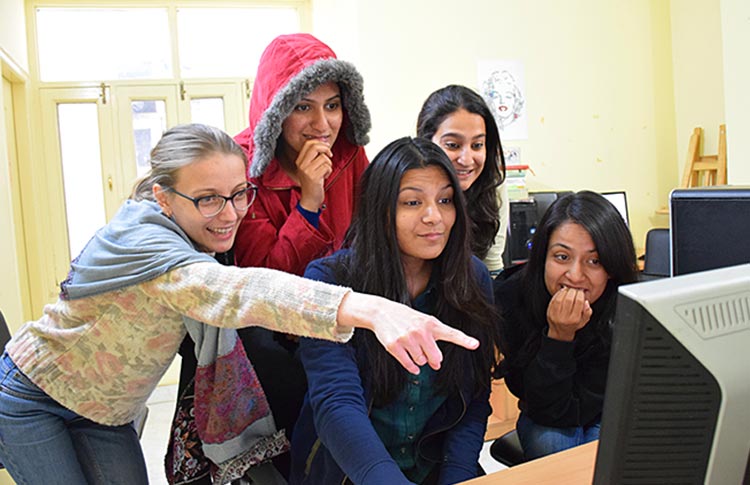 Standing on the cusp of a major love-centric celebration, I'm sure men all around the world are on the verge of pulling their hair out, trying to come up with a perfect way to woo their lady-loves.
Yes, Valentine's Day can make most men sweat bullets.
Dear lost souls, don't you worry! JWB girls are here to help you pick out the most amazing gift for your better half.
Now, let's talk jewelry. You can NEVER go wrong with a piece of jewelry. So, we made our extremely-different-from-each-other JWB bloggers pick out their favorite pieces from a HUGE 'Jewels of Jaipur' catalogue.
Needless to say, we were all pretty bling-struck!
RINGS:
Lavanya, our blogger-in-chief, likes antique, statement, tribal jewelry, which is eye-catching and bold. She chose this Floral, Classic adjustable silver ring (TR-20).

Komal, our bad-ass rock star, likes it sleek! She wants it classy and simple. She chose this Solitaire Ring (JR-1019), complete with a gold band.

She says: "It's a perfect pick for party wear, office wear and/or daily wear!"
Jayati had her heart set upon this heart-shaped Solitaire Ring (JR1021).

She vehemently chanted: "Solitaire! Solitaire! Nothing but Solitaire!".
Priya loves colours and distinguishing cuts. She couldn't decide between this "Green Onyx Ring with Diamonds" ( JR1950) and a "Ruby Ring with Diamonds" (JR1702)

Now, it was my turn! I am more of a Polki and Kundan kinda girl. (Jodha-Akbar made me go absolutely ballistic, btw). I completely lost my head upon seeing this beautiful "Meenakari Polki Ring with Ruby beads" (SR-372) and the "Multi-stone Handcrafted Polki Ring" (SR-398).

(We were all secretly hoping that our future husbands would take note! )
EARRINGS:
Lavanya's picks: JOJ AANISHA FINE EARRING (TER-303) and JOJ AAKASHI EARRING (TER-183)

Komal's picks: JOJ ASTRID STUD EARRING (JER1002) and JOJ ELLIPTICAL PHOOL EARRING (JER1142)

Jayati's picks: JOJ SALUNA EARRING (JER1499), JOJ JASMINE STUD EARRING (JER1500) and JOJ LEENA GEMSTONE EARRING (JER1427)

Jayati sure loves her diamonds! 
Priya's picks: JOJ DIYA STUD EARRING (JER1219), GRACIA DIAMOND EARRING (JBOXER1009), KASHIAHKA EARRING  (JER1498)

Ayushi's picks: JOJ AARJUSIYA POLKI EARRINGS (SER-159), JOJ CERULEAN POLKI EARRINGS (SER171), and JOJ SANJHIDHA POLKI EARRINGS (SER-191)

Fact: Everybody turned towards me with narrowed eyes and said, "You have a gift for picking out the most expensive product.". LOL, I swear I don't do that on purpose! 
PENDANTS:
Lavanya's picks: JOJ LOVELY TWINKLE PENDANT (JPN1215) and JOJ KANIKA PENDANT (JPN1246)


Komal to Lavanya: What's with you and silver? Bas bhi karo! 
Komal's picks: JOJ SPECTACULAR PENDANT (JPN1019)

Jayati's picks: JOJ MAGNIFICIANT DIAMOND PENDANT (JPN1025) and JOJ MY HEART DIAMOND PENDANT (JPN1002)

Priya's picks: JOJ GORGEOUS ROSE PENDANT (JBOXPN1002) and JOJ KUNJ PENDANT (JBOXPN1025)

Priya: Why don't you guys like colour?! 
Ayushi's picks:  JOJ SRIDHIQUI PENDANT (TP-4) and JOJ MALTI PENDANT (TP-6)

Ayushi: Where are there no polki pendants? *sad face* *Everybody glares at me*.
BANGLES & BRACELETS:
Lavanya's pick: JOJ SUBHASHA BANGLE (JBN1001)
Lavanya: Minimalistic looks are the best, you guys! You are waaay over the top. 
Komal's pick: JOJ CHANDA BANGLE (JBN1012)

Komal starts singing: Diamonds are a girl's best friend!!
Jayati's pick: JOJ MEGHA BANGLE (JBN1040)

Jayati joins in: Aaaand rubies too!
Priya's pick: JOJ MARRY BANGLE (JBN1018)

Priya: Maybe, we should ask for a raise now. Everything's so pretttty! 
Ayushi'a pick: JOJ FALGUNI BANGLE (JBN1038)

Ayushi: Let's rob a bank, Priya! We've tasted blood now.  
We hope we were able to shine a light on your lonesome, darkened path leading to the most beautiful Valentine's Day gift ever! So, what are you waiting for? Head on to the Jewels Of Jaipur website and order!
Was this article empowering?