Saturday, September 19 2020, 04:34:41
JWB Begins Its Lunch Break Challenge On Its Second Birthday!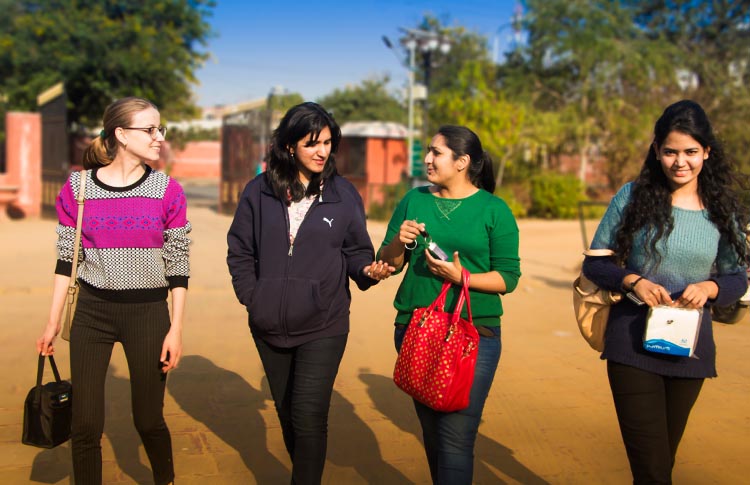 Lunch breaks at Jaipur Women Blog have always had us workaholics buried deep into our computers while occasionally letting the foodies out. But, do you know what day it is?
It's January 12th, Jaipur Women Blog's second birthday! Yay! And this birthday, our Lady boss Ana, who has to force us off our chairs during the lunch hour, came up with the perfect idea.

She became a 'Fairy God Mother' to us and gifted us with a "Lunch Break Challenge". For the next fifteen days now, we'll be keeping one entire hour apart for just lunch! And we'll do something different, fun and liberating.
And since it is Jaipur Women Blog's birthday, there's no better day to begin! We were going to do a brief interview with an empowered woman during lunch, but all eyes were glued to our Lady Boss 'Ana', and we knew what came next! We got her out of the backstage!
#Day1
The day begins without our Blogger in Chief, Lovy, since she's been under the weather for a couple of days, now. We miss you, woman. We know you're reading the post from under your blankie, but remember, too much screen time can prove fatal for your eyes!
Our photographer Sanchit had already munched onto some lunch before leaving with us to the Central Park (where we were going to eat lunch followed by a relaxed game of handball)
He said, "Hey, I'm eating now, but that doesn't mean that I won't eat later."
"Yessir," Jayati said.
Being the lazy bums that we are, we took two cars instead of taking a healthy two-minute walk to the park. Whoopsie-doodles. We reached, and it suddenly hit us that we had forgotten to bring a picnic blanket.

We went along with it anyway. In the massive park, it took us less than two minutes to find the perfect spot. It was warm, nice, and sunny, the birds were chirping, the grass was conveniently dry, and we crossed our legs to sit under a giant tree's shade. Thank you, tree.
We hid our neon green ball for a bit, while we sat in a circle, gaping at each others' tiffin boxes. This was the first time we were all lunching together!

The first five minutes, we were silent and observant. We loved how the trees looked, the birds chirped, how the grass felt against our feet and how nature felt against the hustle bustle of the city.
The first inspiring woman, as I mentioned, was our very own Ana.
We began munching and shooting our questions.
Us: What made you come to India?
Ana: Love. When Sudhir was coming back to India after completing MBBS, I knew that we had to do this together. We simply couldn't live without one another.
Remember Dr. Sudhir Sharma who handles Classroom on Wheels for us? He's our Lady Boss' Prince Charming!
Us: And, how did the two of you meet?
Ana: At a disc. Imagine, I was only eighteen, and I had never stepped into a disc before. I remember, it was a friend's birthday party, and we randomly established that we wanted to visit a disco! And there he was!
Us: So it was destiny, wasn't it?
Ana: It was!
Us: What do you miss the most about Kazakhstan?
Ana: I miss walking the roads.

Now, Ana had asked us a few questions about what our alter ego was, but we were keen on knowing hers.
Ana: Sometimes I feel that I just want to live in a tiny house by the ocean and wait for Sudhir to come back home from work.
Us: (In chorus) Awww. What about you, Ruchika?
Ruchika: For me, my alter ego is my silence. Meditating, listening to music, reading books, sitting in my room and enjoying my companionship.
Us: That's wonderful.
Ana: Tell me about your first love story.
Me: I had mine back in class 10, it was lame, and I still laugh about it! Why don't you tell us yours?
Ana: Okay, I had a crush on a guy who was a year older than I was. He had the most beautiful smile. I remember having told a friend to introduce us, but that nut case told him how I felt. We were young, I was in Class 8, so needless to say, he ran away!
Ruchika: Aashi, I have a question for you. How would you define yourself in one word?
Aashi: I'm a doer. I don't speak much, everything I wish to speak will reflect in my work.
Ana: That's wonderful. I have a question for Jayati. What is one approaching thing in your life that will be a turning point for you.
Jayati: I think I've already reached the turning point. And that's Jaipur Women Blog. I come from a family where women don't work, and I'm so happy that I'm working here, because when I write, I feel like I can do anything. I literally feel liberated.
Us: Ooooooh, that was a beautiful answer!
The conversation was followed by giggles and ROGL (Rolling on the grass, laughing). There was a pack of dogs around us that were crooning in synchronization, and a dog with a marbled texture was leading them. Gosh, was HE beautiful!

We couldn't stop noticing Ruchika's fine, and as Jayati said non-Jaipurish socks. Ana especially fell in love with them!
After our little chit-chat, we were, even more, relaxed, and some of us even wanted to doze off. We all decided to play a game of handball. We had to pass the ball randomly to each other and whoever dropped the ball would be declared 'out.' One by one, we all were doused by the other.
Ruchika was first, followed by Jayati, Ana and me. Technically speaking, Aashi had won! She was to get a pastry tomorrow (that 'accidentally' reached the office today, and was gobbled up by Ana and me).
Ba-dum-tss
#Realizations
Lunch breaks are refreshing. They are warm. Staring into computer screens during lunch is STUPID.
Do you have a lunch story to share? Or do you want to share lunch with us? Have any Lunch challenge for us? Let us know below in the comments. We'd love to take it forward. Remember, fourteen more days to go!
Photo Courtesy: Sanchit Sethi
Was this article empowering?