Wednesday, November 29 2023, 04:47:51
IWB Taught This Homeless Woman The Benefits Of Using Menstrual Cups After Childbirth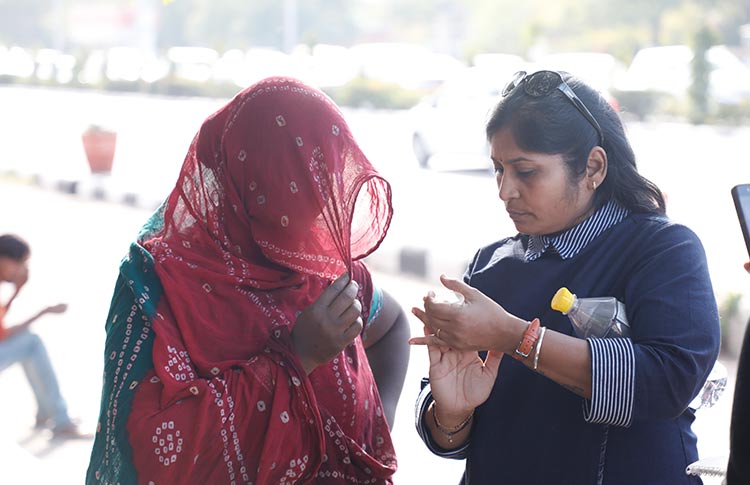 Environmentalist and founder of the NGO Ashay, Seema Pardeshi started using menstrual cups many years ago with an aim to reduce non-renewable period-waste.
In the past few years, she has been successfully able to convince her sisters-in-law and teen girls in her extended family to ditch pads/tampons and switch to menstrual cups. Did you know she is also the founder of menstrual cup RUTU, which sells at a much lower price compared to other cups available in the market?

We invited this eco-warrior to Jaipur, Rajasthan, for our social campaign 'Cold Period,' where we took Seema around the Pink City to interact with women who live on the pavements in temporary shelters made of brick and plastic sheets. For this, we let Seema do the talking as she introduced them to the menstrual cup and described the way to use it.
Seema flew down from Mumbai to support team IWB for an entire day as we drove around the city searching for as many women as possible. In about 10 hours, we were able to conduct a dialogue with 50 families about the usage of menstrual cup. Explore the stories of our one-to-one interaction with them here, here, and here.
Just a couple of hours before Seema's flight back home, we spotted a woman on the footpath busy preparing lunch. Over aloo pyaaz ki sabji and bajre ki roti, we discussed the campaign with her and her husband. The young couple not only warmly welcomed their unexpected guests but also earnestly listened to what Seema had to suggest.

We learned that this woman was pregnant with her second child and was expected to go into labor any time soon. Seema explained that the cup will prove to be extremely useful once she delivers the baby. "After childbirth, the nursing women suffer extreme blood flow during periods. Instead of using sanitary/maternity pads that will cost you a fortune, try using the menstrual cup which is excellent for storing period blood without any leakage. All you have to do it empty and clean it every 2-3 hours before reinserting it," briefed Seema.

We noticed that the pregnant couple was in awe of what Seema was telling them. The good vibes instantly touched the nearby families who were busy selling Christmas goodies on the roadside until now.

A couple of women requested Seema didi to describe the process one more time. She happily agreed. Afterwards, team IWB distributed the 'Winter Period Packs' amongst them that contained a RUTU menstrual cup, a warm shawl, a pair of woolen socks, an antiseptic soap, and some candies.

If you wish to buy these menstrual cups, get in touch with Seema at +91- 99300 25807. These cups are made of soft silicone material and are FDA approved. Also, one cup can be used for nearly 15 years. In case you're planning to conduct the 'Cold Period' campaign in your city, get in touch with us at +91-9828288876.
Photo courtesy: Pallav Bhargava

Was this article empowering?