Thursday, November 26 2020, 04:39:29
IWB Invites Women Water Carriers From Rural Rajasthan And Instagram Poets To Discuss India's Looming Water Crisis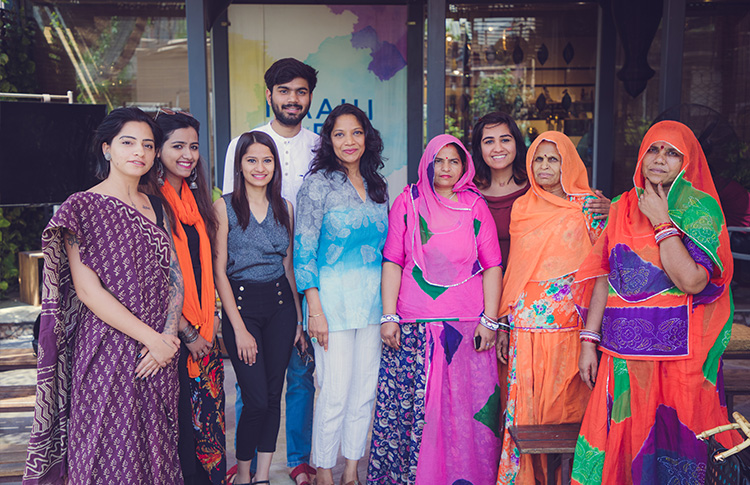 Today, while the water crisis affects millions of people around the world, the worst hit by it are rural women who are forced to walk miles every day to fetch water due to its acute scarcity.
An expanding population, growing demand for water from agriculture and industry, and poor management of supplies have sent the country's groundwater to ever lower levels. And who bears the brunt of it? The villagers. While the overall demand and the reckless use of water are relentless in urban areas due to a convenient supply of water, the burden of it is increasing at an alarming rate on the rural population.
To hear rural women out regarding the problems faced by them due to a scarcity of water, IWB took an initiative as a part of the ongoing MaahiRoj festival, to create awareness on judicious use of water. In a fun interactive session organized by IWB at the festival venue, we got on board women water carriers from rural India and introduced them to some Instagram poets.
The sun shone bright as our poets Nimisha Verma, Bhavika Joshi, Sanket Singh, and Somya Singh walked in along with three rural women – Om Kanwar, Santosh Kanwar, and Shyam Kanwar from the outskirts of Jaipur. As we settled at AnanTaya to begin our session, we kicked off with a quick introductory game to break the ice.

You might be wondering about the thought behind bringing rural women and Instagram poets together. Our talented Instagram poets were invited on board to create poems around the life of rural women, who bear the entire burden of providing water for their family, so that people like us from urban areas realise the hardships they face, while we remain unperturbed.
So the first and obvious question that each one of us had in our mind was, what were the hardships that these women underwent on a daily basis? "It is very difficult for us to fetch water every day as we have to walk miles in the sun. We carry two matkas on the head and a bucket in the hand to get water for our daily use. Due to very low groundwater levels, the wells now do not render water and the situation has become so bad that we have to rely on water tankers," shared Santosh Kanwar. "But getting access to them is also a big task. The water tanker comes only twice or thrice a week, for which we have to pay between Rs 250-300 per visit. And the entire responsibility of providing water for the family lies on our shoulders, as men of the family have to go to the cities to work in order to earn money. Due to a severe water crisis, agriculture, which is our main source of income, is affected, which forces men to find other jobs in the cities."

Dumbstruck by the reality, everyone was quick to question about the help that they receive from the government. "If we tell our sarpanch about the crisis, they try to arrange water through these tankers, but when they themselves suffer from the same issue what can be done? There are policies made to ensure that proper water supply is provided to the villages, but when we approach the people from the department, they say 'when there is no water what can we do.' They just count the number of times a tanker is sent to us, but they do not look into how much water a household requires and the number of people using it. Also, apart from the household chores, we require a lot of water to sustain our cattle and the fields, but that aspect is not taken into consideration," the ladies shared.

While the traditional sources of water included rivers, wells, and efficient use of rainwater, such systems fail to solve the issue of water crisis today due to the disruption of the water cycle because of climate changes. "Scarcity of rains has led to a failure of traditional water systems. The wells can't be recharged and the groundwater level has gone down so low that despite getting boring done, which is a costly affair, it's really hard to retrieve water. Earlier, when we had access to water we would even save it, but now when there is no water what will we save?" shared Om Kanwar.
Hearing the troubles faced by these women, we asked our poets about the ways to tackle this situation and this is what they said:
Nimisha: "I had gone to Ahmednagar near Pune to attend a workshop on mediation. They had a rule, that one could only use half a bucket of water to take shower because that area suffers from an acute water crisis. The practice was not difficult to follow and if we all take such small steps it could really help us address this problem."
Sanket: "I feel we definitely need to use water judiciously and it is very important for us to revive our natural resources. Also, the need to have discussions about the crisis that we are facing is important, because that is how the real situation will come in front of people and they can collectively address the problem. Every individual needs to take responsibility for the current situation and every voice counts."
Bhavika: "I think it's high time we take corrective measures in every small way that we can. Everyone should practice water conservation in their daily life, and it is also important to hold discussions about the crisis and its effects so that people are made aware."
On an ending note, we asked the women to share one message for urban dwellers and the dreams that they have for their children and here's what they shared, "People need to use water judiciously because life without it is very difficult. If only everyone keeps in their mind the welfare of others, we would not have to face such issues. We want our kids to study well so that they get good jobs in the cities and can have better facilities."
Post this session, we headed with our Instagram poets to Panna Meena ka Kund, a historic stepwell and rainwater catchment known for its picturesque symmetrical stairways in Amber. At Panna Meena, we were joined by Dr. Rashmi Dickinson who has set up Amber trust and Amber Eco-Trail that works towards water conservation, afforestation, wildlife conservation, and green energy production.
In conversation with Dr. Rashmi, we got insights into the challenges that woman in Amber have been facing due to the water crisis, the steps that need to be taken to address the issue, and her thoughts on the revival of historical practices of water conservation.
Dr. Rashmi shared, "We clearly have to revive the historical practices of water conservation like having the baoris (step wells) as they give us a connection with water which majority of us have lost. But having said that, although all the traditional water systems should be looked after, the biggest thing that one forgets is that, it is very romantic to think that they can look after a village, but they can't. Where there were only 500 people living in the whole village, now the population has increased to 10,000. People like us should absolutely be doing water conservation using the old style practices; however, that alone would not help us. We have to bring together modern and historical practices to tackle these issues. Everyone needs to be water sensitive, and wasting a single drop of water should be something that people should look at and say "what are you doing"?"

Adding to it, she said, "In the Shekhavati region, people built Marua wells in the olden times which had four pillars on its corners with mirrors attached. The reason for installing those pillars was that from a distance, the mirrors would reflect light and one could know where the water was in between the sand dunes. When you witness that, that's when you realise how serious the issue of lack of water was. My home runs like an eco-trail where school children come to learn about the conservation of all kinds like rainwater harvesting, green energy, and wildlife. I have built these old style systems to show children of the current generation how things worked previously. Once you learn about those historic practices and realise how important conservation of water was in those days, you would realise its value."
Coming to the challenges faced by women in the rural areas, Dr. Rashmi explained, "There is a terrible water supply situation in the area. People are supposed to have piped water but it's never sufficient. Also, as Amber is situated on the hills, due to its old infrastructure water doesn't get there. To resolve this issue, tankers are sent to provide water to the households, but the way the women struggle to get the water is a heartbreaking sight. They have to stand for hours for the tanker to reach their vicinity as there is no fixed time for them to arrive. Often, fights break out among the women because they try to fill in as many buckets of water as they can. You will see men enjoying themselves while the women struggle to get back home some water."
Sharing her thoughts about what actions should be implemented to address this situation, Dr. Rashmi said, "I think the focus has to be on the policymakers. This fashion of thinking that we will be able to do something at the grassroots level is like a pie in the sky. Villagers live a very frugal life already. They use limited buckets of water unlike us. The matter is so serious now that it's time to take some big action. Small steps like using less water are important, however, that's not really enough."
MaahiRoj, literally translating into Earth Day Every Day, by AnanTaya is an experience of unearthing the planet's potential for sustainability in collaboration with like-minded designers and artisans from across the country. With a string of events that include interactive workshops, inspiring talks, films, heritage walks, water meditations, cultural tours, eco drives and the latest collection of sustainable arts, the festival this year is set to bring together experts from various fields who have considered the planet in their choices.
The 10-day festival, from April 19-29 (11am -10pm), will be held at AnanTaya, The Kanota Courtyard, Narain Niwas Palace Hotel, Jaipur. Stay tuned for some more fun activities as we reach out to people to awaken their spirit of conservation.
Was this article empowering?