Thursday, May 19 2022, 05:06:36
Celebrity relationship coach based in the UK. In 2017 her award winning TV sex education show put Vena at the forefront of the movement to improve access to information about pleasure, bodies, emotional connection and physical intimacy. She is known for making conversations about sex soulful, intelligent and uplifting. A yogini and classical Indian dancer, Vena brings you light, delight and fun through her weekly column.
IWB Columnist Vena Ramphal Answers Reader Questions About Sexual Pleasure And Desire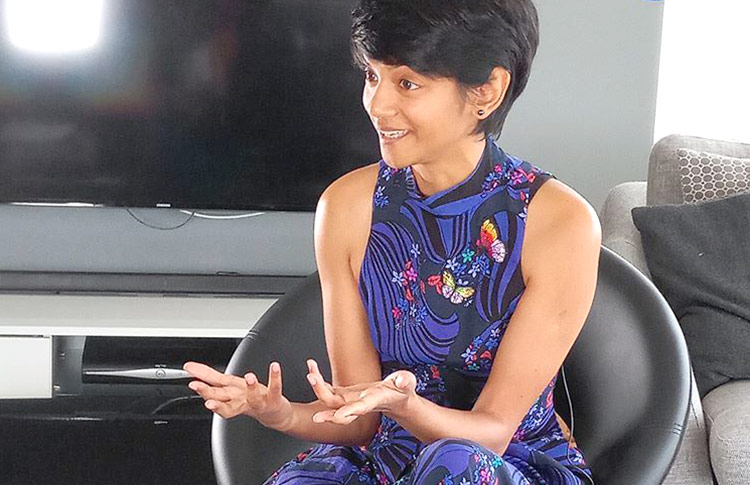 As part of our campaign Unblushing, some readers and participants sent in questions about desire and pleasure. Our columnist Vena Ramphal answers them below:
We are fortunate to live at a time when we can speak more openly about sex than ever before. But the pressures of shame and silence can hang heavy. These wonderful, honest questions are from women who are claiming their sexual pleasure. I want to see more of this, please! Claiming your pleasure is one of the healthiest things you can do. Sexuality is a core expression of our humanity. When we take care of our sexuality we become better people. There is no shame here. There is power, delight, joy, and humanity.
Q) Hello. I am a 'new' queer woman and I am struggling within myself about acceptance of my own sexuality but also under family pressure to 'settle down' with a man and start a family. How do I start the process of accepting myself, understanding my new found bodily desires and mental make up to come out to my family?
With regards to coming out to your family: Take your time. I understand that you don't want to hide who you are. Here is another frame of reference. Your queerness is not the same as your life choices of settling down and having a family.
Straight people don't discuss the details of their sex life with their family. You can tell them to stop pressuring you to settle down with a man. You do not owe them an explanation as to why they should stop pressuring you. You are an adult and you are responsible for taking your own decisions in life. Address the family pressure as an adult, not as a queer woman.
Don't conflate the life choice with your relationship/sexual orientation. Keep these two things separate.
Q) Hi, I am a 20-year-old lesbian and have not used sex toys on myself or my partners. Can you guide me and introduce me to the most body friendly toys and will the toys take away or add to the sexual relationship?
Start off by using sex toys for solo pleasure. Masturbation is an important part of your sexual experience, whether you are single or in a relationship. Get to know the toys on your own -how to handle them, what kind of pressure to use, what positions work best etc.
Begin with a vibrator. Choose one that you like the shape and feel of. Bear in mind that your genital area is delicate and sensitive. Use lubricant. Don't overdo your use of toys. They will enhance your sex life when you use them as an added extra, not all the time.
The most important basic point is this:, you have to follow good sex toy hygiene. It's important to look after your sex toys properly – wash them with products that are compatible and store them properly, away from other things. Any reputable sex toy seller will give instructions on how to care for the toys.
Q) I am going thru a phase of body shaming and lack body confidence. I don't have a partner at the moment but want to 'take care' of my desires. Do you think sex toys will help my self-esteem and will masturbation actually lessen my desire for real sex?
Masturbation will not lessen your desire for partnered sex. In fact, masturbation is real sex too. I'm so glad you asked this question because it gives me the opportunity to clarify this. Masturbation is part of the spectrum of real sex. Whether you are single or have a partner, you can always take care of your desires with self-pleasuring – with your fingers and with sex toys.
Self-pleasuring can help to bring you out of the period of body shaming. Experiencing pleasure from your body and through your body will build positive feelings about your body. Set the intention that your experience of self-pleasuring will boost your body confidence.
Q) As a bisexual woman, when I am with another woman, we use a strap-on and when I am with a man, obviously there is normal penis penetration. Does this need for penetration mean that I am unsure of my being a bisexual and that I am more straight than bisexual?
It simply means that you enjoy having your vagina stimulated. There is nothing uncertain here. It sounds like you know what you like, so enjoy it! We can get too caught up on labels. Sexuality is fluid, whether we identify as straight, queer, gay, bisexual etc. Pleasure is far more important than the labels. If you're having a good time, just keep going.
Q) I am a gay woman and my new partner is big into BDSM. This is my 1st time and am a little nervous about pleasure turning into hurt and not knowing the safety trigger to stop. Can you guide me on how I can enjoy this experience and yet not be hurt or lose dignity?
The first question is, 'Are you interested in BDSM?' Just because your partner is into it, that doesn't mean that you should be. This is a very important point. Please do not make the mistake of exploring BDSM because of your partner. If you decide you do want to explore it, TAKE IT SLOW. Start with very gentle techniques such as wearing a blindfold. Your partner might say that a blindfold on its own isn't BDSM but it's the best way to start. It will build up the trust between you. Trust is the key.
Your partner needs to go at your pace. She will need to slow down and adjust for you.
Remember that BDSM must be consensual at all times. You can always say no. You do not need to like everything that she likes. And you can always CHANGE YOUR MIND.
With regard to the safety trigger, stop well before you reach your limit. This way you will avoid getting hurt and losing dignity. You will need to discover for yourself what kind of BDSM you are interested in; what kinds of experience you want, and more importantly what kinds you don't want. You and your partner should discuss these things before you experiment, and keep discussing them. The conversation is just as important as the sex.
IWB thinks it is time we put an end to the unsolicited censorship on our words, desires, and lives, but more importantly to the shame that was never ours in the first place. We are taking the pink out of the blush with our campaign UNBLUSHING.
With our partner Lovetreats.in, we embark on our mission to empower women by inspiring them to reclaim their agency in desire and exploring it. No Shame in the Game is our mantra here and, thus, for our campaign UNBLUSHING, we invite you to bring your love/lust stories to find power in the spoken word and set yourself free.
We invite you to share how you listened to your fearless sexually-liberating voice/choice and how it led the way for others. You can reach out to us on hello@indianwomenblog.com. You can also DM your story to our Facebook and Instagram handles. (P.S. Confidentiality would be ensured if you ask for it.)
Here is more to fun, Lovetreats.in, India's woman friendly sex toy shop, is offering a 10% discount to everyone who uses our campaign name 'UNBLUSHING' as the coupon code. Now that's some added pleasure, right? 
Was this article empowering?