Wednesday, September 27 2023, 09:58:27
Into The World Of Teenagers With Avantika Singhal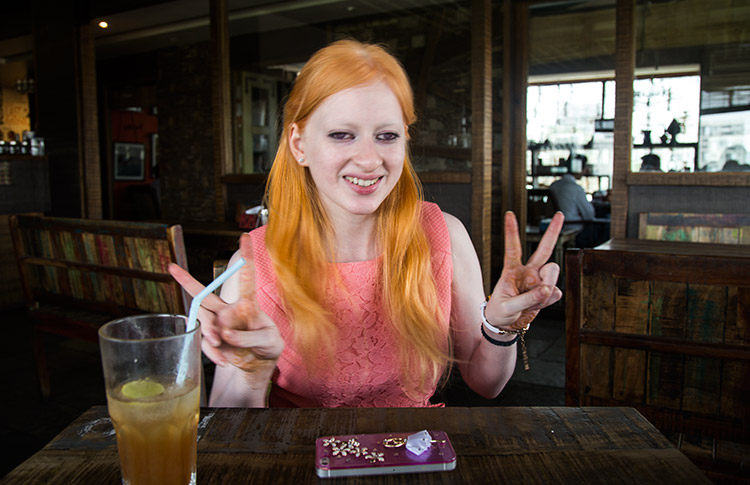 She likes to read, write and click. A fan of Thomas Hardy, 17 year old Avantika Singhal is the creator of the project "teeny tiny" on Jaipur Women Blog. Ms. Singhal has made it her motive to tell the stories of teenagers to our readers!
At first, she may look like just another teenage girl. However once you start chatting with her, you will soon realize that her maturity level is way more than a teen. For the record, Avantika recently got her story called 'Brandon' published in the book 'Tales by Teens'.
JWB Team decided to chat with this young woman to know more about the aspiring teenage generation. Here is a glimpse of our impromptu interview with her:

Talking about your project 'Teeny Tiny' in JWB, what was your inspiration behind?
Teenagers are full of life. They've unpredictable passion for everything. So I just wanted to be a representative of that madness.
Let the next question be about your career aspirations and dreams.
My aspirations are very simple. They include getting good marks, completing this internship successfully while making many memories on the way and getting into a good college for my post-grad.

That sounds cool. How do your parents react when it comes to your career choices?
No, my choices are my decision. They support me fully in whatever I do. They are, in fact, quiet happy with my decision of becoming a writer.

When did you realize that you want to be a writer?
My role nurtured when I was small. I am not confused. I always knew what I wanted to do with my life. I want to tell stories with the help of my writing.

What kind of preparation are you doing towards a better career?
I am preparing for SAT (Scholastic Aptitude Test). I will apply to colleges in August and December as the online portals open at that time.

Do you think career counseling is important these days?
With the changing time, I feel that one should not think twice in taking any kind of extra help which can help preparing for a better future for him/her.

By the way, you are looking so pretty in this pink dress.
Thank you.
Talking about beauty, our society has a fixed definition for it. Have you ever challenged that definition?
Yes, all the time. But now I have conquered that feeling of differentiation. Wherever I go out in Jaipur, people look at me with weird expressions. But I have overcome this low feeling and it does not affect me anymore. This is my biggest accomplishment.

We're proud of you. Looking at your confidence, we believe your parents must be very supportive.
My parents always boost up my confidence. My mother is my safe harbor. I tell her everything, and she suggests me appropriate solutions for my problems. After I come home from school, both of us sit together for at least one hour in which she just listens to me and I blabber.

Wow, that sounds like a parenting tip for our parent-readers. Tell us about the sincerest talk you ever had with your parents.
I have these kinds of talks all the time in bits and pieces. Whether it is about friends, studies, or something else, my mother knows it all. Sometimes, we even read the messages on my phone and laugh at the silly ones!

According to you, what does the education system lack that needs being fixed?
I feel the educational system is very much theoretical. This makes you cram a lot. I feel that cramming should be reduced and other practical methods should be introduced in the syllabus, which are more practical in nature.

Do you think that education should be competition based? How do you handle stress of competition?
I feel written exams should be there but with less competition. Honestly, I do not let the pressure of competition overshadow my spirits. I feel I am numb to that word. I believe in giving my best and learning from the mistakes.

Don't you think teenagers want everything to be done in their way?
On behalf of all the teenagers, I feel that sometimes we are not making an effort. We are complaining too much. Somewhere it is our fault also.
Avantika, you are quiet a sport. Share your wildest dream with us.
Hahahaha…. I will make sure my parents read this part sincerely. I want to go for a Goa trip with my friends.

How do you entertain yourself in free time?
I like to click. I am interested in nature photography. I have an Instagram page called the 'Comforting Purlieu'. I like to keep updating it.  

Being part of the teenage community, what do you feel is the biggest stress teenagers face today?
There are various issues, which are the reason for stress even in my peer group:
Parents being over-controlling,
Relationships,
Exams,
Physical appearance and
Career choice

How could the parents handle it differently? How do they do that?
Parents need to build better communication. They need to be willing to do activities with their kids. Parents should initiate conversations to help teens understand their environment and get proper advice. The talks will also provide an avenue for teens to verbalize their feelings.  

Would you like to say something to the teenagers reading this blog?
Please don't party too much. I don't want to sound like an oldie, but somewhere these things spoil us. Also I think we should also not be too active on social media, which I am!
Also on a lighter side, don't take too much stress about studies, else it will only ruin your results.
Photography by: Shashank K Tyagi
Was this article empowering?