Wednesday, November 29 2023, 05:42:12
Indian Women Football Team Captain Bala On What We Need To Do To Support Our Sportswomen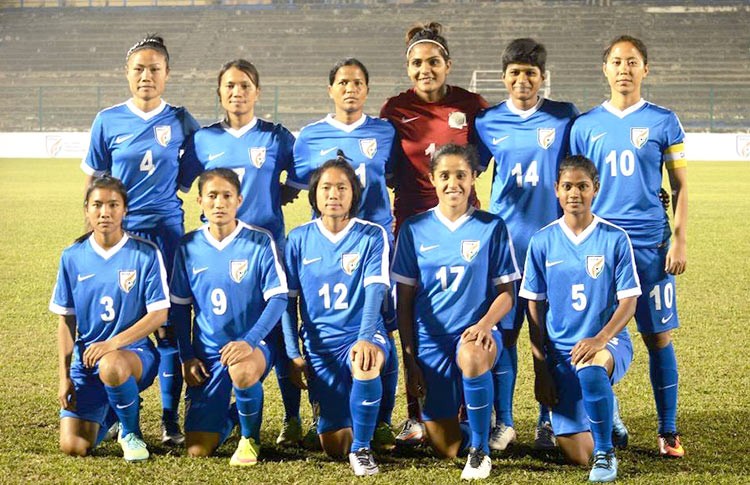 A deciding moment in a tournament, sweat dripping from the hair and raising goosebumps as it swiftly traverses its way down the back, heartbeat so loud that you feel like your heart is in your ears. And just when that thudding sound of your heart threatens to take over your senses, attacking your grip on the ground, a loud cheer cuts through the tension. Thud, thud, thud, In…., thud, Ind…, thud, India, thu…India,…India, INDIA!!! The adrenaline kicks in and goal!
This is true euphoria, this is the pedigree of the sportsman spirit, this is what every sportsperson lives by, this is what holds the power of bringing them back from the mouth of defeat. Every sportsperson thrives on the nation's support.
Sportspersons are like little children. The more you cheer for them and push them forward, the better they will perform. I know I draw a far-fetched corollary here. But if you really think, this will strike you as the truth.
Now comes the question of paramount importance, are we supporting our sportspersons enough? Did you say "yes?" Then answer this – are we supporting our sportswomen enough? Doesn't matter how you answer this, you know there is no dichotomy here, you know the answer is a clear-cut "no."
This is why, ahead of National Sports Day, IWB is documenting narratives of gritty Indian sportswomen to bring to them much-deserved attention and accolades.
We are taking a sneak peek into what goes down before a game and after a tough loss or a jubilant win. We are also finding out what happens in 'The Locker Room,' the safe room where the gloves come off and they huddle together for "The Talk", which prepares them for the battle ahead.
Our conversation with Ngangom Bala Devi, Indian Women Football Team's captain, made us realize how we, as a nation, share a collective responsibility of lifting our sportswomen, taking them forward and making them world-ready sports personalities.

Indian Women Football Team is a boiling pot of players from various states. Right from Odisha and Sikkim to Delhi and Bengal, the team is like a mini India in itself. This diversity, however, has been posing a lot of difficulties to the team.
Captain Bala explains, "Every state has its own food and language and this translates into a huge problem when we are on the field or in the training camps.  Depending on our place of origin, we have different dietary needs and it is not easy to cater to them in one go. We struggle even with basic instructions like "come" and "go" because of the difference in languages."
She adds, "When we go for international tournaments, the synchrony that we witness in the other teams is something else altogether. They understand the language of eyes but we lack that kind of coordination."
However, if you really look into the problem, you are sure to realise that it is not the diversity but the lack of practicing time that becomes a road block in effective communication. "Most of us are working. For instance, I am in the police. We have to make time from our working schedules for the practice," says Bala.
A major reason behind the lack of practice time is the absence of a fixed financial remuneration for the players. While the Indian Women Football Team gets its share of felicitation whenever they perform well, the only way to ensure optimum performance from players is to provide them with a fixed income irrespective of whether they are participants in a tournament for a certain month or not.
However, the football scene for women in the county is certainly improving and they are slowly gaining visibility which has strengthened them financially.
"The federation is doing its best to help us. This year we have decided to participate in as many tournaments as we can. Recently we were also given a cash prize by the state government," says Bala.
But finances are not the only challenge faced by the team. Poor fitness levels remain a grave concern. "We struggle with running and we easily fall off if someone pushes us. Probably this will get solved if we get to avail individual training every month just like the men," says the captain.


Bala feels that these are the kind of challenges that can be easily combated, provided the players get ample training time and also get to attend long camps instead of the occasional ones that happen after long gaps. She says, "There should be long camps with no more than 15 days of gap. This will keep us in our form."
Lack of proper infrastructure also poses a big challenge. "There are no proper grounds. There is no grass and most of the times we have to practice on the sand."

Despite all the hardships though, Bala feels that football has magically transformed her life. "I come from a very poor family and things have changed drastically since the day I joined the national team. While my financial condition has improved exponentially owing to the government job that I got because of my association with the sport, it is the prestige that matters the most. Many recognize me as the captain of Indian Women Football Team and that is the best feeling ever."
When asked about her message to media that has not been providing ample screen space to sportswomen of the country, Bala says, "Media ko pakadkar kya hoga (what will come out of blaming the media?) It's the audience who have to support us. If they extend their support then the media will be automatically be obliged to cover us."
IWB has taken up its share of responsibility in impacting a change and supplying Indian sportswomen with the right dose of encouragement and motivation. We believe that every sports team deserves an anthem! In this effort, our in-house vocalist/songwriter Komal Panwar will sculpt a very personal anthem for the four teams that we are working with. This song will reflect their passion while encompassing their essence and energies.
As we curate these anthems, we want the entire nation to broaden its horizons, give these women's teams that lurk at the precipice of oblivion a chance to shine through and chant their team anthems, in unison and aloud. Let us all represent them with as much pride as they take in representing India.  
A big shout-out to our partners – EPIC TV Channel, Oateo Oats, HRX, Gold's Gym India, for joining us in solidarity and helping us in exploring the challenging road for India's sportswomen.
Exciting, isn't it? We have more sports rush coming your way! Stay tuned for our Twitter dialogues, exclusive interviews with the team captains and custom-made anthems.
This article was first published on August 25, 2018.
Was this article empowering?