Wednesday, November 29 2023, 04:35:11
Indian Artist Shares How She Owned Body-Positivity Through Her Collage-Themed Denim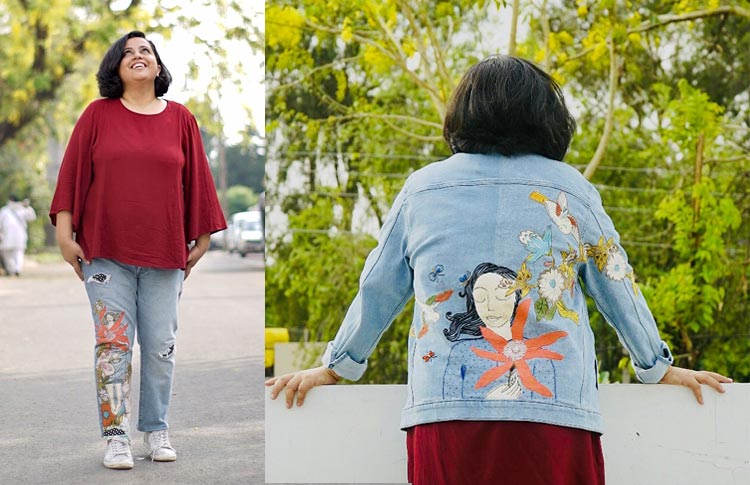 I like collage artists. Using plain cut-outs, they can give life to any damn surface. Like this one from Chandigarh who gave a stunning makeover to your everyday denim using embroidery and collage-art. Artist Gaurvi Sharma could win over postnatal depression with the help of various forms of art that she is well-versed with, for example, painting, graphics designing, embroidery, and collage-making.
We sat down with Gaurvi to understand how using simple magazine cuttings, she's able to curate work that is both real and surreal. A work that has worked as a medicine in her life. Excerpts below:
Shall we begin with your childhood story and how you took interest in art?
My father has an inclination towards everything creative. I would often spot him doodling or playing with colours, especially during the weekends. I remember how I would request his help for my school projects so I could be declared as one of the best students by the teachers. Later, after high school, I went to Chandigarh to study mixed-media.
How do you describe yourself?
A mixed-media artist who is now a passionate collagist.
You do wonders with almost every kind of surface/medium. Which one is your favourite?
I can't have a favourite because I choose my medium and the associated raw products according to the emotions I'm feeling at the moment. If it's something that shows up in my mind randomly, I immediately scribble it down on a piece of paper. When it's about showing some self-love to me, I use more colours on a bigger conventional surface.
Can you give me an example?
A while ago, I did a collage series on self-love and body-love. The project was called 'Heal' and it only featured my portraits. In the images, you can see a woman who is comfortable with her body and embraces its every fault and limitation. Doing it was unquestionably therapeutic.
70 Likes, 5 Comments – gaurvi sharma (@gaurvim) on Instagram: "#worksinprogress #heal"
How significant is collage-art to you?
It is a visual representation of my emotions. For me, it's a mix of chaos that I have inside of me.
How did you come up with the idea of decorating denim-wear?
The curators from Art & Found organization approached me for a collaborative that was to commemorate the birth of denim fabric. I was one of the 25 artists and designers who were selected from all over India. Considering the kind of work I do, I decided to portray my emotions as a wife, mother, daughter, and most importantly, as a woman, on the cloth. Basically, it was an extension of the 'Heal' series done on denim.
111 Likes, 13 Comments – gaurvi sharma (@gaurvim) on Instagram: "Extension of the series "Heal"🌺😍 creating an appliqué for the denim…."
107 Likes, 6 Comments – gaurvi sharma (@gaurvim) on Instagram: "#workinprogress #me#collaboration#artandfound#levis#levis501# @artandfound.co #levis501"
How did it help you grow?
After I got pregnant and gave birth to my first child, I stopped wearing jeans because I thought I looked too fat in them. Once my favourite attire, now a pair of jeans was my last wardrobe choice. But while I was working on the denim-art project, I fell in love with the fabric all over again.
Do you plan to retail your work anytime soon?
Now that I'm receiving so many queries, I think I should.
As I can see, there is a lot of embroidery work involved in it. Where did you learn it from?
Years ago, I tried putting motifs on a white tote bag. Since I wasn't an expert of embroidery, I asked my house help, Seema, to recommend me an artisan. To my surprise, she herself knew thread-work and hence, helped me create a femme figure on the tote. To pay gratitude, I named the bag after her – 'Yasmin.' Confused? Well, Seema's real name was Yasmin that she only confided in me during the project. She had been hiding her real identity all these years because of the religious social issues.
37 Likes, 1 Comments – gaurvi sharma (@gaurvim) on Instagram: ""Yasmin bag" Little one not well but with all the help around we manage to complete this piece…"
While it is inspiring to come up with personal art projects, how practical are they in real-life?
If your passion isn't able to fetch you money, chances are you feel let down. Since my husband is also an artist, he understood my willingness to try my hand at various art forms. While he worked as a full-time Graphic Designer with a Japanese company and supported me, I grabbed a job as a kindergarten teacher so I could find enough time doing what I actually love – art.
Gradually, when I began coming up with some sort of creative work, my dear husband encouraged me to post it on Instagram and Facebook. These platforms ultimately helped me gain recognition. Now we're back to Chandigarh, and both of us are happy in our respective professions (in the art field) that make us financially independent.
I'm sure the culturally-rich country, Japan, has influenced your artwork in some way. 
That's true. We lived in Tokyo and later, in the suburbs. Everything about this Asian country inspired me, especially their Origami-lifestyle. I remember them making a bowl out of paper in a jiffy to eat fruits. This was the time when my interest leaned towards paper-work.
84 Likes, 11 Comments – gaurvi sharma (@gaurvim) on Instagram: ""I found myself falling in love with everything again. When my smile came back I knew I was going…"
How did you prepare yourself for the collage-art in the initial days?
I remember collecting pamphlets and other advertisement soft copies found inside the newspapers. Once I was sure of what kind of paper-art I wanted to practice, I visited Daryaganj in Delhi and bought old magazines. Magazines because of their quality glossy paper. Today, however, I have this guy who arranges books and magazines for me. I simply have to WhatsApp him the kinds of images I am looking for and he parcels me.
Would you like to share the process that you mostly run through?
Sure. I use acid-free paper as the base so discoloring of the paper doesn't happen. Also, I use acid-free glue to stick pictures and paper on one another. Layer by layer, I apply the images. I follow the numbering pattern if there are many images involved. In that way, there's no chance of confusion.
(cover picture courtesy: Arun Moras)
This article was first published on May 24, 2018.
Was this article empowering?