Monday, December 06 2021, 10:59:13
Incredible Indian Women From History Who Can Be Our Role Models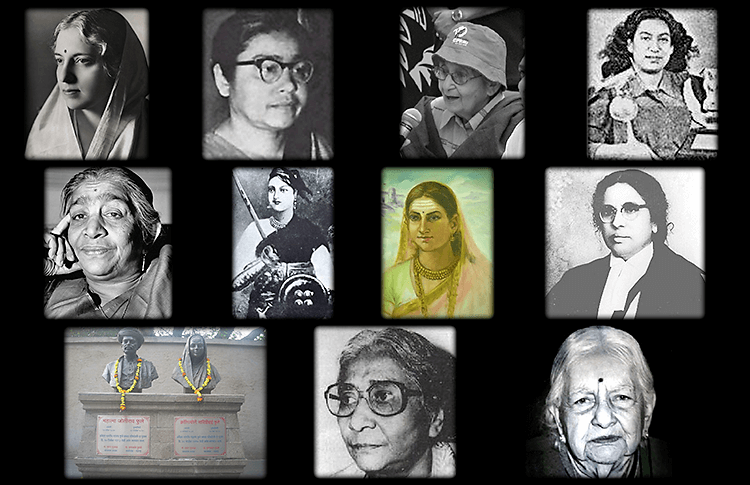 It isn't easy to be a woman in India in 2015, and you'd better believe it never has been. Here's to the women who made a huge impact here, despite the gender-based hurdles they were born with.
1. Kittur Chennamma — led an armed rebellion against the East India Company.


(23 October 1778 – 21 February 1829)
A princely state rebel queen, Kittur Chennamma is an icon of the Indian independence movement. She is best known for her leadership in an armed rebellion against the East India Company. She did not give up and was arrested. She passed away in imprisonment.

2. Vijaya Lakshmi Pandit — the first woman (and first Indian) president of the United Nations General Assembly.


(18 August 1900 – 1 December 1990)
Vijaya Lakshmi was the first Indian woman to hold a cabinet post. She served as the president of the Indian National Congress twice.
She was also India's ambassador to Russia during the late forties, and the governor of Maharashtra later.
Pandit is best known for being the first woman president of the UN General Assembly.
3. Savitribai Phule — started India's first school for girls.


(3 January 1831 – 10 March 1897)
Savitribai Phule was married at the age of nine, and when she moved to Pune, she took with her a book that was given to her by a Christian missionary. After learning to read and write from her new husband Jotirao Phule, she changed the face of education in India forever. After taking up training at Ms. Farar's Institution at Ahmednagar and in Ms. Mitchell's school in Pune, she became the first Indian woman to become a teacher, and opened up the first school for girls in India in 1848.
4. Kamaladevi Chattopadhyay — social activist and Indian freedom fighter.


(3 April 1903 – 29 October 1988)
A student in London, Kamaladevi came to India upon hearing about Gandhi's non-cooperation movement. She took charge of the women's section and began working for the welfare of women. She became the first female candidate to run for a Legislative seat in India. She was also a patron of arts and helped preserve and revive India's traditional handicrafts industry. She received the Padma Bhushan award in 1955 and the Padma Vibhushan in 1987.
5. Captain Prem Mathur — the first woman pilot in India.


After acquiring her commercial pilots licence, she was turned down by eight private airlines, none of which wanted a woman pilot. Finally, she went and interviewed at Deccan Airways, in Hyderabad. When asked how she would handle night halts when she would likely have to sleep in close quarters with men, she answered, "You will not regret hiring me." Passing all the legal requirements, and quizzed on all the information required, she became the first woman pilot in India.
6. Sarojini Naidu — the "Nightingale of India"


(13 February 1879 – 2 March 1949)
Naidu, who was an activist and a poet, was the first governor of the United Provinces of Agra and Oudh for two years, and was also the first woman governor of an Indian state. Adding to that, she was the first Indian woman to become the president of the Indian National Congress, a major political party in India. She was also one of the only women to take part in the Satyagraha movement, and participated in the Round table conference with Mahatma Gandhi and Madan Mohan Malaviya.
7. Sucheta Kriplani, the first woman Chief Minister in India.


(25 June 1908 – 1 December 1974)
Kriplani actively took part in the Indian independence movement, and later during the Partition riots, she worked closely with Mahatma Gandhi. She was elected to the Constituent Assembly and participated in the subcommittee that drafted the Indian Constitution. She also founded the political party All India Mahilla Congress.

8. Asima Chatterjee — the first Indian woman to receive the Doctorate of Science from an Indian university.


(23 September 1917 – 22 November 2006)
Asima Chatterjee was a noted Indian chemist, working in the fields of organic chemistry, and phytomedicine.

9. Justice Anna Chandy — the first female judge in India, and the first woman in India to become a High Court judge.


(1905 – 1996)
Often described as a "first generation feminist," Chandy was the first woman in her state of Kerala to get a law degree. During her time as a barrister, she advocated for women's rights. In 1931, she contested in the election to the Shree Mulam Popular Assembly, and despite getting hostility from her competition and the media, she was elected in 1932. She then went on to become munsif, making her the first female judge in India. In 1948, she was elevated to the position of district judge, after which she was appointed as the first female judge in an Indian high court by the Kerala High Court on 9 February 1959 — a position she retained for nine years.

10. Captain Lakshmi Sahgal — Indian independence revolutionary.


(24 October 1914 – 23 July 2012)
Lakshmi Sahgal studied medicine and became an officer of the Indian National Army. She is known for her efforts in coming up with the Rani of Jhansi regiment. She gained a lot of support as women joined her and she became known as Captain Lakshmi.
Sahgal was awarded the Padma Vibhushan by Indian president K. R. Narayanan.

11. Rani Lakshmibai — led rebellion against the British.


(19 November 1828 – 17 June 1858)
Warrior queen Rani Lakshmibai whom the aforementioned regiment was named after, was the famously rebellious queen of North Indian princely state Jhansi. She led her own troop and fought the British in the mid 1800s. She was martyred and is considered a national heroine. A student of archery, horsemanship, and self-defence, the badassery was strong with this once since the start.
This article was first published in BuzzFeed.
Was this article empowering?