Tuesday, January 25 2022, 06:51:26
Hrithik Roshan Helps IWB Bring Some Much-Deserved Glory To Indian Sportswomen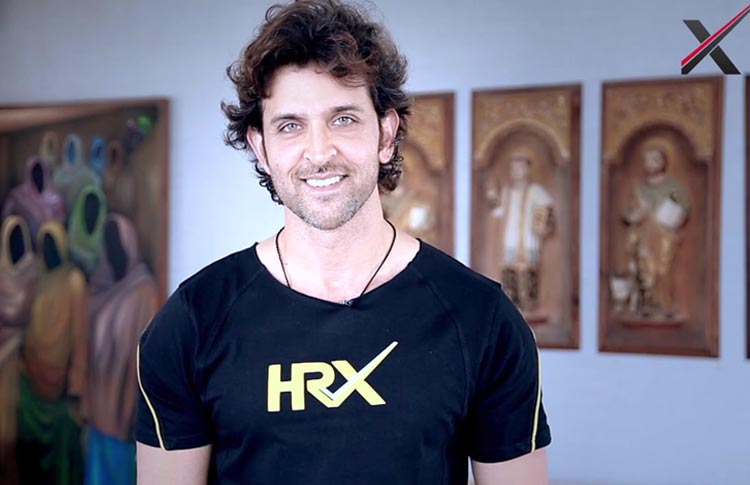 We live in a country where every emotion is driven by the film industry – and mostly Hindi film industry – so much so, they say even the stock exchange isn't spared from the mass hysteria of Bollywood. And Hrithik Roshan is someone who is a personal inspiration of millions – be it for his flawless dance moves, the charming roles he has played, or his dedication towards fitness!

And so when it came to keeping the adrenaline flowing for IWB's campaign, The Locker Room, there couldn't have been a brand more appropriate than HRX to have on board. Read about our campaign yet?
At IWB, we stand for gender equality in all walks of life, and keeping our spirit alive, ahead of National Sports Day this year, we got in contact with the four national women's sports teams – Rugby, Ice Hockey, Kabaddi, and Football, with the agenda of bringing to them the much-deserved attention and accolades.
As part of our campaign, we held conversations with gritty Indian sportswomen, and also took a sneak peek into their locker rooms, to find out what happens in 'The Locker Room,' and how they huddle together for "The Talk" that prepares them for the battle ahead.
And to keep the four teams racing ahead on their respective fields, it is Hrithik's HRX shoes that will help the champions to find power and blaze ahead!
Here are excerpts from our fitness-fuelled conversation with Hrithik:
How can the Hindi film fraternity be more involved at the rudimentary level to create awareness and ignite passion for women's sports, which is lagging way behind men's sports?
Although I am not the official spokesperson for the fraternity, I can confidently say that we never shy away from acknowledging great sports talent – Hima Das, Mithali Raj, Deepa Karmakar, P V Sindhu, Saina Nehwal, to name a few, are applauded celebrities and stars who have done us proud and recently added laurels to India.
We have a few women athlete/sportswomen-centric films like Mary Kom, Dangal, Chak De! India, that have been hugely appreciated by the audience and I am sure there will be more in the coming times.


Like any other field, women's sports need financial backing in the form of sponsors. How can Bollywood take the initiative in sponsoring or rather adopting women's teams so as to promote them?
Bollywood is not a conglomerate or a cartel, like other industries; it is many different individuals with different dispositions towards sports. A few individuals are coming forward and passionately supporting sports by owning and sponsoring teams at amateur as well as professional levels. This will only grow with time and should also include all-women teams, provided we have more such leagues.
You have taken fitness to the masses – by becoming the owner of a fitness clothing brand HRX. As much as a celebrated actor, you are now a business owner, so what social responsibility do you feel towards sports and how it is incorporated into your business plan for the brand?
HRX supports several athletes and some specially-abled ones too through our associate organizations. In the past, we have supported the cause of Paralympic athletes and helped them prepare better to compete on a global platform.
Who, according to you, are role models in women's fitness and how can they get more visibility?
It is difficult to pick names but I see fit women across the board today – from the industry upfront to trainers to sports and athletes, women are pursuing fitness as passionately as men.

On a lighter note, you and your mom sometimes have training sessions together. In what ways do you both draw inspiration from each other in keeping healthy and fit?
Mothers are always special and they always set the right tone for life. I love her enthusiasm and passion for fitness at her age and look up to being the same when I get to her age.
Healthy and fit is becoming a lifestyle and not just a passing fad today. How do you see Bollywood heroines evolving into doing more fitness-driven action roles (a la Lara Croft) to motivate women to take to sports and fitness?
I think our heroines are generally very fit with or without playing characters like Lara Croft. Fashion and fitness have always gone hand in hand and the women in the industry exhibit it to the tee.
Historically and culturally, the fitness culture has always been pushed lower on the priority list. What would be your message to the masses at this front?
In my immediate surrounding, I know of women who manage all facets of womanhood along with staying fit and being working professionals. Wait till the wave spreads.

A big shout-out to our partners – EPIC TV Channel, Oateo Oats, HRX, Gold's Gym India, for joining us in solidarity and helping us in exploring the challenging road for India's sportswomen.
Stay tuned for the custom-made anthems, as a part of The Locker Room. We have more sports rush coming your way!
Was this article empowering?