Wednesday, November 29 2023, 05:37:35
Here's Surbhi Maheshwari: The Off-Duty Lakshmi Who Styles Celebrities & Her Little Daughter!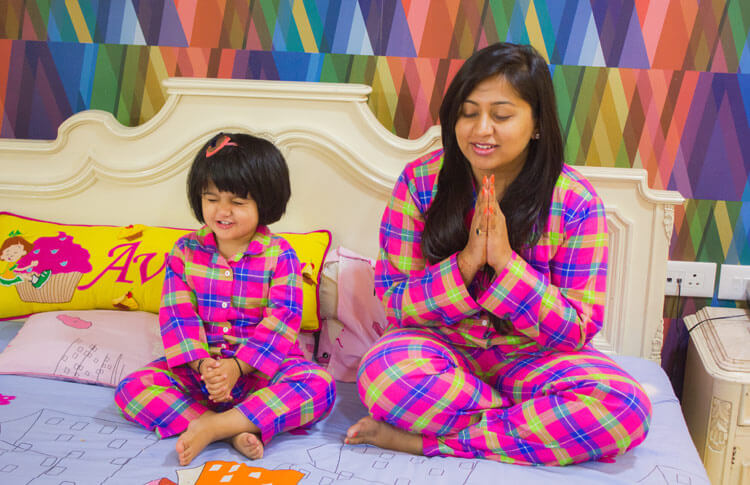 Diwali, the festival of lights is here! Aaaaand it's time to turn the spotlights towards *drum-roll* Goddess Lakshmi!
Year after year we see her perched precariously on her lotus in a beautiful attire and with a gold crown on her long, lush hair. With two arms she is seen showering us with her blessings, and with the other two, she pours gold coins into our laps. Picture perfect, isn't she?
On second thought, isn't Goddess Lakshmi, a woman too? She is all decked up in the picture, but we bet, even she had to go through a ton of mayhem and chaos, just like us women! It seems easy 'Being-Lakshmi', but we were curious to know what exactly goes 'behind-the-scenes'?! The backstage where all drama takes place, before she makes an appearance.
In this scenario, we imagined the Goddess in the role of a married, working woman. Hey! Every woman is a goddess in the end, as far as we're concerned.
Meet Mrs. Surbhi Gupta Maheshwari, a celebrity stylist, a wife and a mother. We followed her the entire day, and found out what all does this Lakshmi do!  Let our campaign – Lakshmi Off-Duty in collaboration with Nayaab Jewels, Ritu Kumar Couture, and Sizzlin Scissors, show you through the life of a married, working Lakshmi.
She is after all, the 'Lakshmi' of her house.
Her days starts with waking up close to her cute-as-a-button daughter, Avishka. (Didya, notice the matching PJs? How incredibly adorable!)

Avishka usually wakes up before mommy does, and stretches loudly to announce her conscious state.

Our Goddess wakes up to, and just couldn't resist snuggling with her precious!
Our Goddess carries her little one to the washroom. Avishka loves the royal treatment!
Our Goddess is a mother first! And her daughter's teeth need brushing!
Together the mother-daughter duo pray and thank the lord everyday for all the happiness and prosperity showered upon them.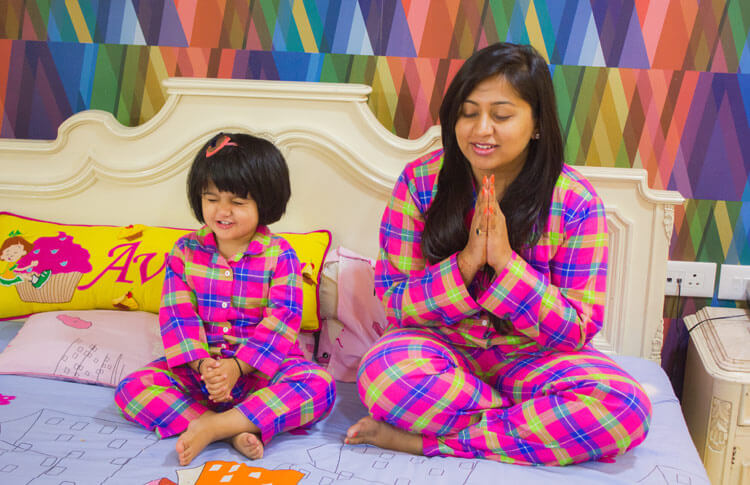 Oops! Seems like Avishka forgot her lines!
The Goddess proceeded to get some kisses from Avishka, who is more than happy to do it!

Time to Learn! Our Goddess takes her daughter to their lush green lawn, where she sits on her "Twinkie" and they catch up on their studies!
A mother, and a teacher! She truly is a multi-faceted Lakshmi!

Avishka's daddy wasn't feeling well that day! So, Our Goddess had to take charge of everything. She is, after all, more than capable to do so!
Now that Avishka's tasks are all done, the Goddess needs to concentrate on herself too. She sips her black coffee and catches up on the events of the world.
A stylist by profession, our Goddess picks Avishka's clothes each day and lays them out for her.
Seems like Avishka likes them!

How adorable are those jackets?!
It is breakfast time now! Our Goddess and her daughter are ready to roll, but first, breakfast!

There is no play when it comes to food! Our Goddess turns serious when the little one fusses over her meals. Tsk, tsk.


The mother-daughter duo then proceed towards their small temple, where they kneel and bow down to the Gods before leaving home. Our Goddess is deeply religious!

Avishka puts her footwear on, ready to go to school!

Our Goddess takes her little munchkin out the door, to the new world of discoveries and adventure.
Our Goddess is a full-fledged working woman, who has a business named 'Styloholiq', based in Mumbai. She manages all her work through a small make-shift office at home and her I-Pad!
Enough work for the day! It is  evening, and that means, time to gym! Our Lakshmi carries a big, bulky black bag with her gym clothes and shoes.


And she drives awayyy!
It was time to Rock 'n' Roll now! It was time for her to get ready and make an appearance. Our Lakshmi's clothing were courtesy Ritu Kumar couture, the beautiful jewellery by Nayaab Jewels and Make-up by Sizzlin Scissors. We head over to the Ritu Kumar Jaipur Store, where the events unfolded.

Our Goddess couldn't help herself from browsing the store and picking up things and getting inspired!
She even practiced her styling skills on one of the store managers!

And then, began the transformation!

The girls' from Sizzlin Scissors magically transformed our diva into a complete Goddess.

We selected a beautiful pink and orange lehenga and a green and turquoise dupatta from the Ritu Kumar line. Didya notice the intricate work?
And don't get me started on this out-of-the-world blue diamond neck-piece with matching earrings and diamond bangles from Nayaab Jewels. I likey!
Some finishing touches for our Lakshmi.

She was undoubtedly enjoying the whole pampering session!

The girls from the Sizzlin Scissors were experts in the matter of hair, as well.

Our modern Lakshmi took some time out to talk on the phone too!
Aaaah, the end product of this collab! Isn't she gorgeous?

Time to put the jewels on!


Aaaaand here's presenting, our modern day, married, working Lakshmi, who clicks selfies, takes care of her family, works, earns, and inspires!


Being a stylist, our Lakshmi was a sport to experiment with styles! We so loved it!



Hence, our curiosity is finally sated! It takes a lot of work to be Goddess Lakshmi! #HappyDiwali

Was this article empowering?