Thursday, August 05 2021, 08:01:07
Gender Issues Or Physics, Classical Dancer Patruni Chidananda Sastry Feels Dance Can Explain Anything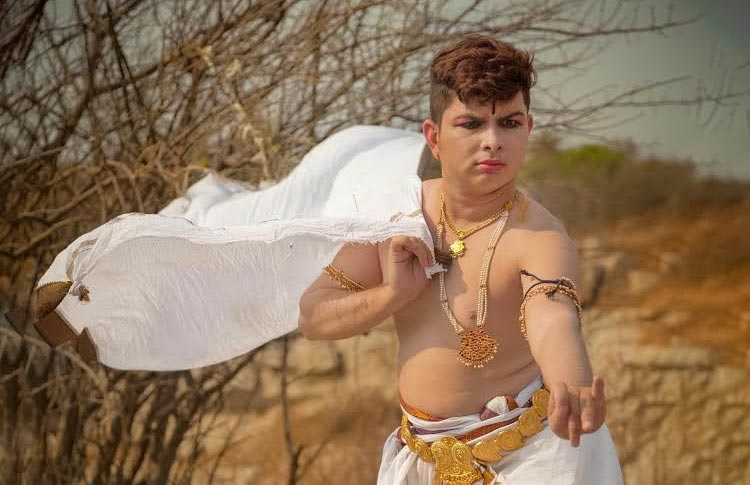 Patruni Chidananda Sastry is a 25-year-old resident of Hyderabad who balances his life between two diverse professions. He is both an analyst and a classical dancer. A mix of two worlds? Totally.
Sastry describes himself as an expressionist dancer and activist who uses dance to express and explain everything from physics to love, anger to gender issues. His heart pumped for dance since childhood. By the age of five, he started learning classical dance and when he turned seven, he had already given his first public performance. "Looking at my interest in the art form, my father enrolled me for classes, and that was how my tryst with dance began," he told The Better India.
He learned how dance is a great form of expression when he saw a film featuring actor Ramya Krishnan, who danced to depict anger. "That stuck in my mind, and I thought it was a good way to express what she was feeling," Sastry shared.
Growing up practicing dance, Sastry understood that the power of dance could be used to discuss topics that otherwise stay under the carpet. "Sex-education, for example, is a topic that schools have been mandated to teach. However, most schools stay away from it because of their discomfort in answering questions posed by curious kids. Wouldn't it solve the problem if we were to teach it through dance?" he asked.
He believes that this art-form should be used in schools to educate children about difficult topics. Study of insulators, conductors, and semiconductors via the medium of dance would be interesting and fun, Sastry feels, because he did just that. "I still remember the teacher explaining the concept to the class. I sat there, and in my head, the concept was playing out in a completely different manner," he stated.
"Unfortunately, the education system, as it is currently designed, only chokes the students and restricts the manner in which they learn," he added with grief. He continued, "Everything is designed by beautiful pictures, the teacher moves from the blackboard to the storyboard, and they term it as e-learning, but there is no scope beyond what is prescribed."
He urges to use dance to teach concepts of science.
Dance, in his personal life, has helped him bring change in many aspects. Sastry shared about how he was ragged in college and not knowing how to deal with it, he chose to depict his predicament via dance. "It was a chance meeting with a friend who worked in the LGBT space that brought my attention to it. The plight of the community truly saddened me, and I did what I could do best; express their difficulty through dance," he remembered.
He uses dance to explain to the world about his sexual orientation. Sastry is often asked what his sexual orientation is, given that the number of male classical dancers in India remains low-key "As an artist, I am always curious to see how the other gender will react to a particular situation; and hence, I classify myself as gender-fluid. As soon as I say that, I see the people in front of me draw their conclusions about it," Sastry said.

"Some think I am gay while others slot me as bisexual," he added. Sastry continued, "While things are changing, we still have a long way to go before we begin to accept people and their different sexual orientations."
Describing his audience, he said, "My audience has always been divided into two. There is one section that comes to attend my programmes, knowing what I do and portray. However, there is the other section that is unable to appreciate and understand the points I raise. There have been instances of backlash, but for me continuing what I do is important and I will go on with my public performances."
H/T: The Better India
Was this article empowering?